The first thing that jumped out at me was the line item of $4,255 for a Bose Panaray stereo. Every week when I find out what new car will magically appear in my driveway I take a close look at the window sticker. Mostly it's just marketing nonsense and features like "front airbags" and "speed control". Sometimes there is exciting stuff. Like massaging seats, or finding out I'm getting the big engine. Anytime there's a $4,000 stereo, that's exciting stuff. It's a feature I want to take a closer look at, and especially to make sure I really listen to it when I have the car.
The Bose Panaray – for Panoramic Array – system has an impressive 34 speakers. Only one, the rear deck-mounted woofer, is larger than 100 mm. Now they had my attention. That's a lot of speakers crammed into a car, even one as big as the Cadillac CT6. I have a playlist that I normally use in every car I review. Listening to the same songs makes it easier to identify things that are missing, things that are distorted, and every once in a while things that I hadn't noticed before. I was hoping that with 19-channels and 34-speakers that I might hear some new things that week.
I noticed that two songs on my short playlist talked about Cadillacs. Then I started thinking about just how many songs talk about the brand. It's probably the most mentioned car brand in music and it's been that way for decades. So I started adding some of my favourite Cadillac songs.
Driving the CT6 and listening to the songs, most of them were calls to the glory days for Cadillac. The days when it was the highest brand that people reached for. The pinnacle of the car. How did this new CT6, the first new car under Cadillac's newest president and the first full-size rear-driver in 20 years for the brand, compare to the ones I was hearing about in the songs? Did this new car finally bring the brand back to the top? Or at least close to it? So here are some memorable Cadillac songs, and a look at how the new car stacks up.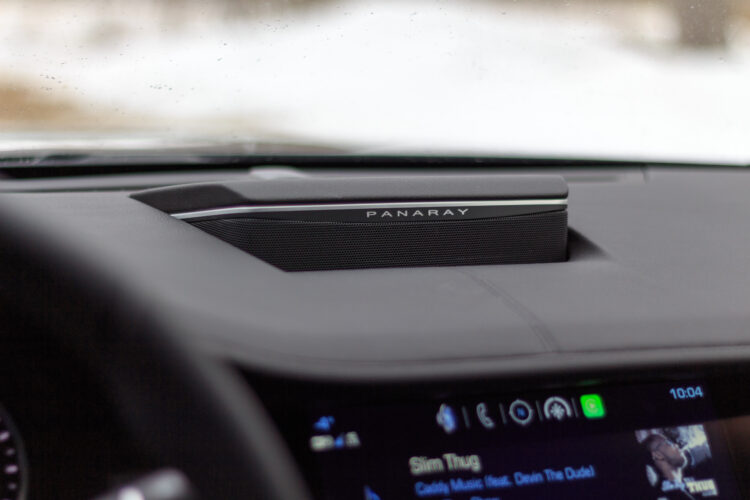 GM and Bose invented the designer car stereo for the 1983 Seville. That car had four speakers, AM/FM, and a tape deck. Old school it was, but there is no way that the, um, "stuff" sounded better. The strikingly modern Panaray system has lots of low-end at low volumes, but it fades when you turn it up. Pop music sounds great, but anything with more depth, like a John Williams score, loses that depth. Ultimately the system doesn't impress next to other high-end systems like Lincoln's Revel Ultima or Volvo's Bowers and Wilkins systems. The one thing it does remarkably well is to compensate for the compression of satellite radio. It somehow seems to de-compress it, restoring the highs and lows, and removing the distortion of satellite stations. Cadillac's CUE system is easy to use, as long as you turn off the touchpad. Be patient, because while it's easy to use, it is extremely slow to respond.
The key is a surprisingly important part of owning a luxury car. It's why Porsche fobs are in the shape of the car they unlock, and why Aston Martin dumped rebadged Volvo keys for new ones topped with crystal. The Cadillac's key doesn't make the mistake of gluing a wreath and crest over a bowtie. It doesn't have the colour screen of a new BMW 7 Series, but it won't leave you embarrassed when it get picked out of the fishbowl.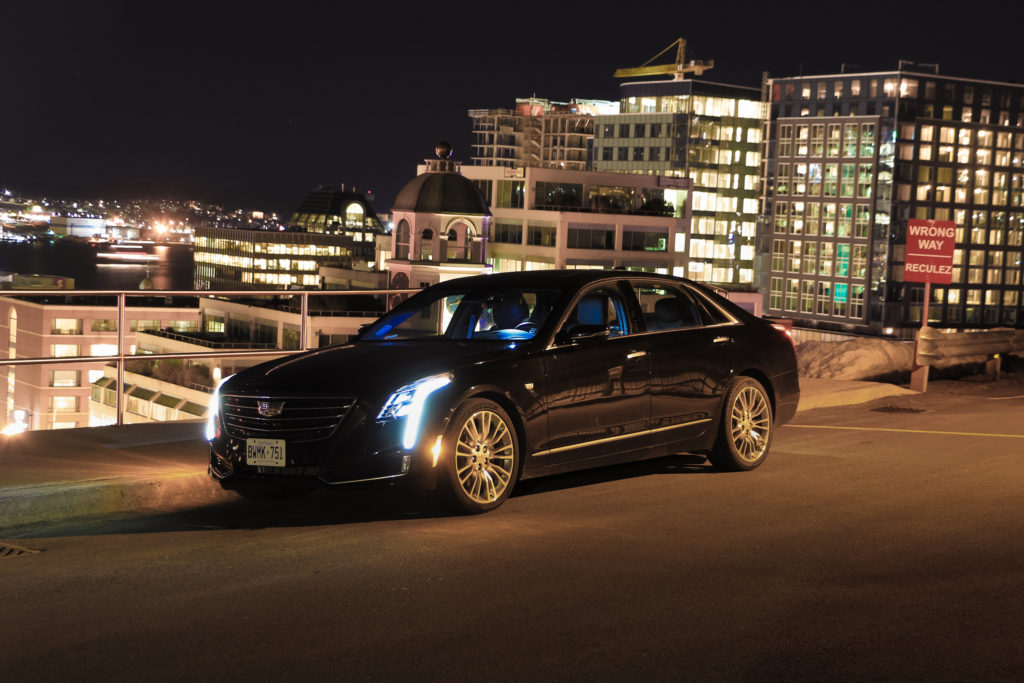 There were some dark years long ago where GM quality control slipped to the point that you might be forgiven for believing that you were driving a "'51, '52, '53, '54, '55, '56 automobile" Those days are long past, and the CT6 feels solid and well-built. No panel gaps that look like two different teams designed the dash to be found here. If you're going to build your own CT6 one piece at a time, I'd start with the magnesium shift paddles. They feel like they cost more than an entire Cimmaron did to make. Take a close look and notice that even the stitching on the back of the wheel looks well done.
The whole song and video is the best Cadillac ad that was never written. It's an ode to some of the best and worst the brand has ever offered. The magnetic ride suspension makes some strange noise on bumps and dips, but it's still a great choice for a low and slow midnight drive overlooking Halifax.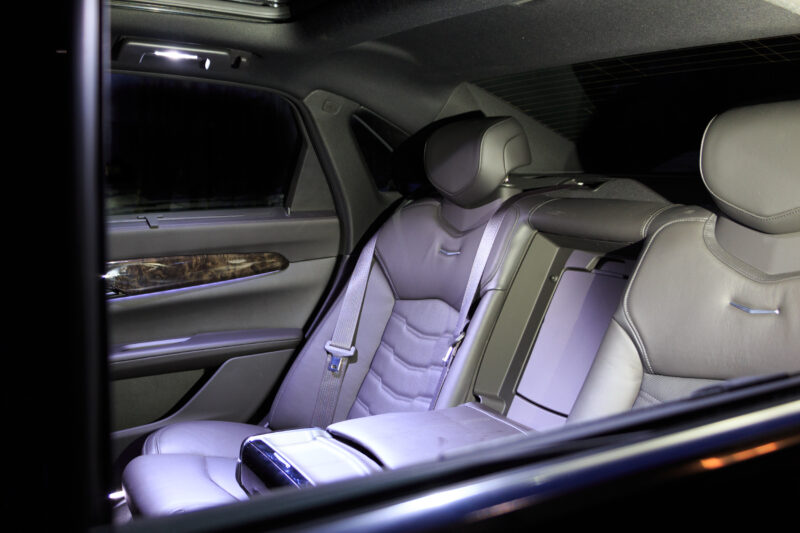 The CT6 has over a metre of rear legroom – just 50 mm less than a long wheelbase A8 – and you can get the rear seats heated, cooled, and reclining. There's more than enough headroom for your 6'-3" author and sunshades for the rear windows. What I'm saying is that there is so much space for activities, with lots of comfort. Just don't hit your knee on the back of the front seats; they're hard plastic that feels out of place with all the leather and wood covering the rest of the interior.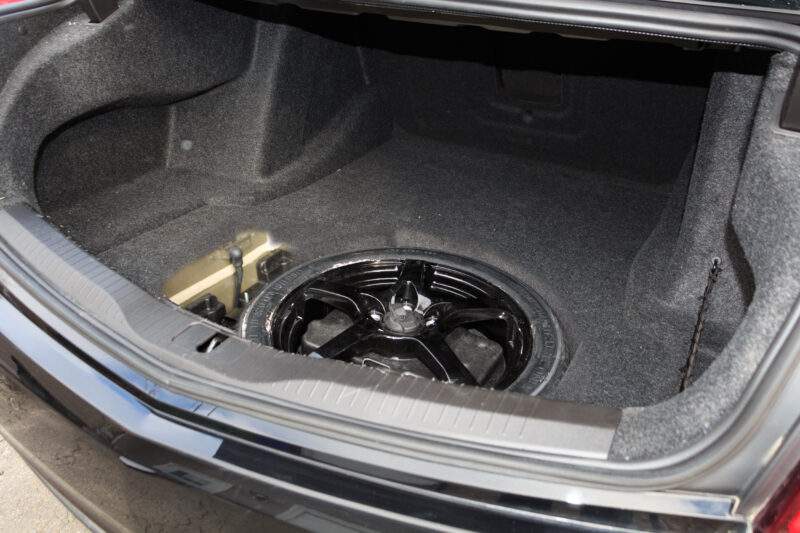 Unlike Bo's Cadillac, this one will warn you about just about everything. If you're following too closely, if you're speeding, if you're leaving your lane. Just about anything you can do wrong, this car will let you know if you're doing it. The following distance in seconds display seems pointless, but I'm sure somebody will like it. Oh, and this one does have a jack, Bo. There's a spare tire in that massive trunk too.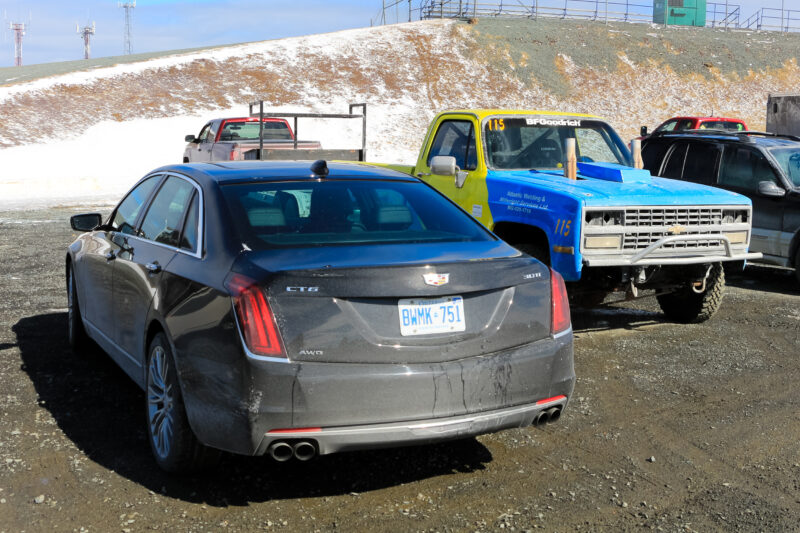 Is there a sweeter hillbilly music than upturned open headers on a 300+ horse mud truck? Maybe, but this has to be up there. The CT6's all-wheel drive won't help it catch the Chevy pickup on the dirt track, but it's a much nicer place to sit while you wait for your run. The inside of the Cadillac is quiet enough that it drowns out most of that V8 song, but even acoustic glass doesn't block highway wind noise. I even experienced the odd gust that gusted through the door seal like a window was cracked open just a touch.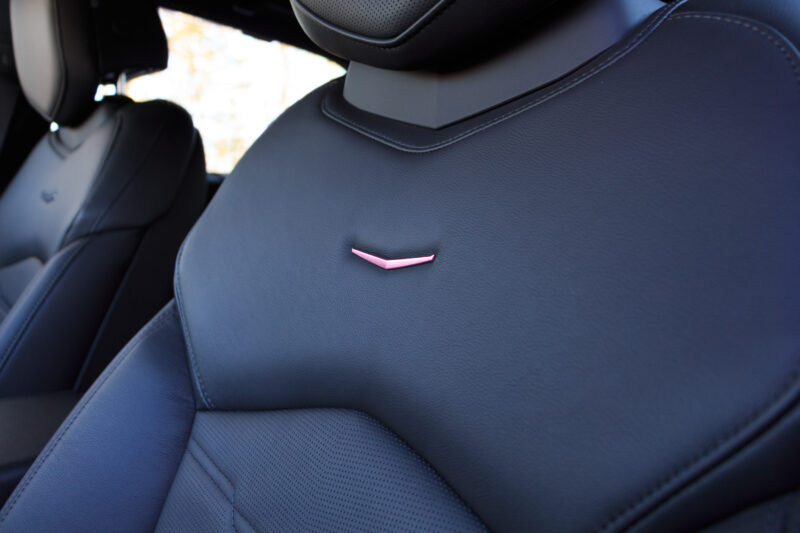 Thankfully cars have moved on from crushed velvet to perforated leather. The leather seats in the CT6 have up to 20-way adjustment and available massage. It's about 10 ways more than I need, but they are definitely comfy once you get them set the way you want.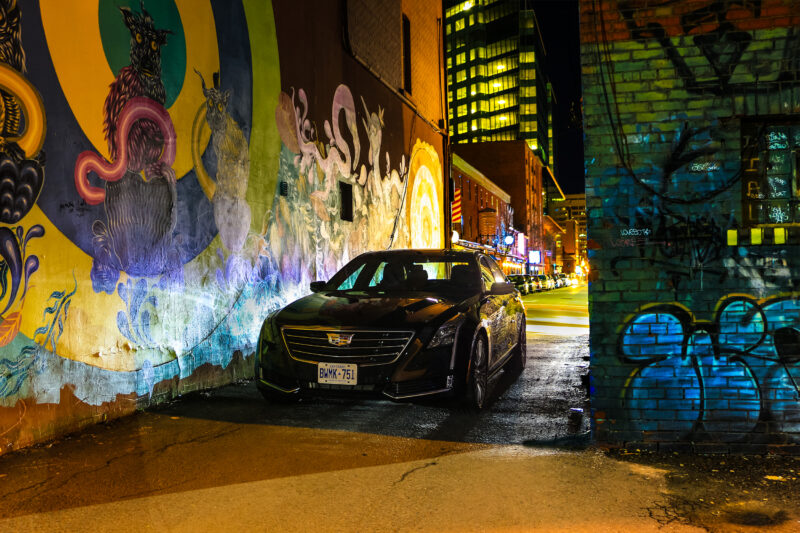 I'm not sure that 1957 was the pinnacle of Cadillac class. It was the first year for the hand-built Series 70 Eldorado Brougham, but fins would still get bigger and I would say that the front-end designs got better too. Still, there was nothing that said luxury at the time like a Series 70. The CT6 is far from the last word in luxury today, but in the right place at the right time, this car still exudes class. More importantly, it has style. Something BMW and Mercedes have been lacking.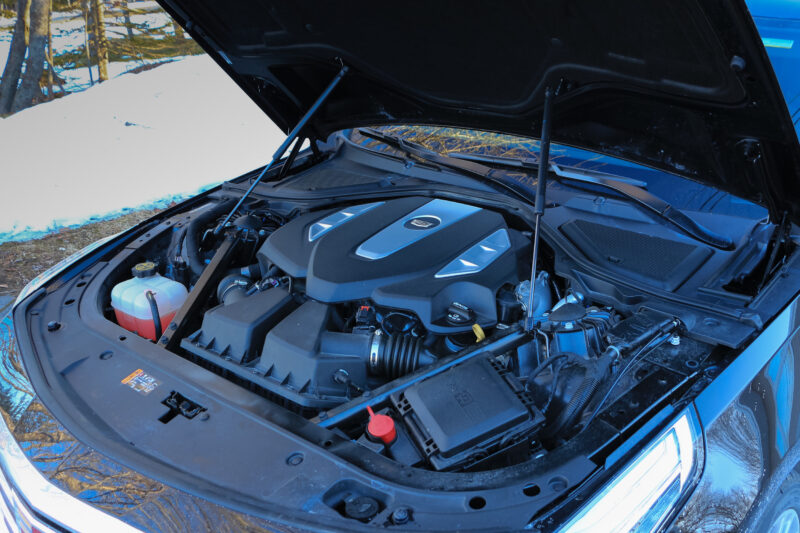 The CT6 has a 3.0L V6 that uses a pair of turbos. It's not a 500 cubic inch big-block, but it doesn't need all those inches to make 404 horsepower and 400 lb-ft (from just 2,500 rpm). It can move this big car to 100 km/h from a standstill in 5 seconds and hit 251 km/h flat out. Despite all the power, the CT6 feels sluggish at lower speeds. Blame the eight-speed automatic's tight lower gears that makes for a lot of shifting. The paddles are slow to react, so switching to manual mode doesn't help. At speeds above 70 km/h, the gearbox gets its feet under it and the shifts get quicker and more confident. Matting the pedal for highway passes gives you an immediate surge of power and surprising acceleration. On the highway, the transmission is nearly invisible. The way it should be.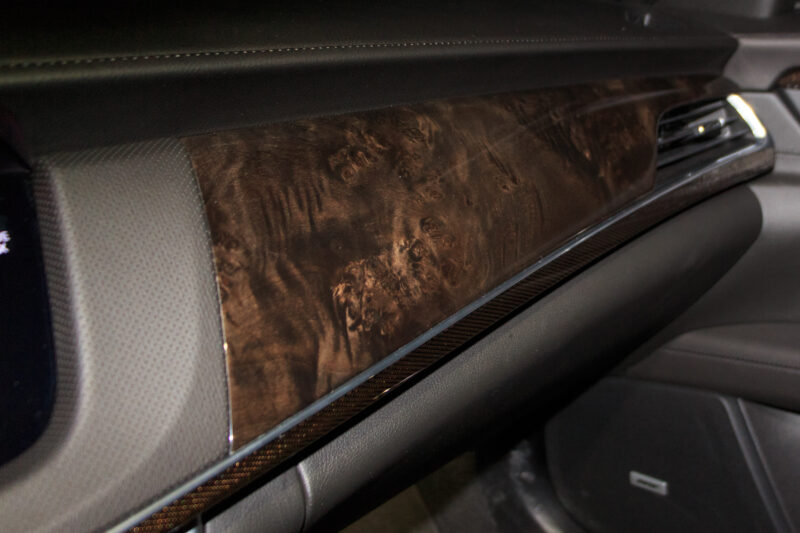 The CT6 has some beautiful woods available. My test car got mineral poplar burl with a striking copper-carbon weave below it. It's so shiny that getting this photo took far more effort than I expected. Other trims get eucalyptus or a sapele wood that is normally used to make guitars. It's nicer than the plastic trees that were felled to make an '83. As a nod to the song title, the CT6 already comes with D's as an option. 20-inch wheels with 245 wide tires. While 20-inch tires are expensive, there is no denying that it looks good this way.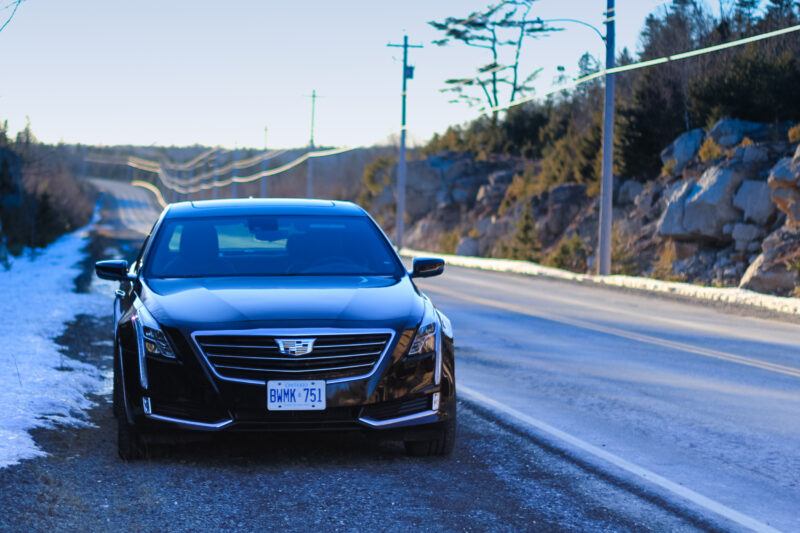 I know, I know. A second song from The Boss. But there's something about Springsteen and Cadillac that just clicks.
Magnetic ride, 404 hp, and four-wheel steering that makes lane changes more stable but gives the turning circle of a compact. It's a dinosaur, but it's not a big brontosaurus. Despite the sport mode that gets a strangely optimistic chequered flag icon on the dash, and a surprisingly low 1,800kg curb weight it's no velociraptor either. Something in the middle. Maybe a stegosaurus? Sure, I'll go with that.
The CT6 is a pretty good shot at the luxury barges from the big German three. It's priced at tens of thousands less, which means that it doesn't quite hit the mark. For that much less money, corners have to be cut, and they are. Things like the noises from the suspension, door seals that let air through on occasion, a slow infotainment system, and a transmission that needs some confidence. It's Cadillac's best shot so far though, and at $20 grand less than a base 740iL, it's worth a drive.
2017 Cadillac CT6
Trim level: Twin-Turbo Luxury AWD
Price as tested (before taxes): $87,015.00
Freight: $1,950.00
Configuration: front engine, all-wheel drive
Engine/transmission: 3.0L V6 twin-turbo/8-speed automatic
Power/torque: 404 hp/400 lb-ft
Fuel-economy ratings (L/100km): city 13.0, highway 9.1
Observed fuel-economy (L/100km): varied from 11.2
Warranty (basic):  4 years/80,000 km
Competitors: Audi A8, BMW 7 Series, Genesis G90, Lincoln Continental
Related links:
Cadillac Canada
CAR (Canadian Auto Review)