My first experiences with BMW's 7-Series were formative. The E38 model (1994 – 2001) was the one that Pierce Brosnan's Bond drove remotely and, more impactfully, I drove regularly. Working my way through University as a valet I was lucky enough to sample every iteration, often, but it was the post 1998 facelifted 750i – the 5.4 L, V12 powered version – that stood out. This was a long, low and handsome sedan. The lines were (and still are) clean, crisp and those split, five-star deep dish rims stand as some of the all-time greats. Inside too, the luxury appointments were there but restraint was evident and the focus was evenly shared between performance characteristics for the driver and pampering niceties for those being chauffeured – it was an automotive bullseye.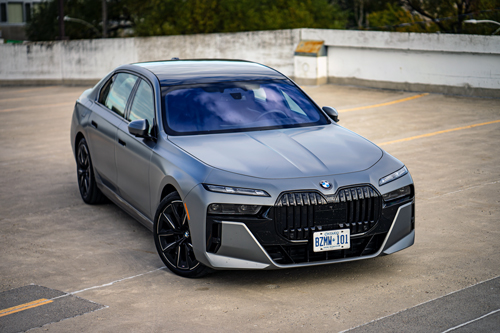 Slathered in controversial styling choices but dripping with tech, the new 2023 BMW 760i xDrive aims to use a combination of traditional mechanicals and electronic sorcery to please drivers and passengers alike. I recently spent around 1000 kms in one to see if this latest G70-era barge had rediscovered that old sweet spot or if it missed the mark entirely.
Powertrain: The engine is certainly on target. While it'd be nice to still have a dozen cylinders pumping away under the hood, the 4.4-litre, twin-turbo V8 is nothing to sneeze at. Coupled to a 48-volt, mild hybrid unit there is a stout 536 horsepower on tap and 553 pound-feet of torque – at least on paper. BMW is quite famous for low-balling their output numbers and it certainly feels like the same is true here.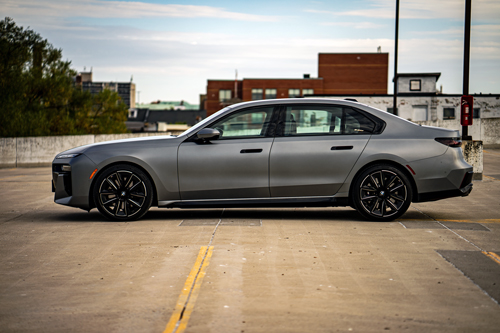 Acceleration is brisk – especially for something tipping scales just shy of 2268 kg (5000 lbs). The eight-speed, automatic transmission shuffles cogs seamlessly while the all-wheel-drive system goes about putting the power down. The century mark is eclipsed in just over three-and-a-half seconds, although it feels quicker than that without any stress or drama.
Fuel consumption will depend on how heavy your right foot is and how portly your passengers may be. BMW pegs combined mileage at around 11.2 L/100 km. In my time with the 760i, I actually saw slightly better at 10.6 but most of the roads around me are thankfully quite empty with posted limits at 80 and above.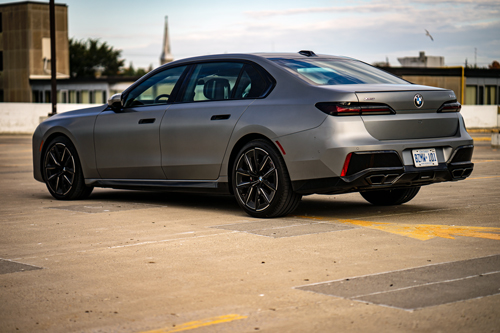 Exterior: It would be easy to right off the new 7 based on looks alone. At least at the front end. No stranger to taking design chances – remember the Bangle Butt? – the grill and lighting treatment are objectively unattractive. I wondered if things would grow on me after seeing it in the driveway for a week and they just didn't.
Which is a shame because the rest of this car is actually very handsome. Put your thumb over the front end of the 760i's profile photo and you have a collection of lines and creases that communicate presence, style and (dare I say) grace that are immediately recognizable as a BMW. Even the rear end, which admittedly has a lot of competing surfaces, looks spot on.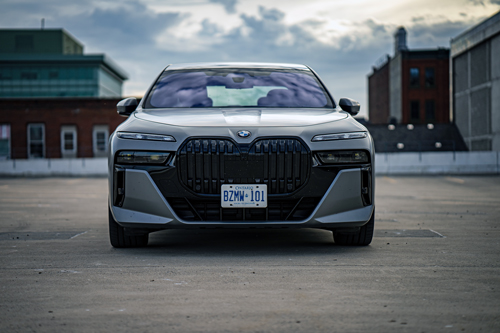 It is such a shame about that face…
Interior: Open the door (or have it do so for you) and you are greeted by a bit of a mixed bag. The fit is fabulous but the choices for finish are questionable. Patterned, cut glass appears everywhere – the seat controls, the iDrive device, the shifter and volume roller – and makes the interior both look and feel as though a luxurious and subdued one was bedazzled. And why oh why are we still using piano black plastic in top tier automobiles?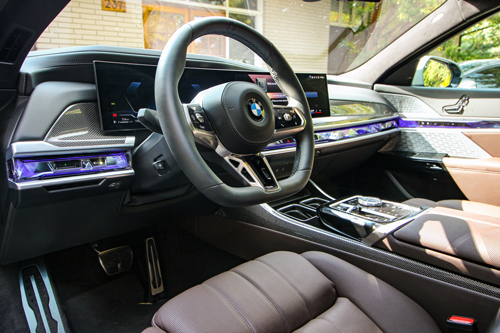 The phrase "classy with a K" was how my wife put it, while I likened things more to an Atlantic City Casino – the volume and infinite shades of ambient lighting bathing everything and emitting from everywhere (even the moonroof) are just excessive. I know there exists a rather large clientele who are impressed and pleased by this sort of thing, but I just don't count myself among them. Things lack cohesion and, after extended experience, comes across a bit how my wife so eloquently put it, especially when compared to Audi's restrained approach in the A8.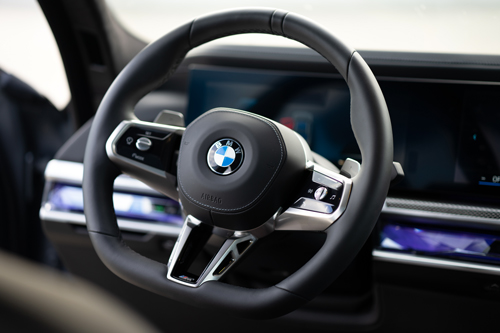 Ignore the optic assault and everything else in here is damned near perfect. The seats, which heat, cool and massage, are infinitely adjustable and are some of the most sumptuous and comfortable thrones my butt has ever graced. It should surprise nobody that the rears are just as good and just as well-optioned. BMW does offer a 31.3" drop-down 8k viewing monitor for rear-seat dignitaries, but our tester didn't have that box ticked.
The haptic feedback from the turn signal stalk is so satisfying that I question why BMW drivers have largely ignored using them for so long. It's mechanical 'snick' made me miss the presence of actual buttons anywhere else even more. The flat-bottomed M steering wheel isn't overly chunky and feels exactly sporty enough for a shark-skinned, 5.3m x 1.9m juggernaut.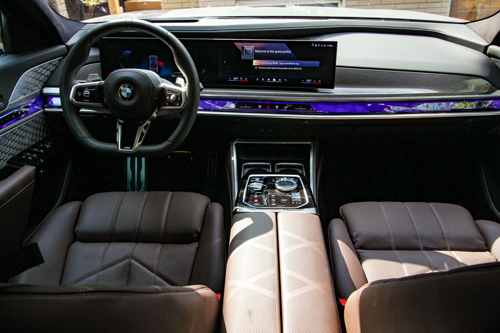 Infotainment: The screen is large and produces a gorgeous array of colours but weirdly doesn't sit level with the driver's eyes – it slopes downward ever so slightly toward the centre stack for some reason – which makes it feel like it was mounted by a Geek Squad rookie in a hurry.
Sound from the Bowers and Wilkins system is extraordinary. If you dig the lighting thing (or are looking for a way to come around on it) and consider yourself a Pink Floyd fan, put the seats on "Whole Body Activate" massage, cue up Dark Side and prepare to melt. Had it not already closed its doors in 1995, this new 7-series could have put the Toronto Planetarium out of business.
Drive: I'm happy to report that hustling this big Bavarian cruiser is nothing short of absolute pleasure. The culmination of everything inside the cabin and under the hood translates to an absolutely stress-free and engaging experience. It's loud enough at full throttle to remind you of the punch it has (and that BMW V8's sound fantastic) but also just quiet enough to barely cause a stir for occupants or onlookers. Around town is just as smooth as highway travel and, despite the space it occupies, still manages to feel nimble and manoeuvrable.
It will gladly juke and jive when the road gets twisty, but it never lets you forget about its size or its mass – but in a good way. The chassis tuning forces you to remember that that body roll exists for a reason. BMW could have easily made this barge corner flatter than a prairie wheatfield – they do it all of the time with their M branded SUVs – but in doing so would have sacrificed the purpose of a 7-series. The float, the loft and the wafting all contribute to the feeling of being whisked away by this thing – something Bentley and Rolls specialise in – and BMW should be applauded at how well they've tuned the chassis and suspension to all work so well here.
Conclusion: As much as I've chided BMW for the looks of the new 7-series and the excessive interior treatments, it is an incredibly impressive car. The all-electric i7 M70 may well be the choice for well-heeled futurists and VPs with a chauffeur at the ready – it has more power, is silent, boasts more gizmos – but for those of you still enamoured with the good old days, doing the driving yourself, it's hard to argue with the actual merits of the 2023 BMW 760i. It may not exactly be a bullseye for me, but a triple-twenty nets a higher score.
2023 BMW 760i xDrive
Price: $160,305.70+
Configuration: Front engine/All-wheel drive
Engine/transmission: 4.4-litre Turbo V8/ 8-speed automatic
Power/torque: 536 horsepower/ 553 lb-ft of torque
Combined fuel economy ratings (L/100 km): 11.2 L/100 km
Observed fuel economy (L/100 km): 10.6 L/100 km
Competitors: Audi S8, Mercedes-Benz S-Class
Website: BMW Canada