There is an age old saying when it comes to maintaining a strong marriage that goes something like this, "happy wife, happy life". It may sound quaint or outdated to some and might even turn the stomach of others as it requires a healthy dose of humility to live out, but there is a significant truth hidden within. If you want a lifelong happy relationship with your significant other, one of the best things you can do is look after the needs of your partner ahead of your own. I know, what a foreign concept these days, but guess what, it works.
So, it is always with great interest when I ask my wife her opinion of the vehicle I am test driving for the week. Sometimes she answers with indifference, other times it's positive, once-in-awhile negative, but it is always insightful. When I asked her opinion of the 2020 Mazda CX-30 GT AWD, I wasn't sure what she would say. Compact sport utility vehicles (CUV) are typically not her forte, but on this particular vehicle she was clear. I love it! Ok then, file that one for future reference under the category how to stay happy in life.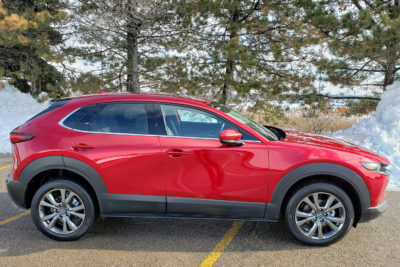 The 2020 Mazda CX-30 is not unique in an industry filled to overflowing with CUV's and SUV's of varying sizes. And, in fact, if you are looking for a new compact sport utility vehicle and happen to walk into a Mazda showroom, it might be a little confusing with a similar, albeit smaller, CX-3 also available from the Japanese automaker.
But the new to market CX-30 does distinguish itself from many of its competitors with its stylish and graceful, dare I say racy, design and from its smaller sibling the CX-3 with more interior space and in particular, improved rear seat legroom and storage capacity. Our test vehicle featured Soul Red Crystal Metallic paint ($450 option) making an already attractive CUV hard not to get excited about.
Power comes in the form of a 2.5L inline 4-cylinder with SKYACTIV-G technology including cylinder deactivation. It produces a robust 186 horsepower at 6,000 rpm and 186 lb-ft of torque at 4,000 rpm.
Matched to a 6-speed automatic transmission with paddle-shifters, official 0-100 km/h times are almost irrelevant in this segment of the market. That said, I can confirm that stepping on the accelerator to enter the highway or enjoying your favourite backroad at speed is easier than most vehicles of its competitors.
Electrically assisted power steering, independent front- torsion beam rear suspension, i-ACTIV all-wheel drive and ABS brakes with electronic brake force distribution (EBD) further aid the experience. Standard on the GT model are 18-inch alloy wheels that look exceptional. Mazda understands their customers and the fact they appreciate a steady performance underfoot. On this note in particular, the CX-30 delivers.
Inside, our fully equipped CX-30 GT AWD model is loaded with luxury and comfort. Leather trimmed seats are both sporty and comfortable. Ivory coloured seats are surrounded by a dark brown center console, door accents and top of the dash blended together with black for added effect. It is a bit over-complicated given the size of the interior, maybe two colours would be better than three, but there is no complaining about the overall quality and feel, especially when you consider the price.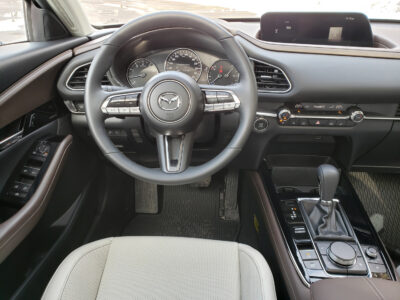 Round white on black gauges are easy on the eyes and brain, a Mazda staple. Brushed satin metal finishes highlight the steering wheel, center HVAC system and gear lever, with piano black added for effect. A GT standard 8.8-inch display is the main hub for sound which is important given that it comes with a Bose audio system featuring 12 speakers. A large round knob placed in front of the gear lever makes easy work of adjusting the sound, finding the right track, station and more.
Where the aforementioned CX-3 lacks rear seat passenger room, the CX-30 does not as it takes full advantage of the new platform on the redesigned Mazda3. Sharing architecture is the new mantra in automobile production as companies look to improve their bottom line, streamline global production and maximize resources, so sharing is caring in this case. Step into the CX-30 and you should be impressed with the rear seating position as it sits a higher and even six-footers like me will find a little more room than expected.
Rear storage is sufficient for most weekend getaways or to carry all that stuff you need or think you need as a young family. Of course, you can fold the rear seatbacks flat to improve storage if its just the two of you or configure a 60/40 split with a party of three.
My impressions of the 2020 Mazda CX-30 GT AWD is that it delivers in all the areas of driving I would be looking for in a CUV. There is a little too much engine noise for my liking, but no more so than most 4-cylinder gasoline engines in the market. It offers a quiet cabin, exceptional style, a comfortable ride and practical space for most weekend adventures. In the ever-expanding CUV marketplace, let the driver in you come out for a change and have some fun, while looking stylish and living practical at the same time.
2020 Mazda CX-30 GT AWD
Price as tested: $36,250.00
Freight: $1,950.00
Configuration: Front engine/all-wheel drive
Engine/transmission: 2.5L inline 4-cyl/6-speed automatic transmission
Power/torque: 186 hp/186 lb-ft
Fuel (capacity): Regular (48 L)
Combined fuel economy ratings: 8.5 L/100 km
Warranties: 3-years/unlimited (basic)
Competitors: Chevrolet Trailblazer, Ford EcoSport, Honda HR-V, Mitsubishi RVR, Nissan Kicks, Toyota CH-R
Links:
Mazda Canada