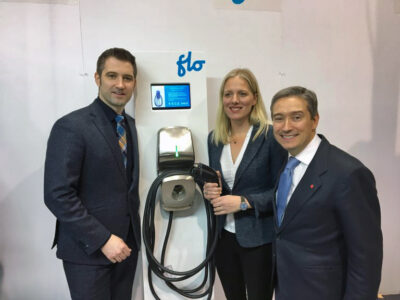 Quebec-based AddEnergie, which develops, builds, installs and maintains a large electric vehicle charging network in Canada, will add 1,000 EV chargers across the country by 2019.
The new charging stations will be partially funded by Natural Resources Canada, which is investing $6.7 million toward the $16.9 million project. AddEnergie is investing $7.3 million, while the Quebec government's share is $748,000. The remaining $1.9 million will come from various private partners, the company announced on Monday.
The 1,000 new chargers will be in residential, commercial or public places across Canada. They will be part of the FLO charging network, which AddEnergie operates.
The company said the investment would also help create 86 permanent jobs across the country.
More importantly, the company claims it will be help eliminate 880,000 tonnes of greenhouse gases.
"We are pleased that the federal government is trusting us to develop and implement the technology that will be required to power the next generation of electric cars in Canada," Louis Tremblay, president and CEO of AddEnergie, said in a statement. "This support will strengthen our leadership position and allow us to work with other innovative companies to shape the future of transportation."
The company, which builds the chargers in Shawinigan, Quebec, says the support will allow it to develop a new generation of fast-charging stations that will better respond to the growing need for charging as more EVs come to market.
The money will also allow AddEnergie to install charging stations for curbside charging in five major Canadian cities. Such charging stations already exist in Montreal, and AddEnergie will use the expertise gained in that project moving forward. In Montreal, AddEnergie collaborated with Hydro-Quebec and the city to install the curbside charging stations.