The animated sounds of seals barking their lover's chorus in King Harbor was enough to clear away any remaining aftereffects of jetlag.  Johnny Depp in full pirate costume lacks swagger when compared to a male California Harbor seal calling his "ladies" to attention. "Good Morning, good morning" takes on a whole new meaning.
The Portofino Hotel & Marina offers contemporary relaxation in one of the most visually engrossing locales in the greater Los Angeles area. Redondo Beach is not just a great place to go for a run, head out to open water in a sea kayak or dine at a first rate restaurant on the local seafood. It is in many ways the essence of a California lifestyle.
Overlooking the inner channel, the hotel recently completed an extensive multi-million dollar renovation. Palatial rooms, including five luxurious suites, feature a nautical theme, king size beds, 42" flat screen TV's and private balconies facing either the marina or Palos Verdes Peninsula.
Common areas ooze comfort, with wing-back chairs and cozy couches available throughout the sun-drenched lobby living room. At night, lights are dimmed and conversations revolve around the day's activities by the warm confines of the floor to ceiling stone fireplace.
Our ride of choice for this sunny destination is the 2010 Lexus IS F. Power comes in the form of a 5.0 litre 90° V8 aluminum block engine mated to an 8-speed sport-direct shift automatic transmission.
Horsepower is rated as 416 at 6,600 rpm while torque comes in at a punchy 371 lb-ft at 5,200 rpm. Top speed is electronically limited at 273 km/h. Zero to 100 km/h flashes past in 4.7 seconds.
Metal plated paddle shifters make easy work of the dance between gears. The more time I spend with this technology, the less I miss the standard gate of a manual transmission. This is not to say I always shift gears from the steering wheel when available. In most cases, I still prefer to let the car do the work and simply enjoy the ride.
The 2010 Lexus IS F, however, is an entirely different beast and one I certainly wanted to take full advantage of. Driving through the narrow streets of Redondo Beach and once out of the city limits, we relished every opportunity to let the rev's crescendo before popping in each successive gear.
Independent front and rear suspension do a masterful job of handling the many dips and mounds that define many parts of Southern California. San Francisco may be the most famous city in the state when it comes to hilly driving, but Redondo Beach holds its own as it reaches out to meet the Pacific Ocean shore.
Good brakes are critical here. The Lexus IS F competes with four-wheel, four-channel, four-sensor Brembo disc brakes with ABS, EBD and Brake Assist. Mass transit may be good for the environment, but it also provides the perfect opportunity to assess stopping power on more than one occasion. Score Lexus IS F-2, back of the bus-0.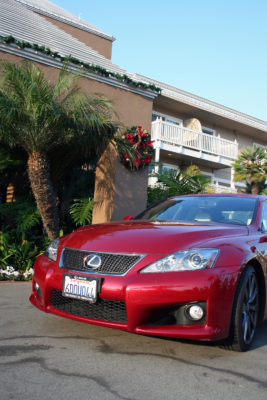 A drive through nearby West Compton with its endless succession of lowriders and tire and wheel shops provide proof the IS F has the necessary street cred to be taken seriously. Several pull up alongside to check us out, some even nodding approval as we take the less direct route back to Redondo Beach.
Arriving at the hotel, the upper floor of the all-new signature restaurant Baleen in Redondo Beach would be our station for the evening. Here whimsical monkeys hang from the chandeliers as a mixologist attended to our drink order. Seafood is prime with the ocean a mere stone's throw away. Breakfast and lunch are served wharf side on the lower floor of the restaurant.
Retiring to my room later that night, the warmth of a crackling fire and an overstuffed duvet felt wonderful. Closing my eyes, I could sense deep sleep was but a moment away. I listened intently to sounds of the ocean, hoping the seals would also be asleep. Sure enough, they were.
Morning broke with the first sounds of their sharp bark and I rolled over to see what time it was.
"Five AM!" I exclaimed.
"What is with this guy", I wondered aloud, "Doesn't he ever get tired?"
Apparently not.
2010 Lexus IS F
Options: Series 2 Package
As Tested, (before taxes): $72,550.00
Configuration: front engine, rear-wheel drive
Engine/Transmission: 5.0L SOHC V8 /8-speed automatic
Power/Torque: 416 hp/371 lb-ft
Observed fuel economy:  10.8 L/100 km, (750 km)
Competitors: Audi S4, BMW M3, Cadillac CTS-V
Related links:
Lexus Canada
The Portofino Hotel & Marina