At an informal outdoor venue north of Toronto last evening, Vicarious was invited as part of a select group of journalists and social media influencers to be the first to see the new KIA EV6 in person. It was also a welcome opportunity to spend time in a carefully-controlled social setting and enjoy the live sounds of Canadian multi-platinum singer/song writer Fefe Dobson performing for the audience. But the real star of the show was the all-new Kia EV6 resplendent in all black.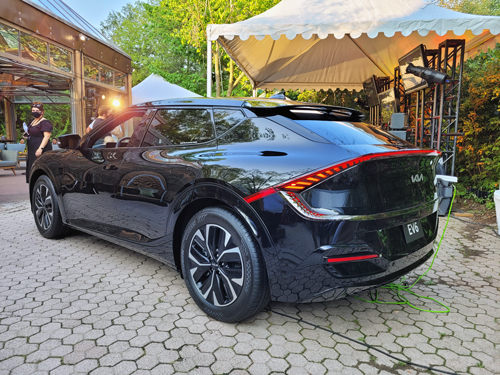 "At Kia we believe that movement inspires ideas – in our design, in our strategy, in our workforce – and we want our vehicles to inspire consumers in innovative and sustainable ways, whether they're on a road trip or powering an electric guitar," says Elias El-Achhab, Chief Operating Officer, Kia Canada. "We're making a long-term commitment to sustainable mobility, and EV6 is the first to embody our new design and mission, which will see 7 all-new plug-in hybrid or dedicated electric models hit the Canadian market by 2025."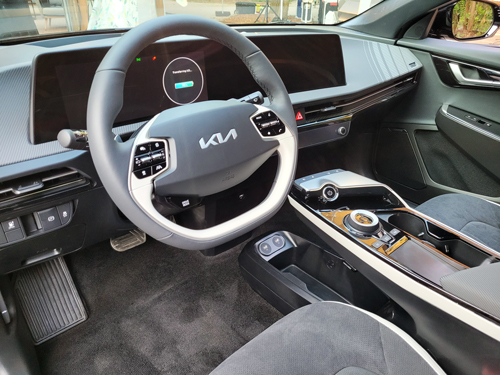 There is no denying the star power of the new EV6. To date, my only impression was what I saw in pictures and in that format it looked exceptional. But seeing it in person, I was surprised at how elegant and sporty it actually is.
Typically at these events early in the lifecycle of a new vehicle, what you see is not necessarily what you get when it arrives in market. I was told the outward appearance was true to form, but this was a pre-production model and as such the inside materials were not final production quality. That said, inside and out, the EV6 has all the makings of being a winner.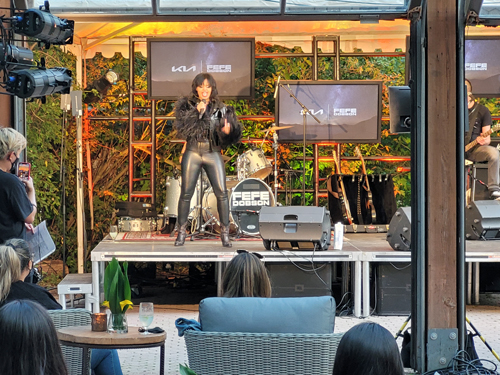 Shocking is not a word to be tossed around frivolously when discussing new vehicles, especially when it comes to EV design. Whereas many of the main players in the luxury EV segment tend towards playing it safe, the Kia EV6 is anything but. It features a wide, aggressive, sloping hood, tiger LED headlights, an athletic side profile and rear LED taillights that wrap around in what can only be described as dramatic.
Inside, minimalism rules the day and while weren't given full access to the rear seats, the front seats, steering wheel and dash layout look equally impressive. Combine that with what should be a comfortable and roomy back seat as well as good rear storage, plus the added benefit of a single-charge driving range of 480 km charged in less than 20 seconds, and the EV6  has a real shot at going "platinum" on the sales chart. Deliveries are expected to start in Q1 of 2022.