It's fitting that Kia has chosen to use the EV6 battery-electric vehicle (BEV) to not only showcase the launch of an all-new E-GMP modular EV platform, but of an entirely new design language as well. Gone is the brand's patented "Tiger Nose Grille", replaced on the EV6 by something they're calling a "Digital Tiger Face" which may sound strange, but looks stunning and more low-profile than previous.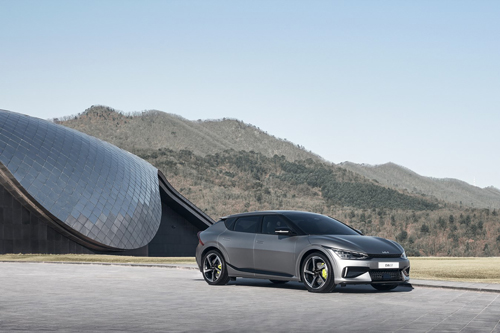 Overall, the EV6's stance is part crossover, part wagon and that's not a bad combination to have; with its aggressive headlight lenses, full-width rear lightbar (whose lights wrap 'round the side of the EV6 to meet up with a character line on the lower doors) and two-tone wheels hiding yellow brake calipers, there's a lot to like about the EV6's styling and while it looks properly adventurous and almost concept-like, know that it's virtually showroom ready and set to go on sale later this year. In fact, in some markets, reservations are already open.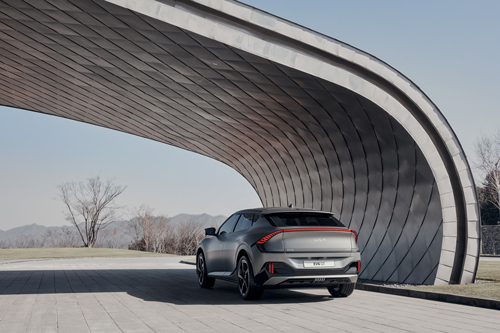 Inside, meanwhile, the stylistic adventure continues with all sorts of somewhat asymmetrical panels and surfaces, wild charcoal plus neon green piping and other trim bits such as the seatbelts and seats that are constructed of recycled plastics, dual 12-inch curved display screens for your gauge cluster and infotainment system, flat-bottom hub-style steering wheel and wildly angular door pulls and dash. There's also a dual-tiered floating centre console with all your drive and infotainment controls on top (the latter can also be controlled via touch) and USB ports and a surface on which you can stow various items below that. It looks a little like what an Xbox designer might do to a car's interior, so you'll never see it called "dull".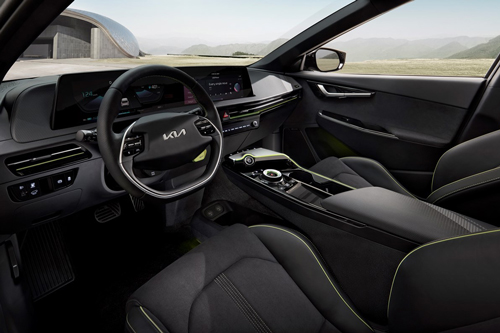 Other neat in-car tech bits include an augmented-reality (AR) head-up display, available 14-speaker Meridian audio and Kia's new "Connect" infotainment that allows plotting of EV charging points and receives over-the-air updates.
Power comes courtesy of one powertrain, but in two distinct forms: a long-range version with a 77.4 kWh battery, and a standard-range 58 kWh number. Both are available in either RWD or AWD, with the 77.4 RWD model getting a claimed 510 km on a single charge according to stringent WLTP ratings.
Power ratings carry from model to model, but they range from 225 horsepower on the low-range RWD car, all the way up to 577 hp and 546 pound-feet of torque on the top-flite AWD GT model, allowing it to accelerate from 0-100 km/h in 3.5 seconds. We'll save you the trouble of looking; those are some Tesla Model S and Porsche Taycan Turbo figures. Clearly, Kia is not messing around here and it's starting to look like the EV6 is going to be the brand's flagship model.
Power and acceleration figures are one thing (well, two things anyway) but when it comes to BEVs, charging and charge times are always going to be at top of mind, along with range.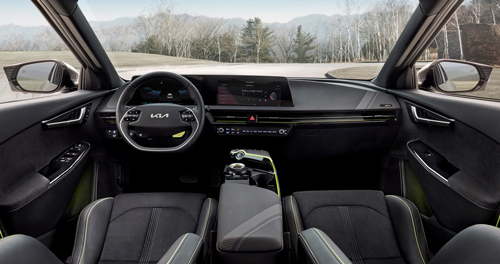 To that end, the EV6 will offer 800V and 400V charging capability with the former providing a charge of 10 per cent to 80 per cent in just 18 minutes. There's also one-pedal driving that will maximize energy recuperation and bring the EV6 to a full stop without ever having to touch the brake pedal. The cherry on top of all this is the system's ability to discharge power, effectively turning the EV6 into a generator for powering a television at a tailgating party, or various camping gear. Which can be hauled thanks to the EV6's ability to tow 1,600 kg and stow up to 1,300L if you drop the second row seats. There's also a Porsche 911-esque front trunk, or "frunk" (although these are being employed by much more than Porsches these days) that can fit 52 litres of gear.
Pricing has not yet been announced; expect that sometime soon as the EV6 is ready to leave the starting gates.