Hyundai has revealed some details about its next-generation hydrogen fuel-cell vehicle during a special event held in Seoul.
It will be officially launched early next year, but the near-production ready version of the SUV on display showcased the design and technology used in the new model.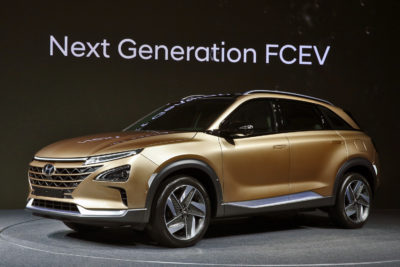 Hyundai says the model will signal an acceleration in the automaker's drive to develop low emission vehicles.
The automaker's parent company, Hyundai Motor Group, plans introduce 31 eco-friendly models (Hyundai and Kia combined) by 2020.
While it doesn't have a name yet, the new SUV does have some striking design elements that are derived from the FE concept shown at the 2017 Geneva Auto Show.
How many of those make it to the final production vehicle remains to be seen, but the design shown in Seoul is quite striking.
The SUV also features Hyundai's fourth-generation hydrogen fuel-cell system.
The automaker says the new fuel-cell technology was developed to be more efficient, more powerful, last longer and have an increased tank storage density.
In a release, Hyundai says the goal is to have a driving range of more than 580 kilometres on a single tank of hydrogen (based on Korean testing standards).
And rather than two tanks in previous hydrogen vehicles, the new SUV will feature three tanks of equal size.
More details about the vehicle and its features, as well as its name, will be unveiled in January at the 2018 Consumer Electronics Show in Las Vegas.