When Indian Motorcycles reinvented their Chief in 2021, it was done largely to create a stepping stone between their entry level Scout and their big-bore Bagger and Touring models. The debut also gave cruiser riders who were seeking an American, air-cooled, V-Twin powered bike, a venerable alternative to something sporting a soft tail.
Fast forward to present day and sitting before me, amongst a litany of bespoke creations in the depths of celebrated custom motorcycle fabricators Revival Cycles' garage, is the latest evolution of that platform; the 2023 Sport Chief.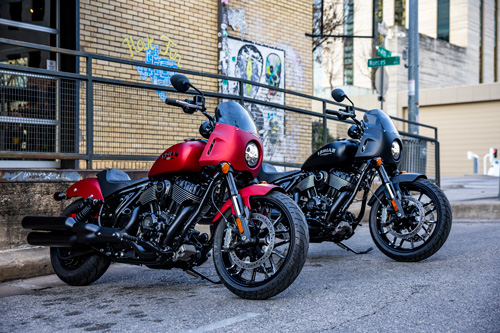 Tweaked with a focus on a more aggressive, performance oriented rider, the Sport Chief offers stiffer suspension, increased lean angles and beefier brakes – essentials when it comes to this type of optimisation, really. With prices starting at a healthy $22,999, the Sport Chief undercuts its closest rival (the Harley-Davidson Low Rider S) by some $1,300. We rode the Sport Chief around Texas Hill Country to find out if that's money well saved.
Powertrain:
When building a performance cruiser, the one place you certainly don't want to skimp is with the engine. Powering the Indian Sport Chief is the same 49-degree, 116-cubic-inch, air-cooled V-Twin found in all of the other Chief models. Dubbed the Thunderstroke 116, it is the biggest and most potent air-cooled motor in the Indian garage, churning out 120 pounds-feet of torque (horsepower numbers for the big V-Twin aren't given, but Cycle World reported 84.75 on their dyno, at 4,340 RPM). In an effort to help keep riders nether regions from roasting (and save a bit of fuel), the Thunderstroke incorporates rear cylinder deactivation technology.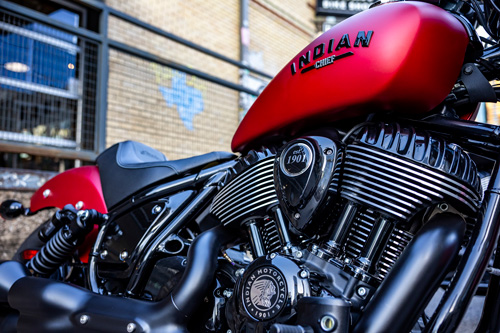 Power is fed to the rear wheel via a 6-speed, manual transmission and a final belt drive. Clutch action is a touch heavy, as expected, but easy to modulate and the engine is quick to develop its grunt. Launching from a standstill, it takes little effort and only a bit of nerve to spin the 180-series rear Pirelli before traction control steps in.
Styling:
If Oscar Wilde were peeking at the Sport Chief, I'd bet that he'd remind us that "imitation is the sincerest form of flattery". And while parallels between the Sport Chief and Low Rider S can certainly be drawn – they both feature a "club style" front fairing, elevated bar risers, mid-mount foot controls, mag wheels and a solo seat – my eyes spot enough variation in the execution between the two to allow both to exude their own distinctive style.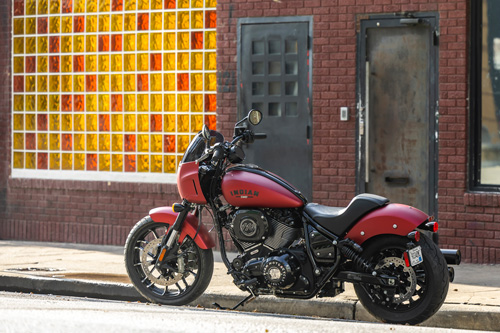 The Sport Chief makes excellent use of negative space – always a useful trick in the custom scene – to convey visual lightness. If you look at the distance left between the rear cylinder and mid-frame as well as the exposed triangle at the steering head, you can see clear intent to accentuate the engine. Combine these elements with the straight line that flows from where the seat meets the tank, all the way through the rear suspension, as well as that bobbed rear fender and the Sport Chief has both a more muscular and classic look. At least in my eyes.
Suspension and Brakes:
The biggest changes in developing the Sport Chief can be found at the suspension and brakes.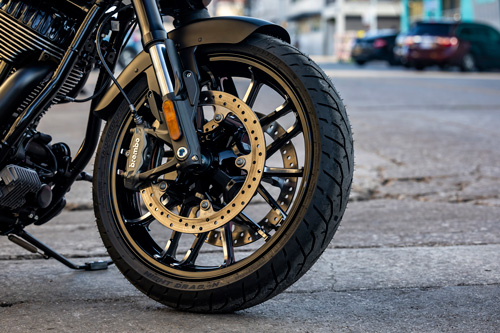 Up front, the Sport Chief makes use of a set of 43mm, inverted, telescoping KYB forks. This is the same fork that Indian uses in their Challenger model. Given the added weight that the Challenger carries as a bagger, you know that the fork is set-up with a stiffer spring rate and increased damping. Surprisingly, there is no adjustment available on the Sport Chief fork, but even when whipping through an especially bumpy road that wound between some Longhorn's homes, nothing really felt vague up front and, with 5.1-inches of travel, I didn't hit any bump stops.
In the rear Indian has outfitted the Sport Chief with a set of Fox Piggyback Shocks. Not only is the remote reservoir style shock an upgrade in terms of responsiveness and compression damping, they're also bigger units, so the ride height in the rear is increased by an inch. The extra travel was appreciated as it caused the Sport Chief's geometry to change a bit too. Both rake and trail are reduced (28-degrees, 111mm) and the achievable lean-angle has increased by a degree (to 29-degrees), to allow for a quicker and more aggressive handling package overall.
At speed on that bumpy, winding road, I did get bounced from my seat a few times as those shocks still ran out of travel over some creek crossings and cattle guard installations. Still, it must be said that this probably wouldn't be an issue for most riders unless they're really on the limit. If that describes your riding style and you're wanting for something even more advanced, Indian will sell you a fully adjustable set of Fox's to swap in. They are a $2,099 option that I would have rather seen as standard kit, to be honest. The stock Piggybacks (which can also be purchased and fitted for standard Chief models) are already a $1,299 standalone item, so the delta in making the adjustable units standard seems like it could have been easily absorbed in the MSRP while making the Sport Chief even "sportier".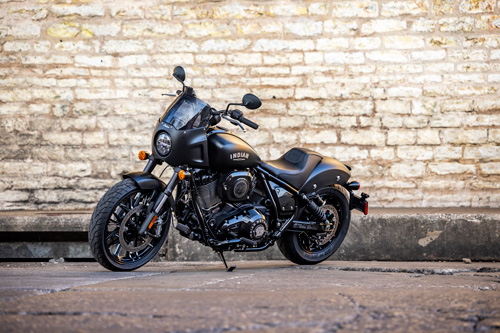 The other big move can be found flanking the 19-inch mag wheel up front. Unlike other Chiefs, the Sport gets a twin disc set-up, courtesy of Brembo. The 4-piston callipers clamp down on 320mm discs and shave speed incredibly well. Feel from the lever is good, creating a positive initial bite and fairly communicative progression. If you're coming from the sport bike world, they may still feel a touch numb, but for a cruiser that likes to hustle, they definitely do the trick.
Infotainment/Tech:
The four-inch, round touchscreen dash that Indian uses on many of their bikes is exemplary. The colours are bright and information is easy to read even when directly under Austin's burning February sun. The screen is responsive and can also be controlled via buttons on the left side of the bars. The bike comes equipped with a one-year subscription to Ride Command+, which gives you full GPS, turn by turn navigation and both weather and traffic overlays. The system works really well and may be one of the best in the moto world, save Honda's integration of CarPlay and AndroidAuto.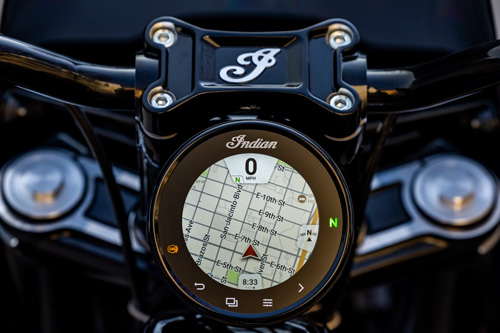 You can pair both your mobile and a headset to the system, which makes for super easy control of music and any calls that may come in during a ride. Once paired, the system will automatically reconnect, should you need to stop for fuel or to stretch some legs.
The Sport Chief comes with three ride modes baked in – Sport, Standard and Tour – and ABS is standard.
Ride:
After a brief photo stop a few blocks over from the myriad of bars and music stops dotting Austin's hallowed 6th Street, we were able to stretch the Sport Chief's legs. Texas Hill Country and its collection of sinuous roads are a natural playground for anything on two wheels.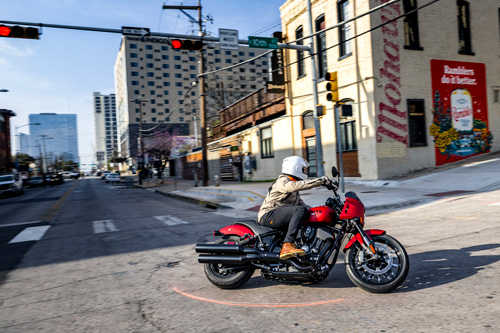 The Sport Chief accelerates with gusto, as the Thunderstroke 116 bellows its V-Twin tune. The sculpted rise in my bike's optional Syndicate seat keeps my arse locked in place and the stock, 6.6-inch risers have the mitts sitting in a comfortable position to both cruise and poke and prod. The mid mount pegs are well placed, too. You can easily transfer weight onto your feet to avoid large shunts or even to just stretch out a bit, on the roll.
At speed, the Sport Chief feels as stable as anything with a 1.6m wheelbase and a 311 kg tally. Turn in is sharper than expected, but again tail follows nose with predictability and the Pirelli Night Dragon's are happy roll onto their shoulders. The 29-degrees of lean angle means you will get the feelers down when hustling, but there is enough room in the ergonomics to comfortably shift body weight around to boost corner speeds.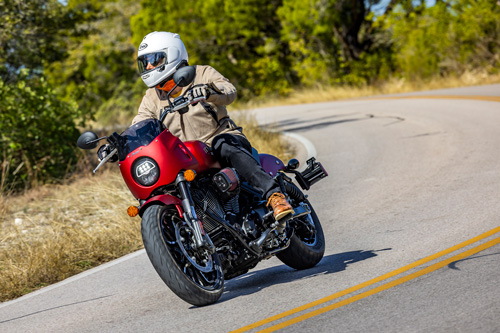 As far as the riding modes go, my dabbling with Sport created more herk and jerk from the throttle body than I wanted. Even when on the boil, the fuelling from Standard mode felt like the absolute sweet spot as there were no abruptions, just smooth creamy torque on demand.
A shortcut through a fairly well worn road that skirts the western edge of Balcones Canyonlands National Wildlife Reserve really tests the suspension and braking upgrades. The road is crowned, has thousands of bumps and more than its share of cattle guards and creek crossings – the type of road an adventure bike would just swallow – and the Sport Chief more or less took it in stride, only being unsettled by some of the more pronounced creek crossings and the speed that I'd attempted them.
Conclusion:
There's no denying that the tried and true cruiser rider is somewhat of ageing breed. The next generation of riders are more interested in combining the old skool style that those bikes exude with today's optimal performance characteristics. The Sport Chief presents as a well-polished, powerful and balanced handling offering that's been tailored precisely for that group of riders.
Clearly, the Sport Chief isn't the only bike that does this (or that does it well) but if Indian Motorcycle's brand of heritage and tradition are more your cuppa than their midwestern neighbours, then the Sport Chief should climb to the top of your list. And if you're undecided, know that the gauge cluster and the bonuses that Ride Command delivers would be worth an upcharge, in my eyes. The fact you get it with a savings? Well, you can do the maths.
2023 Indian Motorcycles Sport Chief
Motorcycle Style: Cruiser
Engine: 1,900 cc, air-cooled, V-Twin; Power: 120 lbs-ft torque
Transmission : 6-speed manual
WEIGHT: 311 kg (ready to ride)
PRICE: $22,999+
Website: Indian Motorcycle