Now in its third generation, the Acura RDX contends in the savagely competitive compact luxury crossover segment against heavies from BMW and Lexus. Your author fondly remembers when Acura was purveyor of rip-snorting '90s machinery like the Integra Type R and original NSX. Since then, the company seemed to lose the plot as its pendulum swung between quasi-sporty and pseudo-luxury.
Make no mistake: Acura sees this RDX, particularly the natty A-Spec trim, as its volume-leading assault in a return to those halcyon days twenty years ago. One needs to look no further than the dashboard's centre stack and its prominently placed Dynamic Mode selector … just like in the NSX.
This new RDX cribs some styling cues from the company's Precision Concept vehicle that was making the rounds on the auto show circuit, including a version of the family diamond-esque five-sided grille and the snazzy jewel-eye headlights.
A-Spec trim visits the RDX for 2019, bringing the total number of trims to five. That model, imbued with a couple of unique colors including an extroverted Apex Blue Pearl, is priced at $50,290. All models get a 2.0L turbo making 272 horsepower but the A-Spec gets a few unique interior and exterior treatments including 20" wheels, black accents, different trimmings inside, and a tachometer that reminds this author of the gauges found in the dearly departed RSX coupe.
Once again, we find a nod to those who remember sporty Acura machines of their youth but who are now in a position to buy a well-appointed crossover for family duty. That's not a bad market to target.
Acura knows it needs a killer app to stand out in a sea of me-too crossovers, and what better way to do that than to imbue its trucklet with a dose of performance-oriented handling?
The RDX development team – many of whom would buy a Type R if given the chance – made sure a marked difference could be felt between all four driving modes, from Snow to Sport+.
Gassing the RDX out of corners, one can actively feel the SH-AWD system deploy a form of torque vectoring to alter power delivery to the outside rear wheel, giving an illusion the RDX was tucking its tire like a rear-drive machine.
Shutting the traction control off, Acura invited us to toss the RDX down a loose-gravel slalom. Engineers have programmed the SH-AWD system to provide up to 70% of the engine's power to the rear wheels, so nailing the throttle on a pebbly surface while negotiating a sharp left turn kicked the rear end out as if the RDX was rear-drive. If these shenanigans herald Acura's return to its sporty roots after being lost in the wilderness for a decade, that's alright with me.
The RDX cockpit also got a thorough rethink, well-crafted with sumptuous materials. A 710-watt ELS Studio Premium audio system utilizes sixteen speakers, including four ceiling-mounted speakers, to create a natural and omnidirectional high-fidelity listening experience.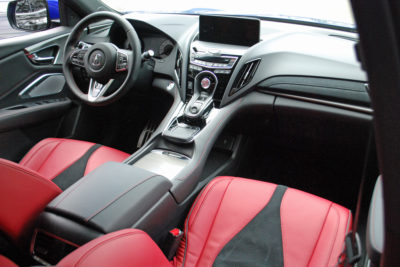 Steely Dan's track Babylon Sisters sounded phenomenal as the speakers ooze effortless sound. Horns in the song appear from astern, providing a convincing 'on stage' experience and proving the quintet of roof speakers make a huge difference. Directly stepping into another machine lacking this system is like eating at McDonald's immediately after dining at a Ruth's Chris steakhouse. The ELS stereo is that good and it is absolutely worth stepping up to the A-Spec or Advance to get it.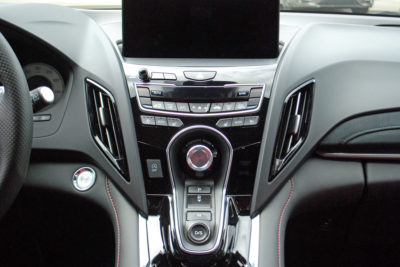 The RDX will make an opening bid in Canada of $43,990, equipped with all-wheel drive. In addition to the entry model being $1600 more costly, other trims have also hiked their prices. The mid-range 'Tech' trim will now cost $46,490, while the top-spec 'Platinum Elite' model stickers at $54,990. That's a full $10,000 walk from last year's most expensive RDX.
It adds up to a push by Acura to move the RDX upmarket, where top-spec BMW X3s can easily park themselves north of $60,000. With its newfound style and dose of performance-oriented manners, the RDX is worth the extra cash it is now commanding compared to its predecessor.
Now if you'll excuse me, I need to find a clear copy of the Gaucho album from Steely Dan.
2018 Acura RDX A-Spec
Price as tested: $50,790.00
Freight: $2,045.00
Configuration: Front engine/All-wheel drive
Engine/transmission: 2.0-litre turbocharged inline-four/ 10-speed automatic
Power/torque: 272 horsepower/ 280 ft-lb of torque
Combined fuel economy ratings (L/100 km): 9.8 L/100 km
Observed fuel economy (L/100 km): 10.8 L/100 km
Competitors: BMW X3, Lexus RX 350, Infiniti Qx60, Mercedes-Benz GLC, Volvo XC60
Related links:
Acura Canada