It's cold in Norway, but that's to be expected in this northern part of the world. Unlike my New Zealand counterparts, however, my thick Canadian skin has no problem dealing with the -15°C outside temperature. But I am taken aback at the amount of fresh snow covering the mountains and roads as we drive from a frozen lake test track back to the Vestlia Resort, a ski mecca an hour away in Geilo.
Within minutes of leaving the main highway for the road less travelled, I am sucked into a snow bank, buried so deep it requires a local tractor operator to pull me out. My Canadian pride of knowing how to drive in winter conditions is somewhat damaged, but I soon find out everyone else in our group of Canucks and Kiwis will share in my experience as they too are pulled off track. One of the vehicles manages to free itself and get back on the road, but the other two are left waiting for help to arrive. This is one Norwegian adventure none of us will soon forget.
Mitsubishi has a long and decorated history of building exceptional go-anywhere vehicles, and the brand-new Eclipse Cross with S-AWC (Super All Wheel Control) I am driving is no exception. Our unplanned off-roading excursion is not the fault of this stylish CUV, but rather proof that no matter how capable a vehicle is at commanding the road, when it comes to driving on snow and ice, nature wins. Remember this the next time you drive down the highway at speeds too high for the weather conditions. Technology can only take you so far, sometimes bad things happen so be prepared and learn how to react when it all goes wrong.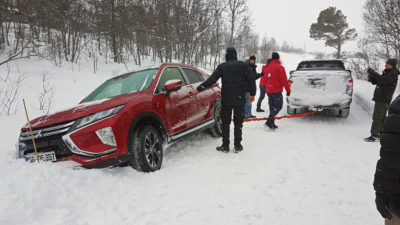 The 2018 Mitsubishi Eclipse Cross is the latest vehicle to arrive in Canada from the Japanese automaker as they push forward with a new plan for success. Rooted as an integral part of the Renault Nissan Mitsubishi Alliance, the way forward is flush with cash and a solid team of designers lead by Corporate Vice President, Division General Manager of Design Division Tsunehiro Kunimoto.
It was just a little more than a year ago that I had the chance to meet with him at the Okazaki Assembly Plant a few hours outside of Tokyo and later at dinner where he excitedly shared as much information as he could on the new direction Mitsubishi was planning to take. Proof that his thoughts were indeed correct now rested firmly in my hands and underfoot.
Power comes in the form of a 1.5-litre DOHC 16-valve direct injection turbocharged 4-cylinder engine. Matched to an 8-speed CVT transmission with sport mode, it delivers 152 horsepower at 5,500 rpm and 184 lb-ft of torque at 2,000-3,500 rpm.
This little engine is not going to win the performance race when compared to similar sized competitors such as the Honda CR-V, but it will hold its own and can certainly keep up in the areas of style, practicality, driveability and maybe most importantly, cost of ownership. It's hard to beat Mitsubishi's 10-year, 160,000 km powertrain warranty.
Electric power steering is light and crisp and the MacPherson Strut front, Multi-link rear suspension, both with stabilizer bars, makes it easy to stay balanced and in control while driving. Four-wheel disc brakes equipped with 4-sensor, 4-channel ABS and EBD reduce speed in a hurry and with complete control.
I get to experience all this technology on a 2 km and separate 1 km high-speed snow and ice track located on a frozen lake somewhere in northern Norway. Combined with S-AWC, the Eclipse Cross holds true to course and makes infinite corrections in milliseconds as I do my best to lose control at times, just to increase the level of excitement. Switch off the traction control and the fun factor ramps up, but there is still a superior level of stability as S-AWC maintains a steady helm.
Only in a controlled setting such as this are we encouraged to let it all hangout and see how fast we can go before the vehicle gets a little too loose in a corner. Having learned how to drive on snow in a rear-wheel drive 2-door coupe with no winter tires many decades ago, maintaining direction becomes a balancing act of firm braking to set up the corner and applied throttle pressure to maintain direction. This is way too much fun to be legal!
The exterior design of the new Eclipse Cross is similar in concept to the current generation Mitsubishi Outlander. As a bonus during our time in Norway, we also get to drive the new Outlander PHEV finally making its way to North America after a successful run in Europe as the continents #1 selling hybrid electric SUV.
The Outlander stands tall and regal, while the Eclipse Cross appears taut and aggressive; a sporty look that should attract small to midsize CUV buyers. Both highlight the signature Dynamic Shield front grill, a distinctive feature that clearly distinguishes Mitsubishi vehicles from its competitors. In back, the rear hatch design of the Eclipse Cross offers unique LED lighting and increased height for easy loading.
Inside the 2018 Mitsubishi Eclipse Cross, the atmosphere is refined and comfortable. Our test vehicle is equipped with a leather wrapped steering wheel and seats, brushed metal and piano black accents that provide the look and feel of a much more expensive vehicle.
The center console highlights a large Infotainment screen, central vents, a lower HVAC system and a well-organized command center with full-size cupholders. Plugging in your devices is simple, so too is adjusting the S-AWC system. Large, round white on black gauges are straightforward and easy to read at a glance, something other car companies seem to miss these days.
Headroom is more than adequate, even for those in the back seat. Storage space is perfect for a family of 4-5 with folding down rear seats in various combinations. The materials used throughout also appears to be of a very high quality.
The 2018 Mitsubishi Eclipse Cross has a tough road ahead in the highly competitive small to midsize CUV market. Competitors form a who's who list with Ford, Honda, Toyota, Mazda, Hyundai and Kia just some of the current key players. Every automaker wants in on this segment, it is the hottest right now with no sign of slowing down. To have a chance, you need great product and at first glance the new Eclipse Cross has what it takes. With more vehicles coming soon, it appears the best days for Mitsubishi are yet to come.
2018 Mitsubishi Eclipse Cross
Price range: $27,798.00-$37,498.00
Freight: $1,700.00
Configuration: Front engine/all-wheel drive
Engine/transmission: 1.5-litre 4-cyliner turbo/ 8-speed CVT
Power/torque: 152 horsepower/ 184 ft-lb of torque
Fuel (capacity): Regular (60 L)
Combined fuel economy ratings (L/100 km): 9.3 L/100 km
Warranties: 10-years/160,000 km (basic)
Competitors: Ford Escape, Honda CR-V, Hyundai Tucson, Mazda CX-5, Nissan Rogue, Toyota RAV-4
Related links:
Mitsubishi Canada
The Globe and Mail