Tuesday, 4pm, Vaughan, Ontario: Welcome to the Canadian automotive industry's annual rolling green presentation, EcoRun, where writers spend long days driving an array of ecologically pitched cars in different corners of Canada. This year — it's the first EcoRun since 2019, though I forget why — 15 of us will drive from the GTA into what Torontonians colloquially call 'up north' and back, tomorrow through Friday.
Welcome also to an excellent illustration of the whole problem.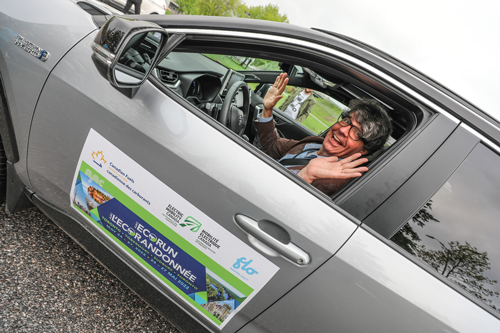 In the spirit of ecology and #LastMileSolutions, rather than drive to this driving event, I elect to take the subway because it launches just across from the end of the line, here in Vaughan. But well out of said spirit, this burgeoning new suburb is a concrete and tar hellscape, whose designers' idea of imaginative architecture is a multiplex cinema built to resemble a spaceship; sidewalks and pedestrians are an afterthought. The driving kicks off early tomorrow at 7am, so participants are welcome to spend the night here, with the constant noise from 2 major nearby highways for lullabies.
Day 1, 9am: We're late. See above re the whole problem. There was a freak tornado 4 days earlier in southern Ontario and parts are still without power. The Kortright Centre for Conservation, the site for EcoRun's official kickoff is one of those parts.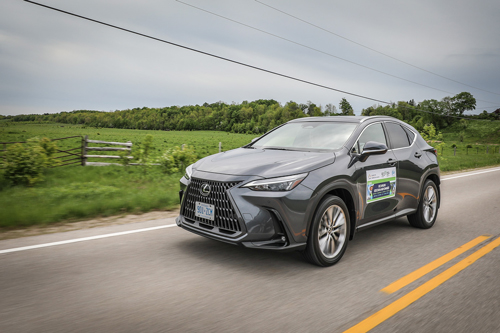 My first drive of the event is the brand new — so brand new that we're not allowed to release our opinions of it for nearly a month — Genesis G80 electric vehicle (EV). So that's all I'll tell you except to look for my review of it here from noon on June 21. It'll be gushing new with flattering new adjectives.
2:30pm: Leg 2 of the event commences in that faux Swiss ski village at the foot of Blue "Mountain", a favourite getaway for Ontarians, a favourite punchline for British Columbians and Quebeckers.
I'm driving the Toyota Sienna Hybrid minivan. You'd have to work hard to source a greater contrast to this morning's shuttle for diplomats but I love it nonetheless. A minivan should be a rolling playground, safe and useful for the whole family and the Sienna ticks all the boxes. (Your author is a middleclass dad who's, more than once, enjoyed the comfort of thick tube socks in sandals, so you can trust this as a demographically sound recommendation.)
In fact, I seem to enjoy it so much that I somehow miss vehicle trade for Leg 3 and, with it, a chance to challenge the driving dynamics of the Lexus NX 350H (H is for hybrid). A pity. Throughout the day, this event's organizers have been logging our fuel efficiency numbers, rating us in a competition for the greenest driver. Technically, missing an entire leg disqualifies me early. So, sadly, I won't go home in 2 days with a new t-shirt, EcoRun's vaunted Green Jersey.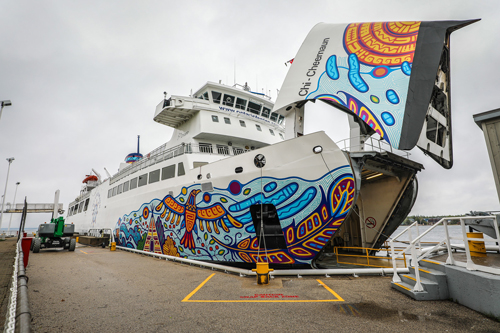 I am, however, the first driver to arrive at today's destination, Tobermory, a famous geographical anomaly in the Great Lakes, at the northernmost tip of the Bruce Peninsula. Sadly, we don't get much of a view. Tobermory's shrouded in low-hanging cloud so thick you'd expect the Mystery Machine to float by while Shaggy observes 'Spooky, Scoob!'
Day 2, 9am: 'haar' is a uniquely Scottish noun for an impenetrable fog that sets in and makes itself comfortable for days. We're aboard the Chi-Cheemaun ferry to Manitoulin Island but it feels more like we're trapped in a haar-drenched Stephen King novella. Our vista from deck-side includes exactly nothing but does provide insight into the glum Scottish character.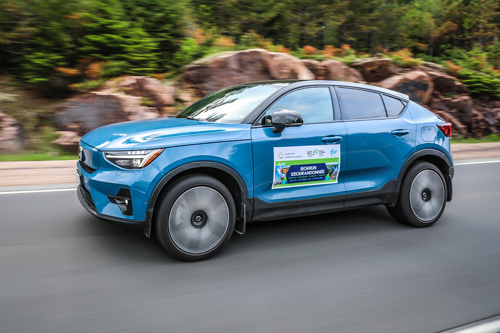 11am, Leg 4: Seeing as how I've already blown the chance to win the Green Jersey award for efficient driving, I agree to allow the video team Genesis has hired to document this event to shoot while I challenge the laws of physics in the GV60 EV. This compact SUV contains a 'Boost' button which releases maximum torque. The crew wants to film its power in action.
There's no police presence here on Manitoulin Island's foggy Highway 6. (Better buckle up, reader.) 3-2-1, lift-off!
Instantly, we're teleported several seconds into future and must decelerate to allow the clock to catch up. The camera, suction-attached to the windscreen until 2 seconds ago, is ripped from its perch. So, we need to do the shot again. And that's OK.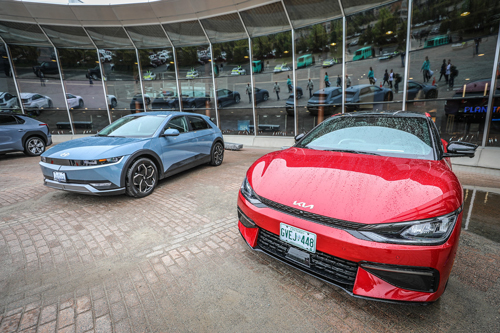 12:30pm: Leg 5 feels like a reunion with an old friend. I'm driving the Kia EV6 which I tested just over a month ago for Vicarious. Back-to-back with the GV60 EV, it makes an interesting comparison but I dare not unleash full torque again; unlike last hour, this short stretch of the TransCanada highway between Espanola and Sudbury is well populated with police.
3pm: Leg 6 follows a lunch break and wander through Sudbury's Museum, Science North, which is coincidentally hosting a BEV (battery electric vehicle) conference at the moment with a focus on mining, Sudbury's economic specialty. We're on our way to the imaginatively named town of North Bay which is, big surprise, a bay at the north end of Lake Nipissing. The drive is passed in the Hyundai Ioniq 5 and, often, in the passing lane. Built on the same platform as the Kia EV6, the Ioniq 5 handles every bit as well.
6pm, Leg 7: I'd say we're all exhausted but most of these vehicles produce zero emissions. Let's say we're tired. I'm driving the Toyota RAV4 Prime, a plug-in hybrid, for this final drive of the day. It's 130km to the town of Huntsville in the region of Muskoka. Its rear gate was dented and damaged earlier and, given the length of this long day spent sitting, I know how it feels.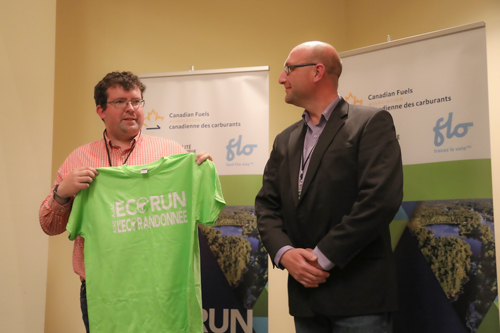 9pm, Closing Dinner: On this third and final night of EcoRun, the organizers award the Green Jersey and — spoiler alert — I don't win. However, now that the competition is over and our stats aren't being tabulated, the drives back to the GTA hotel where we began needn't be as careful.
Epilogue, Day 3, 9-11:30am: On EcoRun's final 2 legs, I'm in a different coloured Hyundai Ioniq 5 than yesterday, then a different coloured Genesis G80 than 2 days back. Watch this space for a report on the latter — the car, not the colours — coming June 21.