When I told my band mates I'd be showing up to our Grand Bend gig in a Maserati their eyes lit up like they were a bunch of kids on Christmas morning. To average folks, the name Maserati resonates with the same hallowed mystique as that of Ferrari and Lamborghini. Italian exotica of the highest order. Legend of racing and maker of rarefied high-powered wedges. Never mind that most couldn't recognize a Maserati if ran over them, such is the relative obscurity of this Italian brand that, in its long history, has had more ups and downs than the Leviathan roller coaster at Canada's Wonderland.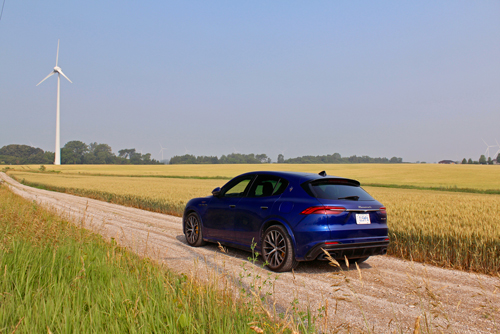 "Well, it's actually their new compact SUV, the Grecale."
Silence.
"But this is the Trofeo model, with Maserati's very own 532-hp twin-turbo V6."
Some appreciating nods, but that's it. I explain that every automaker, even Ferrari, makes an SUV-type vehicle 'cause that's where the money is. Cue the eye-rolling. This is going to be a tough room.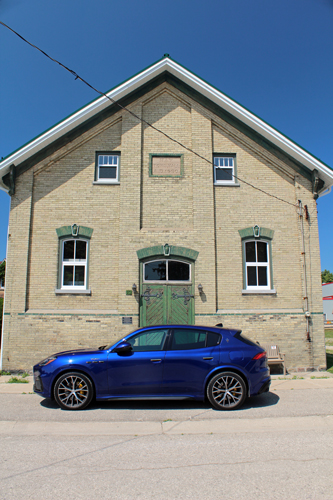 Attitudes change when I roll up in the Grecale Trofeo. Dipped in striking Blu Intenso (how Italian) and crouching on 21-inch alloys, the band and actors at the Huron Country Playhouse are all over my Maser like stink on a monkey. Everybody wants a ride, and those that get one squeal with delight as the V6 launches us down the road with the exhaust broadcasting the rudest of blats when I flick the long alloy shift paddle for a quick series of kidney-punch upshifts. Excitement. Drama. Passione. The as-tested price of this specimen might be an eye-watering $145,000, but for that you're getting exclusivity, bags of character, style, and speed. And a big Trident logo on the grill. For a select few, this is worth the premium over the offerings from Porsche, Mercedes-AMG, et al. Actually, its closest competitor in spirit is the fabulous raucous Alfa Romeo Stelvio Quadrifoglio, with which it shares its platform.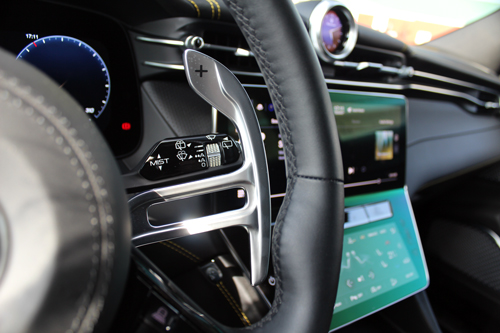 That's not to say the Grecale Trofeo is a one trick pony. Dial it back to Comfort mode (via the rotary controller on the steering wheel) and it settles into a convincing cruiser with an impressively compliant and refined ride. The heated and ventilated front seats possess a magical blend of comfort and firm support, perfect for touring this charming region of the province dubbed Ontario's West Coast. Hugging the shores of Lake Huron, OWC brags white sandy beaches gently lapped by warm(-ish) water, quaint towns, a provincial park and, if you're so inclined, one wild summer party known as Grand Bend.
The southern part of this region is marked by the Pinery Provincial Park, a 2,532-hectare natural reserve that is home to two rare ecosystems: freshwater dune grasslands and the Oak Savannah. The latter – a transition zone between prairie grasslands and oak forests – is all but gone elsewhere. The Pinery protects about 50 percent of the world's remaining Oak Savannah. Why is it still here? Good fortune. The sandy soil was no good for farming and plans for a huge golf resort in 1929 fell through due to lack of financing.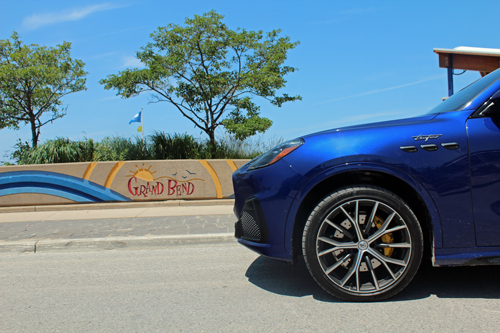 While the town of Grand Bend is only nine kilometers north on The Bluewater Highway # 21, it's a world away from the tranquility of the Pinery. Turn left onto Main St and you're right in the heart of the experience. The strip, lined with shops and bars, takes you to the famed beach. I cruise down to grab some photos, and then head back up the road to the Dark Horse Estate Winery. The 85-acre vineyard and winery was established in 2014 – a passion project by the local entrepreneurial Rasenberg family. The centrepiece of the operation is the stunning 31,000 sq.-ft manor house with its tasting room and outdoor patio/dining area.
If you're staying in the area, check out the top-notch stage productions at the Huron Country Playhouse, and for those with a penchant for noise and drama, the Grand Bend Motorplex is Canada's largest ¼ mile drag racing facility. There's something going on most summer weekends, and "Test and Tune" days give folks the opportunity to thrash their street machine.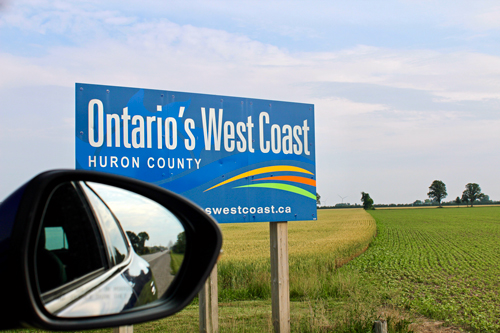 Naturally, I was sorely tempted to run this shockingly fast Italian down the quarter mile. Or better still, attack the facility's road course (track configurations from 1.4km to 2.8km in length) to fully appreciate its surprisingly adept handing. Buttoned down in Corsa mode, the standard air suspension firms up and drops the body for full attack mode. But without Maserati's permission (and track insurance) that was a definite no-go.
Instead, I crank up the 21-speaker Sonus Faber audio and point north toward Zurich, home of the famous Bean Festival that takes place the fourth Saturday in August. There's a fabulous car show too, and of course baked beans. Gallons of the stuff.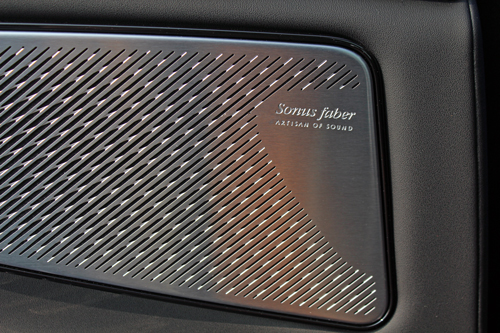 Fifteen minutes up the road from Zurich you'll find the enchanting town of Bayfield where its quaint main street is lined with galleries, craft shops, and eateries. Be sure to drop into the Black Dog Village Pub and Bistro. What was once an old grocery-store-cum-beer-hall is now a going concern. The food is fabulous, and with 50 beers and 150 whiskies on the menu, it's a destination for aficionados of said elixirs.
The 2023 Maserati Grecale Trofeo starts at $129,500 and features the aforementioned "Nettuno" 3.0L twin turbo V6 that debuted in the MC20 super sports car, here detuned to 523 hp from the MC20's 640 ponies. Hooked to an expertly tuned 8-speed ZF auto, this exotic twin-plug mill churns out a healthy 457 lb-ft of torque and sends the Trofeo though the 100 km/h mark in 3.8 seconds on its way to a 285 km/h top speed. Sadly, the V6 sounds uninspired when just tootling around, but call up Sport or Corsa mode, give it the spurs and it bellows like Caruso going for high C after a night of chugging limoncello. All punctuated with those antisocial upshift farts which even had the sleepy cows looking my way when I flew by.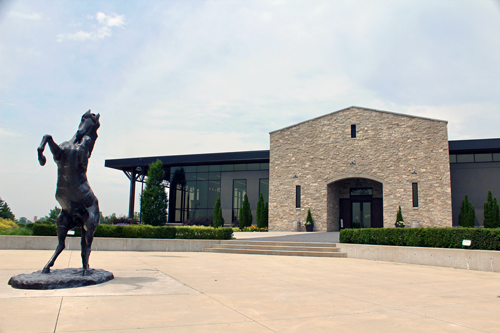 This tester gets the $5300 Premium Plus Package that bestows ventilated front seats, heated rear seats, heated steering wheel, heated windshield washers and that fab Sonus Faber audio. The $3900 Driver Assistance Plus Package is pretty much a necessity as it adds blind spot detection, adaptive cruise, active driving assist, traffic sign recognition and so on. You didn't think you were buying a Maserati without a pricy trip down the option and package aisle did you? Other interior niceties include sport pedals ($250) and stitched trident on the headrest ($500). The 360-degree camera lifts a further $1000 from your wallet.
Running north from Bayfield lands you in Goderich, once proclaimed by Queen Elizabeth II to be Canada's Prettiest Town. I guess Liz never took a tour of the giant salt mine or visited the Huron Historic Gaol – the latter guaranteed to make you want to remain a model citizen.
Opened in 1841 and decommissioned in 1972, it was the site of the last public hanging in Canada on December 7, 1869. Three weeks after Nicholas Melady swung for the murder of his father and mother in-law, the federal government banned all future public hangings.
Ontario's West Coast officially runs another 35 km north to Amberly Beach, and you can't visit this region without experiencing the spectacular sunsets. There is beach access from almost anywhere along the Bluewater Highway. Find a quiet spot and take it in. Preferably with a strawberry rhubarb pie from Jerry Rayder's Homestyle Market in Zurich and a nice bottle of Rose.