A full-electric cargo van is probably one of the most obvious uses of EV technology in the world today.
Delivery vehicles are responsible for a disproportionate amount of CO2 discharge into the atmosphere and therefore emissions-free motoring could have a massive impact on the delivery vehicle world. Just think about it: how often have you seen a delivery van parked at the side of the road, idling? They stop and go a whole heck of a lot and with an EV, that is far less harmful when stopped, very little power is consumed and of course there are no emissions.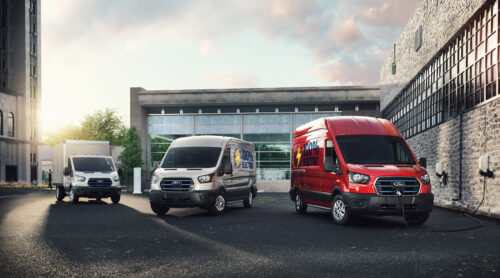 It's with all this in mind that today, Ford introduced the all-electric E-Transit line-up of vans; yes, you read that right – we're not talking one van here, but a whole roster of vans that includes three roof heights, three lengths and chassis cab and cutaway models. Each one will be powered by a 266 horsepower electric motor that also makes 317 pound-feet of torque, and has an estimated driving range of over 200 kilometers in the low-roof cargo van variant, which will have the longest range of them all. Ford says its targeting a 1,724 kilogram payload capacity for cargo vans, and a 1,946 kilo payload for cutaway variants. The high roof, extended wheelbase variant, meanwhile, has 13,799 litres of cargo room inside.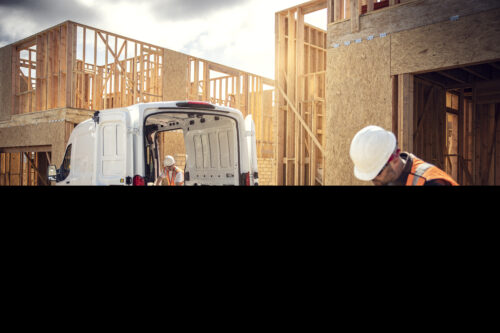 All E-Transits will be produced at the Kansas City Assembly Plant in Claycomo, Missouri.
In addition to the numerous configurations, the E-Transit offers the same interior cargo dimensions and mounting points as the gas-powered vans and can make use of the same upfitting programs that the current van already does. That includes 13 upfitters located near the Claycomo facility, so vans can make their way directly to the upfitter from the factory, saving time and money.
"We've made it easy for any of our customers and our upfitters to continue using the exact same upfit on the E-Transit as they do on the gasoline transit," said Ray Eyles, Chief Program Engineer for Ford Transit in the US. "We are going to be working closely with our upfitters to make sure that they understand the implications of working with a power pack that's now high voltage electrics. There are clearly safety implications to that and we need to make sure that our upfitters are given the same kind of safety training for their operating system we would give to our normal dealerships."
Charging can be done wither via 240V level-II charging or DC fast charge, which provides 48 km of range after 10 minutes of charging. A Ford Connected Charge Station is also being offered so drivers can charge their vehicles at home, which can charge the Transit to the tune of about 24 km per charging hour, while the Ford Mobile Charge Station does so at a rate of 16 km per charging hour.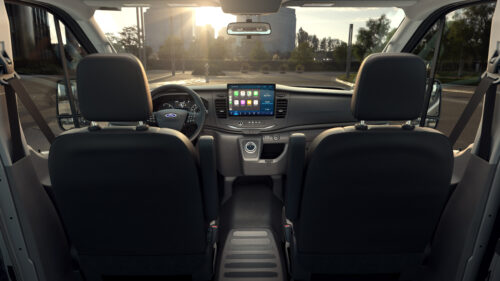 Not only is the E-Transit program launching to help further the drive towards cleaner – and more affordable, more of which in a minute — motoring and service work, but it arrives at a time where many governments are on the brink of enacting zero-emissions mandates; California, for example, has mandated that all new cars and passengers trucks sold in the state be zero-emissions vehicles by 2035. It will also help Ford achieve its goal of becoming carbon neutral – that is to say any carbon emissions from a vehicle's manufacturing process will eventually be offset once they hit the road – by 2050. The E-Transit will be joining forces with the likes of the upcoming Mustang Mach-E crossover and F-150 EV pickup to achieve that goal.
Speaking of "more affordable": Ford claims that scheduled maintenance for the E-Transit will cost 40 per cent less on average over and eight-year period than a gas-powered truck. EVs – vans or otherwise – have fewer moving parts, need less fluids and are simpler to work on than traditional gas engines, all factors that combine to lower the cost of ownership. And when you're operating a fleet of vehicles as is the case for so many van owners, those per vehicle cost savings can go a very long way.
In addition to cost savings, E-Transit owners will be able to make use of the Ford Commercial Solutions fleet management app, which can be used to monitor a vehicle's charge levels as well as help plan trips that include charge points along the way. On board each E-Transit, meanwhile, the Ford Co-Pilot360 suite of driver aids offers adaptive cruise control, traffic sign recognition and the ability to modify your cruise speed automatically once speed limits change. There's Ford SYNC4 infotainment and 12″ touchscreen as standard.
The 2022 Ford E-Transit will start at $58,000 in Canada when it goes on sale in late 2021.