Well, Ford's upcoming Mustang Mach-E sure is, and Ford has turned to long-time tuning partner RTR ("Ready To Rock") Vehicles to help it do so. RTR has crafted bonkers versions of Mustangs, F-150s and now, the Ranger.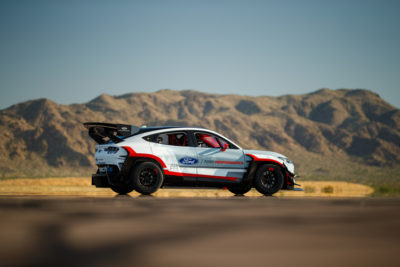 Enter the Mustang Mach-E 1400, an all-electric behemoth of a car good for an estimated 1,400 hp courtesy of seven electric motors. That's two more than the Mach-E GT gets. According to Ford, the goal is to show the kind of power that can be made without the car using "a single drop of gas". Of course, we've seen all-electric EV super- and hypercars before, but to take a more mass-produced – well, soon-to-be mass produced, anyway – vehicle and achieve figures like that is a different ball of copper wire.
More than just providing the motors, the battery discharge rate needs to be improved in order to reach those power figures. To do so, RTR has turned to nickel manganese cobalt battery cells that are liquid cooled as they charge.
Speaking of charging: RTR has installed an electronic brake booster for the Brembo brakes – same brakes used on the Mustang GT4 racer – for faster charging. There's also a drift-specific hydraulic handbrake.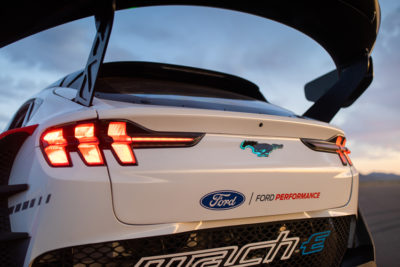 It's not as if RTR – a company founded, as it happens, by professional drift driver Vaughn Gittin Jr —  is buying a bunch of Mach-Es and giving them a once-over, either; RTR is taking body-in-white vehicles and applying their tech. Tech that includes multiple adjustable differentials that can be set for drifting, road driving and high speed track work. Power delivery, meanwhile, can be split 50:50 or 100 per cent to each axle.
Also helping performance is a heavy focus on aero, of which there is enough to generate over 2,300 lbs. of downforce at 160 mph. That includes a massive rear wing, front splitter, canards, underbody diffuser, and enlarged cooling ducts.
"Getting behind the wheel of this car has completely changed my perspective on what power and torque can be," said Gittin Jr. "This experience is like nothing you've ever imagined, except for maybe a magnetic roller coaster."