A pre-production Bugatti Chiron derivative has broken the 300-mile-per-hour barrier topping out at 482.80 km/h. In addition, Bugatti set a new TÜV-certified speed record with 304.773 mph (490.484 km/h). Factory test drive Andy Wallace achieved the record at the Ehra-Lessien test track in Lower Saxony. To achieve top speed, he worked his way up in 50 km/h intervals from 300 km/h to make sure all systems were working at their peak and the car was properly balanced with lift and downforce on the track.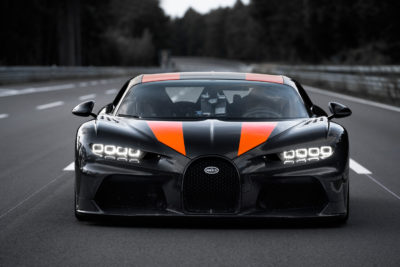 "An incredible speed. It's inconceivable that a car would be capable of this. But the Chiron was well prepared and I felt very safe – even in these high speed ranges," says Andy Wallace. "Even at the first attempt I felt this would work. The Chiron ran perfectly and the track and weather conditions were ideal. The whole team did a fantastic job," says Wallace, overjoyed at the accomplishment.
Bugatti states, "It's not the first time that Andy Wallace has set a speed record: in 1998, the Brit reached a speed of 391 km/h (243 mph) in at McLaren F1 on the same track, likewise setting a record."
Support for this record-breaking achievement was provided by Italian race specialist Dallara and tire manufacturer Michelin. High-speed tires currently used on the Chiron were reinforced to handle the additional load of 4,100 rotations per second at speed.
"Bugatti has once again shown what it's capable of. With this new record of the Chiron we enter again uncharted territory. Never before has a series manufacturer reached this high speed," says Stephan Winkelmann, President of Bugatti. "Our goal was to be the first manufacturer ever to reach the magic 300-mile-per-hour mark. We have now achieved this – making ourselves, the entire team and myself, incredibly proud." With this new world record, Bugatti will also withdraw from the competition to produce the fastest serial production cars. "We have shown several times that we build the fastest cars in the world. In future we will focus on other areas," says Winkelmann.