On the surface, the Maserati MC20 ("Maserati Corse" and "2020") is, without a doubt, a stunner.
All the trademark supercar bits are here: gullwing doors (that, according to Maserati, aren't just here to look cool, but make for the easiest possible cabin entry), edgy, cab-forward styling, mid-engine layout, big cuts and vents for aero and cooling and some proper, spidery wheels.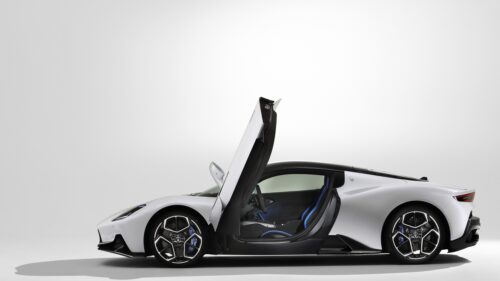 The big story, though – actually, perhaps we should say the small story – lies under the clamshell hood. That's a 2.9-litre 90-degree twin-turbo V6 good for 621 horsepower and 538 pound-feet of torque. The engine is unique to the MC20, not shared with any other vehicles in the Fiat Chrysler Automobiles umbrella where Maserati resides. That's the first time a Maserati has used an engine produced solely by Maserati in over 20 years. It's called "Nettuno", was built in a top-secret lab in Maranello and it makes use of something called "Maserati Twin Combustion" to make power as efficiently as possible. The whole car, meanwhile, will be built on a revamped line at the Viale Ciro Menotti plant, where they've been building various Masers – including the GranTurismo and GranCabrio models – for over 80 years.
That 621 hp figure is nice, but its work is reduced thanks to how light the MC20 is. Weighing in at just 1,500 kilos thanks to extensive use of carbon fiber for many parts, the MC20 can pull the 0-100 km/h sprint in less than three seconds, on to a top speed of 325 km/h – that means it goes over 200 miles-per-hour, which raises more eyebrows still.
While it's easy to think of Maserati as kind of an old-school company that put form over function in many cases, the MC20 was partly developed in Maserati's proprietary Vehicle Dynamics Development system, that allows for actual dynamic testing to happen in a virtual environment. Of course, it made its way on to the track after that, but you can imagine the cost savings and depths they were able to reach with this development style.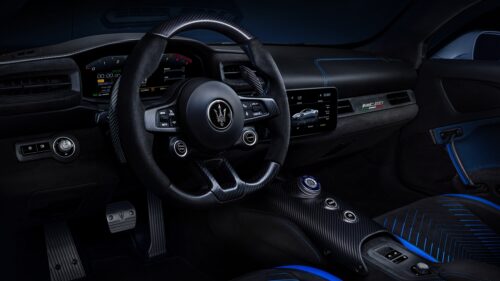 Like the exterior, the interior is all about elegant, purposeful and smooth lines with few sharp edges to break with the feeling of unity found throughout the cabin's environs. Digital displays make up the gauge cluster as well as the full-fledged infotainment system with wireless charging and an app suite, and the engine start button is mounted to the steering wheel. There are actually quite a few buttons mounted to the wheel because like McLaren does with its cars, Maserati wanted to keep the center console as uncluttered as possible. Only a pair of drive mode selectors, power window controls and the infotainment controller reside there.
It should come as no surprise that Maserati has picked six new colours especially for the MC20; perhaps more surprising is the fact that according to Maserati, the MC20 has been designed from the get-go to be a coupé, convertible and a full-EV vehicle.
Either way; it's good to see Maserati back in the saddle and designing ultra-original exotics in the same vein as 2004-05's MC12 supercar.