We all knew the C8 Z06 was coming, didn't we? It's like clockwork; since as long as many – myself included – can remember (the original "Z06" was actually an option package for the '63 car), every time a new generation Corvette has arrived, it was inevitably followed by the high-performance (and often track-biased) Z06 version. Not to mention that this latest Z06 has been one of the least well-kept secrets in the car world.
It was never officially, though, until now.
After arriving two years ago, the latest Corvette is getting a Z06 version for 2023 in both coupe and convertible forms. It's got more power, it's lower, it's wider, it's more aerodynamic and above all, it's faster than the Z06 has ever been.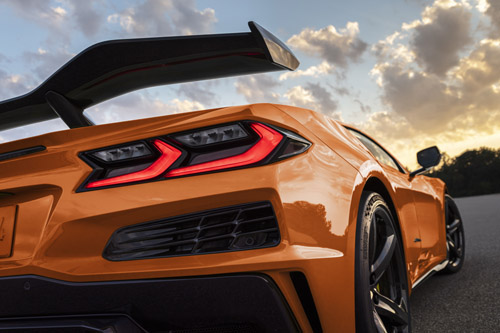 There are also sorts of chassis and aero additions to delve in to, but it all starts with the powerplant. It comes to us in the form of an all-new 5.5-litre flat-plane crank LT6 V8 with red cam covers that's good for 670 horsepower at a stratospheric 8,600 rpm – eighty-six hundred! In a V8! — and 460 pound-feet of torque. That makes it the most powerful naturally-aspirated V8 not just in any production Corvette we've seen, but in any production car, ever.
GM President Jim Reuss says "(t)he new Corvette Z06 defines the American supercar." On power alone, it's tough to argue against that. Power is channeled to the fat 345-section rear Michelin Pilot 4S tires (with available 21-inch forged aluminum wheels or carbon items) through an eight-speed dual-clutch transmission with a shortened 5.56 final drive ratio.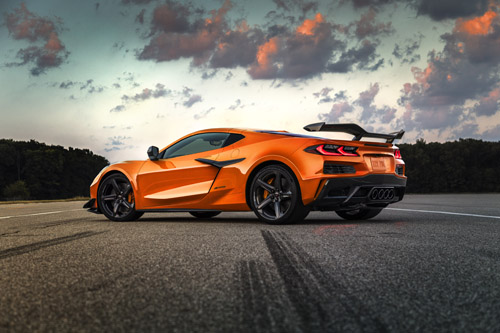 Those that know Corvettes will know that they have a rich racing heritage and that's no different with the C8, which competed in C8.R form in last year's IMSA Sports Car Championship, where it managed seven pole positions and six victories. Not bad for a first year car.
So the C8 has already been given the "upgraded" treatment and many of the lessons learned there have filtered their way down to the production Z06 – the chassis, engine architecture and overall dimensions are shared with the race car.
You can see it on the surface; the pedestal-mounted carbon fibre rear wing good for 734 pounds of downforce, ground effects, canards, large front splitter and underbody aero strakes are all very race car. All that comes as part of the carbon fibre aero package. The standard car, however, is no shrinking violet with an enlarged spoiler with removable "wickerbill" extension and front splitter that provides a none-to-shabby 365 pounds of downforce of its own. The exhaust outlets are now centralized and there are enlarged cooling ducts on the wider rear fenders as all that fury needs to be kept cool. The brakes have also been enlarged, with higher piston counts than the Stingray . Those can be switched for carbon ceramic items with the Z07 package – yes, you can get a Z06 with a Z07. Which isn't complicated at all, right?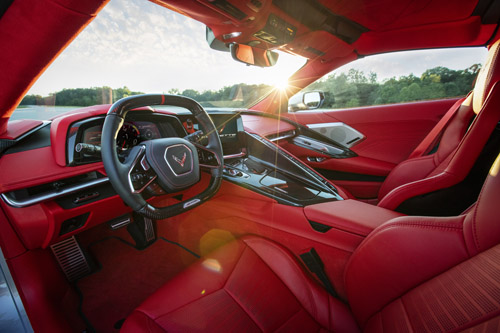 In addition to the carbon package, Z07 also adds magnetic ride control 4.0, Sport Cup 2 R tires, and available carbon wheels. In addition to all that speed, the Z07 package helps generate 1.22 G's of lateral grip. It will be hard to un-stick this thing, that's for sure. Not to mention that for the first time, the Corvette is a mid-engined car so it's already inherently more stable than the older front engine, rear-wheel-drive cars, including the C7 ZR1.
Inside, while we're still going to have to accept that strange "wall" between driver and passenger and the looooong button bank atop it, the Z06 turns up the wick by adding a carbon fibre wheel and paddles, as well as hand-wrapped leather in a new Adrenaline Red colourway.
Production of the 2023 Chevrolet Corvette Z06 begins in the summer of '22, at the famed Bowling Green Assembly in Kentucky.