Like the river after the dam burst, small and mid-size crossovers continue to flow from the dealerships to customers' garages and a torrid pace.
Take a look at the Volkswagen Tiguan, for example: what started out as a modest total of just over 16,000 rolling off the line in 2007, grew to almost a million last year. That's an astronomical percentage increase and if you believe what VW was saying during the virtual launch of the updated Tiguan – and why shouldn't you – that number's going to continue to increase, even as small EVs become more popularized. Which, really, suits VW just fine as their I.D. platform is due to arrive any day now with a CUV variant, and Europe will be getting a plug-in eHybrid Tiguan.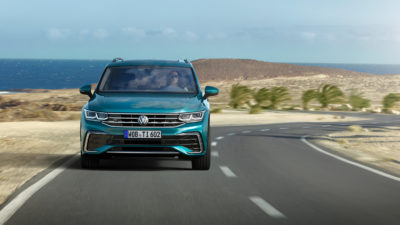 Suffice to say, then, that VW is loathe to err when redesigning the Tiguan, even if it is a mid-cycle refresh as opposed to an all-new version of the vehicle.
The new Tiguan arrives in Canada in Fall of 2021 (and in Europe, a year before that) with an entirely new front end with standard LED headlights as well as updated lower grille, new 17"-20" wheel designs and new colours.
'Round back, they've enlarged the "Tiguan" badging and moved it to a more central location on the tailgate, similar to what we're currently seeing on the slick Arteon four-door coupe. The LED headlights are joined by LED taillights and other slight tweaks to the fascia.
These are not huge changes by any means, the styling of the next Tiguan appearing to be more evolutionary as opposed to revolutionary, as is VW's wont these days – just have a look at the new Arteon to see what I'm on about.
While the pictures you see here only show the short wheelbase model, we in North America will only be getting the long-wheelbase version as it can accommodate a third row of seating, which VW says counts for about a quarter of the Tiguans sold in Canada. It seems that if we're going to get a CUV these days, and that there may be two versions of said CUV, we'll take the bigger one, thank you very much.
That's not the whole story, however.
The whole story involves a yet-to-b revealed – but smaller – VW CUV that will be coming to out markets and lo and behold, VW doesn't seem to think there'll be room for two small-ish CUVs in their line-up even though we do get both versions of the larger Atlas here. Watch this space for more on the smaller Vee-Dub later this year.
Back to the 2021 (or will it be 2022?) Tiguan.
Power-wise, we'll be getting a single engine choice, at it returns the same horsepower we get today from the Tiguan: 184 hp from a turbo-4, fed to either a FWD or AWD chassis through a dual-clutch automatic. No torque figures have been announced, but expect around 220 lb-ft, if the current model is anything to go by.
When the Tiguan does arrive here, it will get the same trim structure it does today, with Trendline, Comfortline, Highline, Execline trims making up the Canadian offerings.
While VW said that homologating the eHybrid for North America was too costly an exercise for such a niche model, there maybe a little hope yet for those looking for something a little more…unique from their Tiguan, and that comes in the form of the Tiguan R and its 315 (!) hp turbo-four. VW has not yet confirmed it for Canada and the U.S., but they didn't shut the door on it either, with Hein Schafer, Senior VP of product marketing and strategy at Volkswagen of America saying that they are "working on a certain plan (for North America)." That would be quite the thing – a hot small crossover from a non-luxury brand. Never thought we'd see the day – actually, we all knew it would likely happen eventually but that doesn't make the possibility of a VW Tiguan R any less appealing.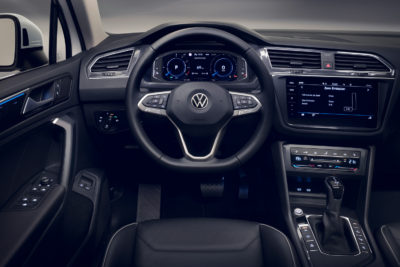 Inside, VW has gone to a fully-digital cockpit. It provides a digital gauge cluster as well as a standard 8" central display that can be upgraded to a pretty-colossal-for-a-small-CUV 10-incher. There are also touch sliders on the wheel, as well as 15-colour ambient lighting and touchscreen climate control; more traditional knobs come as standard, however. Of course, if you want to do away with all that and just stick with the familiarity of your handheld device, both Apple CarPlay and Android Auto will connect wirelessly.
The refreshed Tiguan is due to debut in Canada fall of 2021.