The Volkswagen Arteon is getting a refresh for 2021, as well as a simplification of the buying process to make it easier on buyers to come to a trim decision once they've elected to go with VW's sort-of-hatch-sort-of-grand-tourer flagship car.
First, a little background.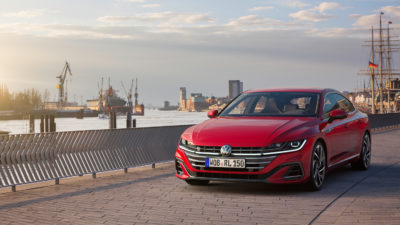 Released in 2017 for the 2018 model year, VW made use of its modular MQB platform to create a luxury tourer that sat above the Passat in the line-up, but just below the A5 Sportback from the brand's Audi luxury arm. There's actually a little more room in the Arteon than there is in the A5 SB, though, which further adds to its uniqueness. Another unique aspect is that the Arteon gets a full-fledged hatch which, if you fold the rear seats flat, provides room for 1,557L of cargo room. That's not too bad and when up, that space translates to a surprising amount of legroom for rear seat passengers. There's a bit of a sacrifice in headroom over the Passat but since the rear seats in the Arteon are mounted low, it's not as big a gulf as one may think. In fact, it's a tiny gulf coming in and just 20 mm – interior room, meanwhile, hasn't changed for 2021.
The real head-turner with the Arteon, was – and for 2021, as we'll see in a minute, continues to be – its styling. VWs tend to be a little conservative in their styling, but the Arteon blew that notion out of the water with its coupe-like roofline, low-slung stance and unique grille treatment.
For 2021, said grille has been joined by a new chrome bar below on the R-Line appearance package – which isn't really a package at all because it comes as standard on all Arteons sold in Canada. R-Line also adds separate air intakes, continuous LED light strip, redesigned bumpers, and spiraling 20-inch wheels. The result is an even lower and more aggressive stance, complimented by three new colours: Lapiz (pronounced "lap-eeze") Blue, Kings Red Metallic and Oryx White Pearl.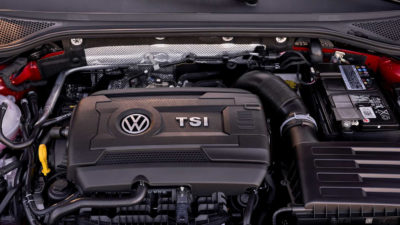 Past that, it must be said, there isn't a whole lot that's new when it comes to exterior styling. Indeed, for a model that's only about three model years old, it wasn't yet time for a full-scale redesign.
Power, meanwhile, remains untouched: you get a 2.0L turbocharged four good for 268 hp and 258 lb-ft, 4Motion AWD and an eight-speed auto transmission. That's the beginning and end of it when it comes to powertrain choices; don't hold you breath for the hybrid version that's due to arrive as it will not be available in Canada. Same goes for the Shooting Brake wagon version revealed alongside the hatch; by VW's own admission, the Arteon is a halo car and a low-volume seller as it is,  and having to put both a wagon and hybrid version through North America's strict (and expensive) homologation process – that is, making the necessary changes required for the vehicles to be road legal over here – just didn't make good business sense. Shame – that Shooting Brake version looks absolutely spectacular in pictures; imagine how it will look in the metal?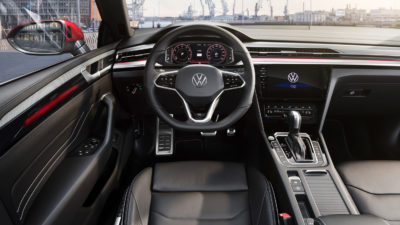 Inside, a host of new features have been added for 2021, chief of which is an all-digital cockpit with touch activated climate control, a VW first but a feature that will be making its way to other VWs soon. Also new is Harman Kardon audio – it used to be a Fender system, and that brand will still be appearing in some VWs for the time being – with 12-speakers, 700 watts and an eight-inch touchscreen display. Apple CarPlay and Android Auto will also be standard, and an now be activated wirelessly so there's no need for unsightly cables…unless you want to use them, of course.
A 30-colour ambient lighting system rounds out the changes inside, and there's no need to breakdown what comes on what trim because there will be a grand total of one trim available when the Arteon arrives in dealers late this year –the Execline trim.
No pricing has been announced as of yet, but VW did say that they plan on an aggressive marketing program as well as developing some more attractive incentives. The goal is to make the Arteon an easier choice for buyers; whether its supposed to be a low-volume model or not (and the sales numbers definitely reflect that), VW would like to shift more (because of course they would) when the new model debuts for 2021.