That if I told you, you could pick up a brand new Lamborghini for under $35k?  Too good to be true? Well, not if you have an "M" endorsement on your license. Let me explain…
With only twenty-some kilometers separating their facilities, Lamborghini and Ducati share more than just a passion for speed, style and well, ownership. As such, the two felt it a good idea to collaborate on a vehicle: the 2021 Ducati Diavel 1260 Lamborghini.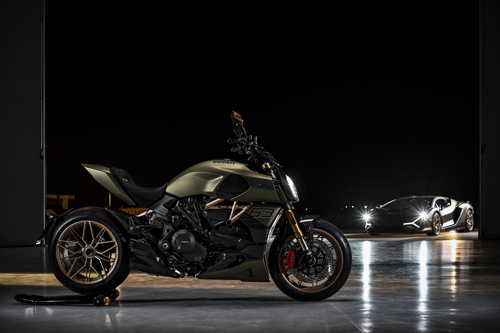 The Diavel 1260 Lamborghini is powered by the same Testastretta DVT, 1262, L-twin engine developing 117kW (157hp) and 129Nm (95 lb-ft) of torque and utilizes the same top-shelf components from Ohlins and Brembo as well as the full suite of Ducati's electronic wizardry. This makes the Diavel 1260 S a machine that I originally wrote "defies convention and delivers a bike that is so much more than the sum of its parts" — I doubt that will change here. In terms of paper-racing, there's very little difference save a single kg of shaved weight, thanks to the use of carbon fibre.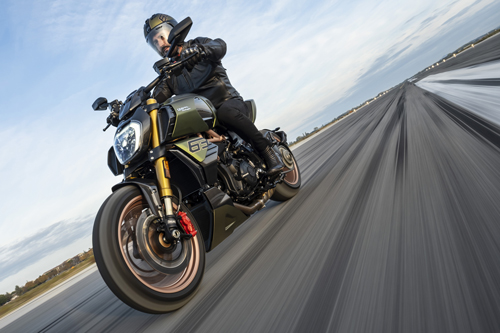 With design inspiration taken directly from Lamborghini's limited Sián FKP 37, this (also limited to only 630 units) re-styled Diavel 1260 S features a bespoke livery, the aforementioned carbon fibre fairings, a smattering of "Y" and hexagonal cues and one honey of a set of rims to set it apart from the rest of the Diavel family. The Verde Gea (matte green) hue it sports perfectly matches the pantone from that Sián FKP 37 as well.
Given the recent rumours that both Ducati and Lamborghini may be on the Volkswagen Automotive Group's chopping block, this tangible bit of synergy may help find the two Italian manufactures another shared home. Or maybe the two will become one? Who knows?
What I do know is that, priced at $34,990, this may be the least expensive way to put a shiny new raging bull badge in your driveway. The fact that it's worn by a beastly Italian muscle-bike really shouldn't be seen as a negative.