The Canadian car market, relatively speaking, is a small one.
That's why we often see the models on sale here tied to what is offered in the U.S. to make them viable for automakers. There are a few exceptions to that rule, but they are few and far between.
What is more uncommon is a model that is brought to Canada, but limited to only on province.
However, that is what Toyota Canada decided to do with the 2017 Prius Prime, limited the plug-in hybrid to the Quebec market when it launched in June.
In La Belle Province, the Prius Prime benefits from a $4,000.00 rebate from the government as it tries to encourage more consumers to opt for plug-in hybrids and electric vehicles to meet lofty goals of having 1 million PHEVs or EVs on the province's roads by 2030.
Before the rebate, the Prius Prime has a starting price of $35,219.00 (including fees), while the Prius Prime Technology we tested is priced at $40,794.00.
Under the hood — painted in a nice Blue Magnetism colour that is exclusive to the Prime — is a 1.8-litre four-cylinder engine and Toyota's hybrid synergy drive, which is paired to an electronically controlled continuously variable transmission.
The system's net power is rated at 121 horsepower and 105 ft-lb of torque.
Don't expect to set any speed records, but it's a nice setup for what it is.
There are three drive modes for the Prius Prime. The first being EV mode when the battery is charged, then there's EV Auto mode and a hybrid mode.
Toyota claims that the Prius Prime has an autonomy of 1,035 kilometres, with a range of up to 40 km on electric power alone.
Charging time to get that range varies depending on your power source. If you are using the normal 120v outlet at home, like I was, it takes five hours and 30 minutes to get a full charge. With a 240v charger, the time is reduced to two hours and 10 minutes.
In terms of design, it's a little less obvious that the vehicle you are looking at is a hybrid – at least from the front.
The Prius design was always one that stood out and some considered awkward.
But the front-end design now is along more traditional lines, and features a blacked out lower grille in the fascia that somewhat resembles Lexus' spindle grille design – just upside down.
In profiles, the slopping roof and stubby back end are a bit of giveaway, to me anyway, that this is a Prius.
That's not a bad thing because I think the design is more palatable than it used to be.
Inside our tester, the cabin still features that stubby little shifter that takes some getting used to. It feels more like a gaming controller than a shifter to me, and to put the Prius in Park, you have to hit the P button beside the knob.
Perhaps making it look even smaller in the Prius Prime Technology is the fact it is dwarfed by the Tesla-esque 11.6-inch display screen that dominates the centre stack. And by dominate, I mean takes up all the real estate! (In the base Prime, the screen reverts to a smaller 7-inch screen and more traditional controls).
That larger screen is part of a redesigned interior that includes redesigned seats, softer materials and wireless charging.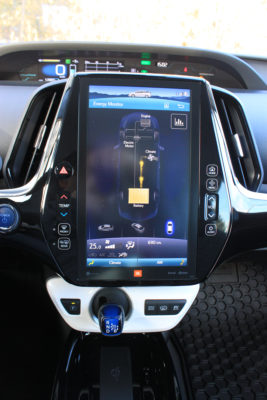 There's a lot of black in the cabin, offset by chrome trim, so it isn't a sombre environment.
The display screen is the Prius Prime's hub for everyone from vehicle settings, ventilation controls and the audio/infotainment system.
You have to get used to all the various screens, but it became easier to use each day. And the sound from the 10-speaker JBL audio system was a nice feature.
If you have a need to move five passengers, however, the Prius Prime is not for you. This is only a four-seater.
The Prius Prime's drive is what you would expect: Not exceptionally fast or sporty, but a competent daily driver that handles pretty well.
There are three driving modes to choose from: Eco, Normal and Power. For the most part, I left the Prius Prime in the normal setting, even though Eco would have returned a better fuel economy. But Eco, as intended, makes the Prime a little too sluggish for my liking.
But in Normal mode, there was no issue getting moving in and around town, and accelerating onto the highways and keeping pace.
Storage space behind the back seat is good but not great, with the slopping roofline limiting some options.
The Prius Prime has two fuel consumption estimates. One for electric power and one for the hybrid mode.
In EV mode, it is rated at 1.8 Le/100 kilometres, while in hybrid mode that figure is 4.3 L/100 km.
After a week with the vehicle, I was pretty happy to come away with an average of 2.7 L/100 km.
Judging by the press releases I have received touting how well received the Prius Prime has been in Quebec, I have to wonder how long before this model becomes available in other provinces, notably Ontario and British Columbia. It would probably be a welcome addition to consumers.
2017 Toyota Prius Prime Technology
Price as tested: $40,794.00
Freight: $1,715.00
Configuration: Front engine/Front-wheel drive
Engine/transmission: 1.8-litre four-cylinder hybrid synergy drive/ Electronically controlled continuously variable transmission
Power/torque: 121 horsepower/ 105 ft-lb of torque
Fuel (capacity): Regular (43 L)
Combined fuel economy ratings (L/100 km): 1.8 Le/100 km (EV), 4.3 L/100 km (hybrid)
Observed fuel economy (L/100 km): 2.7 L/100 km
Warranties: 3-years/60,000 km (basic)
Competitors: Chevrolet Volt, Chevrolet Bolt, Ford Fusion Energi, Hyundai Ioniq, Kia Niro.
Related links:
Toyota Canada