First published February, 2017
There is something intensely erotic about that sound. I catch my breath every time I hear it. It is wild and forceful, yet equally smooth and articulate. My only choice is to drop everything and search for the source. The chase is on!
A scientific study has determined the sound of a Maserati engine is as much an aphrodisiac as oysters and Viagra. Press the start button; activate sport mode then watch as women and men respond in a way not even the exhaust note of a Ferrari or Lamborghini can match. Maserati brings a whole new meaning to the expression "Amo la mia macchina."
To fully embrace what distinguishes the Trident brand from other exotics, it is important to start at the beginning. For me, this means making the pilgrimage to Modena, the home of Maserati and the birthplace of one other equally famous Italian automaker.
A short walk from the factory, I come upon the unassuming red brick structure that was once the ancestral residence of Enzo Anselmo Ferrari. A few kilometres down the road, Maranello is now home to the Cavallino Rampante (prancing horse).
Enzo's father, like the Maserati brothers of Modena, repaired trains in the early 20th Century. Today, the former railroad workshop remains true to its original character. This is the heart of Italy's automobile legacy to the world.
A coach bus stops and a large group of overly enthusiastic teenagers suddenly fills the square where I am standing. They have arrived here to embrace not only the home of a legend, but spend an afternoon in the shadow of his greatness, witnessing firsthand a factory-owned collection of the finest sports cars in the completely modern Museo Casa Enzo Ferrari.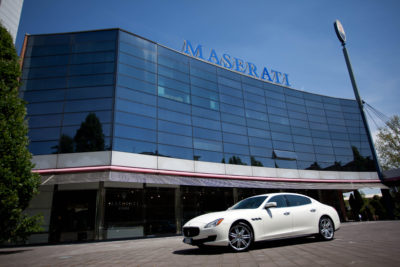 After a brief tour of my own through the hallowed halls, I stroll back to Maserati world headquarters where I have arranged to meet the elder statesman of the brand. From the outside, the building soars skyward, a glass and steel structure resplendent in scope and personality. You expect the Maserati building to exude confidence in a manner similar to their automobiles and it exceeds all expectations.
Entrance is by gated access only, several guards keep watch ensuring privacy for those wishing to remain anonymous. Once inside, the ceiling appears to fall from the sky and I am whisked away to a world of motion. Maserati is as much about lifestyle as it is fast cars, with both on full display for those fortunate enough to gain entrance.
This is where dreams are made, exterior and interior palettes grace the walls for customers to choose the finest elements that will define their personal vehicle. Freshly brewed espresso is never far away; it may take a while to finalize your Maserati, as the choice of colours and options is almost endless.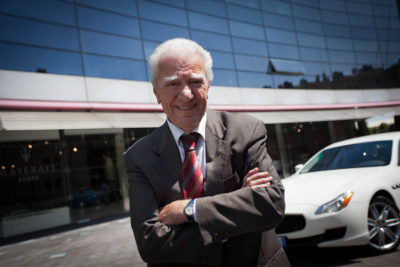 A buzz of activity captures the attention of everyone in the room as Mr. Ermanno Cozza enters through a side door. His white hair is brushed back, almost as though he has just arrived in a top down Gran Turismo before striding full speed into the showroom. Dressed in an impeccable business suit with a matching striped tie, he is a ball of energy bouncing from one place to the next.
Mr. Cozza crosses the space between us in full stride; his broad smile and warm handshake is immediate and infectious. There is sincerity in the greeting; I see it in his eyes the moment we make first contact. A stately gentleman in his early eighties, he and the Maserati brand are one, having shared a common history for the past 60 years.
At first, we sit and chat, two automotive enthusiasts gauging where our common interests lie. What happens next, however, is something few will ever have a chance to experience.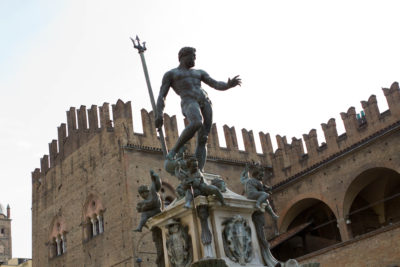 Seated together at a small table by the window, he reaches unceremoniously into a bag resting casually at this feet, unrolls a non-descript rectangular sheet of paper and there in front of me is the Maserati trident first sketched by brother Mario in 1920.
His inspiration for the iconic symbol came from the Fountain of Neptune in Bologna's Piazza Maggiore located in the city center. I will visit the fountain later during my drive through Italy, but for now I am holding the original drawing, not a cheap facsimile. Mr. Cozza catches my sense of wonder, sits back with a shrewd smile then starts to laugh. He knows a fan when he sees one.
In the lore of Maserati history, this is the equivalent of holding the Declaration of Independence or Magna Carta. A drawing such as this should be in a museum, but here it is in my hands, with a cup of freshly brewed espresso placed immediately beside. What if I should accidently spill the coffee? Only in Italy would such a thing be possible.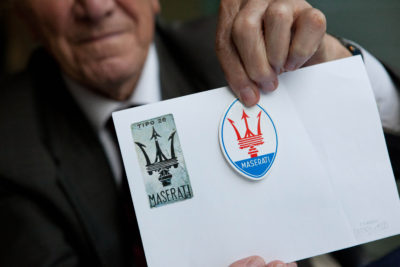 Mr. Cozza's professional responsibility is to carefully document the history of Maserati and he does so with a passion and awareness of both the past and present. We sit for an hour as he regales me with stories of heritage, great triumphs and decades of turmoil.
He recounts in detail the dark years of Citroen ownership, the liquidation of Maserati and takeover by De Tomaso, the subsequent fall and finally Fiat putting Maserati on the map once and for all. Hearts broken and dreams renewed, every chapter has been written with blood, sweat and tears during his tenure at the company.
Legendary racing names such as Nuvolari and Varzi roll off his tongue as he moves from English to Italian with ease. My interpreter is equal to the task, providing perfect commentary, while at the same time keeping Mr. Cozza on track with the odd clarifying question or personal observation.
While speaking, Mr. Cozza has managed to cover the entire table with priceless artifacts, all the while describing the significance of each one in exquisite detail. Of particular note, he holds up the first Maserati logo and today's more colorful version. Blue and white dominate the new livery with a touch of red on the trident.
Sensing my acute interest, he leans back and quickly confers with the interpreter. A knowing smile creases his face and I suddenly feel as though I am about to get a special surprise from the Santa Claus of Italian automobilia.
He leans across the table and shrewdly asks, "Would you like to see the archives room?" "It is a little dusty, but well worth it."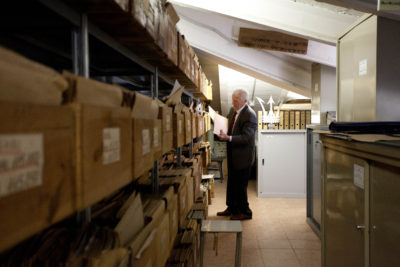 Not waiting for my answer, he rises quickly and we exit the main showroom, walking through a non-descript security door then across the outer court. Entering a secondary building, we walk up a short flight of stairs, past various offices before coming to a stop at a small staircase that winds its way upward.
The air is thick with anticipation as we ascend the stairs, our small group now standing in front of a second locked door. Before entering, there is one more brief conversation, then Mr. Cozza opens the door and I step through and into the low-ceiling room. A few side windows do their best to illuminate the space, but this is clearly not on the guided tour. Indiana Jones should be this lucky!
Rummaging through filing cabinets and shelves packed with decades of memories, he brings out original drawings, order forms, clay models and more at a rapid pace. His joy is overshadowed only by the depth of history I have staring me in the face.
Mr. Cozza recognizes my passion as tears well in his eyes. I can only imagine how much time he has spent in this place, collecting and sorting the rich treasure-trove of mementos. As an ardent lover of fine exotic sports cars, I am truly humbled by this unforgettable experience.
After what seems far too short a time, he walks me back outside, waves goodbye with little bravado and heads back into the showroom to meet a couple in search of their perfect Maserati. Such is his life. As for me, my day concludes with a tour of the assembly plant, before driving off in a shiny, white Maserati Quattroporte GTS. Italy is mine for the next few days, and I plan to enjoy every breathtaking moment.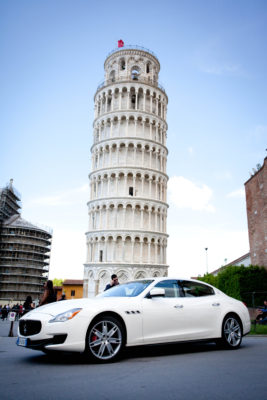 A stunning example of Italian craftsmanship, the Quattroporte GTS is as powerful to drive as it is graceful to look at. Under the hood beats the heart of a champion. A twin-turbocharged 90˚ V8 gasoline-powered engine, it delivers 523 horsepower and 524 lb.-ft. of torque.
Matched to a smooth-as-silk eight-speed automatic transmission with steering wheel mounted paddle-shifters, it accelerates from 0-100 km/h in 4.7 seconds and reaches a top speed of 310 km/h.
No iconic Italian monument can compete with the sensual sights and sounds of the Quattroporte GTS. This fact is in evidence over the next several days as young and old, individuals and whole families stop to listen and watch the Maserati drive past.
My route through Italy bends east towards Bologna before taking a dramatic turn off the main highway towards the Tuscany coast. Two-lane asphalt stretches in front of me, the late afternoon sun hidden behind verdant hills rich with new growth. I push ahead, cresting blind corners at speed as I make haste to the Cathedral of Pisa, stopping for a few pictures as if to prove my passing, before heading south to the historic centers of Sienna and Florence.
Steering the Quattroporte GTS is easy work, brakes ready at a moment's notice to reign in the available power. The latest Sport Skyhook electronic system and new shock absorbers offer a firm yet compliant ride as undulations in the road pass without incident. Luxury sedan elegance is never far removed from its sports car demeanor.
Pushing a button marked "S" on the center console retunes the exhaust to a more powerful note, while also making subtle adjustments to the suspension. In full manual mode, paddle-shifters transfer the power between gears with that unmistakable sound.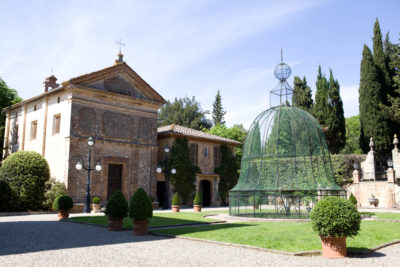 A two-night stopover at the flawless Relais La Suvera affords the opportunity to bask in the glow of a Tuscan sunset and award-winning service. A former residence of Pope Julius II, the patron of artists including Michelangelo, this enchanting hotel is now recognized as one of Italy's top honeymoon destinations. Siena is a short forty minute drive by four-lane highway, but this is Italy, so taking the road less travelled is always preferred.
Strolling through the Piazza del Campo, home to the Palio di Siena horse races in July and August, I am reminded of the insatiable horsepower that awaits my return in the parking lot. Leaving the city behind, my destination is the tiny village of IL Borro in Tuscany, a distinguished member of Relais & Châteaux.
Sitting at a stoplight, a Ducati motorcycle pulls up alongside the Quattroporte GTS. The rider looks my way, nods and gives me an enthusiastic thumbs up. Power and speed are two of the greatest assets for anyone who appreciates exotic automobiles, this much is true. But nothing beats the visceral experience of a Maserati at full song. The world stops to hear the aria and admire your passing.
As the light turns green, I push the accelerator hard only to see the Ducati rider do the same. "Amo la mia macchina," I shout to any who may be listening. The chase is on!
Related links:
Maserati
Relais La Suvera