Standing outside Bentley Motors at Crewe in Cheshire, United Kingdom, I am surprised by how unassuming it appears when first approaching the front entrance. Double glass doors flanked by equal sized glass windows reside under a metal and glass canopy. Above, the famous flying wings foreshadow something special awaits inside. But there is no flashing neon sign stating this is the house that designed the newest Bentley Continental GT, arguably one of the most beautiful touring coupes in the world. That story is to be told inside and it is once I cross the threshold, my true understanding of what it means to be Bentley takes flight.
Our host for a guided tour of the factory is affectionately referred to by everyone who works here as Slim. A resident of this facility for more than 3 decades, Slim is anything but scrawny. As is most often the case with nicknames, he carries his robust frame with a sense of dignity and casual appeal sure to make any person touring the factory feel at ease.
A brief walk through the history of Bentley including a synopsis of the life of Walter Owen Bentley (W.O. for those in the know), we are treated to a design briefing of the now one year old Bentley Continental GT. Drawings, design details, clay modelling and aerodynamics are celebrated in rapid succession, providing thorough insight into how a Bentley goes from idea to reality over the span of several years and hundreds of cups of tea and often something a little stronger.
Passing through the doors to the factory, we are immediately face-to-face with dozens of new Continental GT coupes and what Bentley considers their greatest sedan to date, the Mulsanne, going through final inspection. It is enough to make my heart stop as I realize the gravity of the investment made by buyers from around the world all waiting for their own unique Bentley to arrive.
Slim casually walks us up and down assembly lines, pointing out the various areas of construction while regaling us with knowledge only on long-termer could know. Most of the workers smile and says hi, except when one of the photographers tries to photograph in a restricted area. Bentley is friendly, but certain items it must keep safe from curious onlookers to protect their customer's sizeable investment.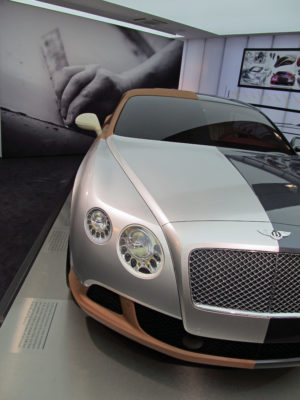 Exiting through the rear of the building, Slim takes us into his area of specialty, the leather and wood shop. Having spent a decade overseeing each and every hide that made it on to a new Bentley, he walks with pride through the upholstery department. Facts such as only 30% of each hide are deemed suitable for a Bentley roll off his tongue with passion. We stop suddenly as he shows us the actual fork and knife used to tuck in and confirm the fit of all leather surrounding a Bentley steering wheel. It is easy to see why this is unlike any other luxury automobile in the world.
The wood shop is equally impressive, the finest veneers carefully tied together with string and displayed to us with the respect they deserve. This is a tour everyone who loves the automobile should take at least once in their lifetime.
Slim waves a cheery goodbye as we leave the factory. Twenty minutes later we arrive at Rookery Hall Hotel & Spa Nantwich, Cheshire for the evening. The next day we will head directly across the English Channel on a straight-line flight to Croatia. But on this night, we enjoy the modern confines of a traditional English manor located in the rolling hills favoured by many of England's most revered footballers. Executive suites feature king-size beds, 42" flat-screen TV's and panoramic views over the Cheshire Countryside. Breakfast in the morning will be served buffet style in the Dining Room Restaurant.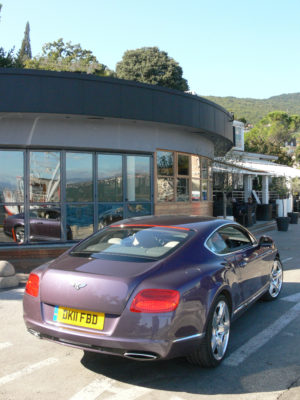 The next day our flight takes wing over the English countryside. We pass above France, Germany, Austria, past the Dolomite Mountains with our final decent allowing a bird's eye view of Venice, Italy. It is a sight I won't soon forget.
The 2012 Bentley Continental GT possesses enough charisma and power to carry four passengers at super high rates of speed in complete comfort. Power comes in the form of a mighty 6.0-litre twin-turbocharged W12 engine. Performance ratings indicate 567 hp at 6,000 rpm and 516 lb.-ft. of torque at 1,700 rpm. Zero to 100 km/h takes 4.6 seconds with top speed reaching 318 km/h.
Breathless power numbers should signify amazing driveability and performance which the Continental GT delivers in every possible way. Careening through tight Croatian streets at ballistic speeds, I feel in complete control, never doubting the car. It is the ultimate testament to the Bentley boys and girls back at Crewe that life on the road in Conti GT is truly one of the best drives possible.
2012 Bentley Continental GT
Price as tested (before taxes): $229,790.00
Options on test vehicle: N/A
Configuration: front engine/ all-wheel drive
Engine/transmission: 6.0L twin-turbocharged 12-cyl. / 6-spd automatic
Power/torque: 567 hp/ 516 lb-ft
Fuel (capacity): Regular (90L)
Related links:
Bentley Motors
Rookery Hall Hotel & Spa