Faygate, West Sussex, UK – The United Kingdom is rife with rich history, gloriously green rolling hills, quaint cottages, local pubs with friendly barkeeps, and fabulously windy country lanes. So, when I happily accepted an invitation to attend my cousin's wedding in the stunning valley of Stonor near Henley-on-Thames, I knew I'd need the appropriate — proper, if you will — vehicle to traverse the British countryside, and arrive to the wedding in style, of course.
A staple in British motorcar history, Jaguars are synonymous with dashingly handsome English gents, smooth flowing silhouettes, properly posh dames, and Sunday afternoon cruises through the countryside. Since the mid-1900s, Jaguar's been producing stunning sports cars that have graced those winding country lanes across the United Kingdom and beyond.
It only seemed natural I should play into that rich automotive history and book myself a Jaguar for the duration of my stay. So, I contacted the good people in Whitley, Coventry (because, yes, they're still based there and have been since the 1920s) and requested an F-Type for the journey.
Arriving on the other side of the pond after a long, sleepless overnight flight, I had two things on my mind: 1. Dear gawd I need coffee; and 2. Oh frig, I have to drive an F-Type on the "wrong" side of the road… and for the first time.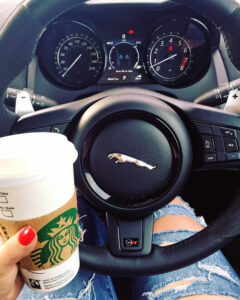 For all the travelling I've done — and I am so grateful and lucky to have done a fair amount of it — I'd yet to drive on the British side of the road or even a right-hand drive vehicle for that matter. This would be my first time. Popping my proverbial RHD cherry, so to speak. With an F-Type. And I was petrified.
There's something to be said for routine. Humans are insane creatures of habit, and we probably don't even realize it. I have a 4-year-old at home, and routines are the basis of his life. He needs his routine to understand how the day works and to be a happy, balanced child. I've learned this over my few years as a mother, and fully accept it.
Well, that need for routine and the known sticks with us into adulthood too, and never was this made more apparent than when I got behind the right-hand wheel of the Jaguar F-Type (and I'll get to the model in a second, don't get your knickers in a twist).
Reaching for my seatbelt over my left shoulder was the first indication of just how habit-forming my 17+ years of driving had really become (and that I continued to do so every time I got into the car to drive even more of an indication). Even shifting the automatic transmission into "drive" with my left hand felt horribly awkward and unusual. Then there was the constant need to check my rearview mirror to the right, when it was actually to the left. Oh and picking up my coffee from the centre console with my left hand, instead of my right… All small things (and I've not even gotten to the actual driving habits yet), but they add up to cause some pretty intense anxiety. Especially when behind the wheel of a £110,000 (base MSRP) sports car.
The 2016 Jaguar F-Type SVR is the most powerful production F-Type currently on the market. It's reworked 5.0L V8 supercharged engine produces 575 horsepower sent to all four wheels, controlled via an 8-speed automatic. With a top speed of 200mph, the F-Type SVR will hit the 60mph mark from a standstill in just 3.5 seconds. Carbon-ceramic brakes bring the big, beastly cat to a standstill in shockingly quick fashion. Strategic weight-saving technics, such as super-light forged alloy wheels, titanium exhaust tips, and even redesigned rear suspension knuckles (to shave off a mere 0.6kg), boost the F-Type SVR's performance to a whole new level, and only add to its overall incredibleness.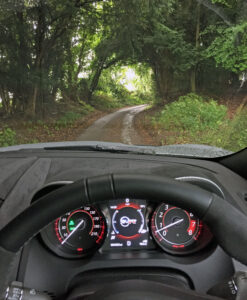 Yup, I just said "incredibleness." Because, really, I've started to run out of appropriate adjectives at this point; the F-Type SVR is just so… it just IS.
And there's no denying that those numbers are impressive on paper, even reading them out loud gives them a bit more weight, but it's not until you get behind the wheel, press that start/stop button and hear the fierce feline literally roar to life that they really start to sink in. And my God did they ever sink in when I fired it up for the first time.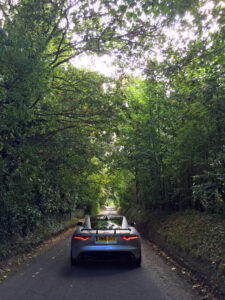 "Don't hit the curb. Don't hit the curb. Don't hit the curb," became my mantra for the first hour or so I spent on British roads. Learning that the "dead space" in the car is now to your left and not your right takes some serious getting used to. And side roads in the UK are so ridiculously narrow. That mantra quickly transformed into, "Left-hand turn, stay tight. Right hand turn, go wide," for junctions, of course. Then there were the roundabouts. Oh, the roundabouts.
Here in North America we have a few dotted around for good measure, but there they are life. They are everywhere, and they are massive. I've known a few here with three to four exits, but over there I was joining roundabouts that were 4 lanes wide with eight to nine offshoots. It was humbling and scary and I messed up more than once, that's for sure. The F-Type is adept at turning right, that I must say…
Right about now, you're thinking I spent the entire trip driving the Jaguar F-Type SVR like a granny and not exploiting the kitty at all. Well, you obviously don't know me very well if you think that.
Blissfully, by the time I was to attend the wedding that was the reason behind this cross-pond jump, I'd had a few days behind the SVR's suede-covered steering wheel and was much more accustomed to the tight, narrow country roads and the rules and regulations of the motorways and roundabouts.
The Jaguar F-Type SVR is as savage as it is civilized, and I absolutely love that about it. Press the all-important and oh-so necessary sport exhaust button and the already rumbly exhaust note opens up even more and will grace the cabin (and no doubt the surrounding area a few kilometres stretch in each direction) with an aural cacophony of devilish backfires that brought a smile (and often a giggle) every single time. Accelerating then backing off the throttle just to hear the pop, bang, boom emerge from the titanium-tipped SVR quad exhaust pipes in the rear became a habit I wasn't annoyed with forming.
Yet, as I arrived in the sleepy hamlet of Pishill with Stonor, the big cat was just as pleased to purr and be docile as I easily deactivated the angry exhaust note, popped the drive mode back to normal from dynamic for smoother suspension travel, and made my way up to the vicar's house through tight, tree-lined, gravel roads passed the Pishill parish church where my cousin was to soon be married. A light misting of rain had begun, and the low gentle rumble of the V8 engine was as soothing as the drizzle on the windscreen as I gazed out onto the valley of South Oxfordshire hills.
Even sitting silently parked, the Jaguar F-Type SVR gets a great deal of attention. And whether it was stationary in the vicar's drive, on the streets of Henley-on-Thames (where I desperately needed to stop for a coffee) or even on a quiet close nestled between an RS5 and C63 AMG in Faygate, West Sussex, it was the true King of the Jungle, the ruler of the roost, the one that got all the looks and attention.
Instantly recognizable as something "different" thanks to a much more aggressive front lip diffuser, exaggerated side air intakes, hood vents, and a decidedly sporty and athletic SVR Carbon Fibre Aerodynamic Wing (that can be kept up via a button inside or will rise and retract on its own dependent on speed), the F-Type SVR is a muscular Adonis. I said it when the F-Type was first launched a few short years ago: This is the most attractive two-seater sports car currently on the market. And I still believe that today.
The SVR takes that stunning silhouette and adds some serious muscle to it. Like an F-Type that's taken up Crossfit, this thing is proper powerful, and it shows no matter what angle you view it from.
From the Pishill parish church to my Uncle's home in Stonor for the reception and wedding celebrations thereafter, the SVR behaved beautifully, and even managed to look prim and proper parked in an open, grassy field next to farm equipment, as only a Jaguar could. And while my wedding shoes suffered immensely in the wet, English weather and long grass, the Jaguar never lost its footing getting in and out of the wedding "parking lot."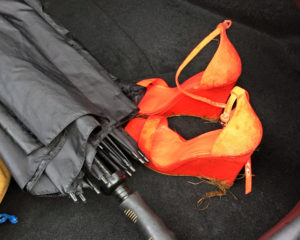 The perfect, dapper English countryside wedding date? I'd have to say, yes.
My final morning spent on the M25 heading towards London Heathrow to catch my flight home, blissfully not in traffic (for the first time that week), I felt at home. At home behind the wheel of the uber powerful and daringly devilish F-Type SVR, and home in the country I was only meant to be visiting. With family ties in the UK, I have my own history with the island, and I love building on my own story every time I cross the Atlantic and touch down in England.
As I left the Jaguar F-Type SVR in the underground lot at Heathrow, I felt like I was leaving a lover behind. We'd bonded over roundabouts, wide open motorways where the 5.0L V8 supercharger wailed to life at full throttle, and through narrow, sleepy village lanes in decidedly UK weather where the SVR gripped the tarmac with a ferocity both shocking and thrilling. We'd been through it all, or so it seemed, in such a short period of time. A relationship built on emotional highs and lows, and one where we each got to learn a great deal about the other in a mix of scenarios.
Was it love? It might just have been.
2016 Jaguar F-Type SVR
Price as tested: £110,000
Options: None
Configuration: Mid-front engine / AWD
Engine/transmission: 5.0L V8 Supercharged / 8-speed automatic
Power/Torque: 575 horsepower/516 lb-ft
Fuel: Premium unleaded
Fuel Economy Ratings: 15.6L/100km city; 10.4L/100km highway; 13.3L/100km combined
Observed Fuel Economy: 13.4L/100km
Competitors: Porsche 911 Turbo S, BMW M6 Coupe, Aston Martin V8 Vantage, Maserati Gran Turismo