Consider the swelling numbers of fully electric cars. The recent Volvo XC40 Recharge, the recent Ford Mustang Mach E and nearly everything GM in 2021, as championed by Malcolm Gladwell: it seems we're nearing the electric vehicle (EV) Tipping Point.
An example? Two days ago, Volvo's worldwide announcement of its latest addition to the Recharge electric collection, the C40, was so deeply subscribed that it crashed Volvo's website. Fortunately, Vicarious was able to attend most of it.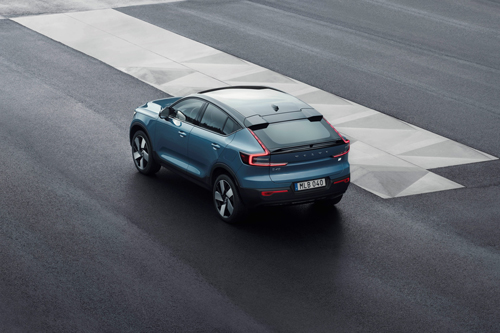 Forgive us for burying or blurring the lead: Volvo's newest EV, the C40 looks great.
It also looks a lot like Volvo's other recently released EV, the crossover XC40. A team led by Volvo USA President Anders Gustafsson presented the virtual introduction on March 2.
Regarding progress: "The pandemic has put us in a situation where we think differently" about the move to electrification said Gustafsson. The yearlong lockdown's making it easier to leapfrog progressive steps. "All the regions in America are screaming for more (electric) cars." The charge to Recharge cars is becoming a stampede.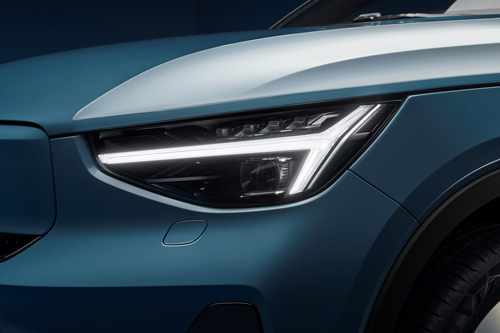 The two new vehicles share a lot of characteristics, though the C40 is lower and sleeker. Volvo Brand Manager Joe Haslam highlighted the distinctive Thor's hammer design in the headlights which feature "a more aggressive look" than the XC40. However, "the main differences appear behind the A-pillar." That way, passengers in the back don't bang their heads against the ceiling at every bump in the road.
Inside, the C40 shares the same Google/Android infotainment system as its Recharge sister XC40.
Ever think about how most cars are designed to last for a decade or longer? Over past 20 years or so, it's become a problem for designers. Your infotainment system quickly becomes obsolete. In the Recharge, the software updates happen virtually. Hardware no longer hampers software. That's great for Volvo and for the buyer.
But wait a minute, you're thinking: Google? The Recharge package comes with unlimited data, so the only other gaping drawback would be that, more than ever, Google knows where you are and what you're doing.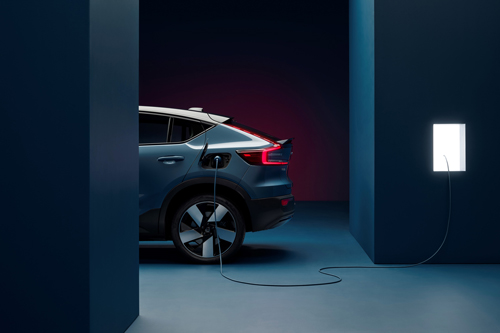 For years, Volvo's supplied abundant interventionist tech that keeps you within lanes or stops you from hitting stuff like walls and people. Now, in constant communication with the G-Mother Ship, are records of all your driving sins floating around the cloud waiting to be hacked by the likes of Cambridge Analytica and 20-something Ukrainians?
Appropriately, given the Google connection and virtual launch, the C40 will only be available online. Even after the pandemic.
Volvo is lessening the complexity and plethora of choices to speed up production. (When we last checked, no one who's ever bought a car from a dealer hoped to wait months for it arrive.) Not to worry: by next year we will NOT all be driving identical boxes like sad Soviet apparatchiks. Instead, says Gustafsson, "from the 100 million versions" that exist in Volvo's current menu, the possible iterations will drop to "250 thousand." You still have choice. It just won't constipate the production cycle. Speaking of which, the C40 Recharge is Volvo's first vehicle to contain zero leather — and no offering thereof.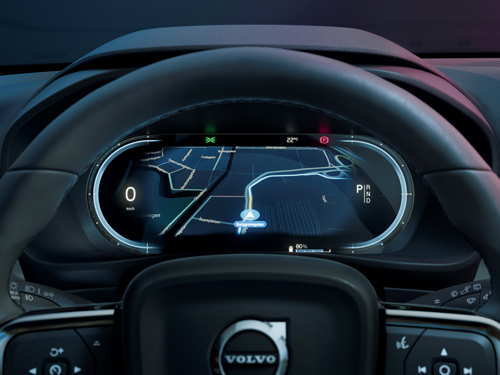 Q: How do the dealers feel about purchases only going online? They're OK with it. They still deliver the final product and who's to say we're not all ready to change how we shop? After all, Volvo sales enjoyed 100% growth this past year while we've all been enveloped in plastic. Moreover, "no one wants loads of cars parked outside of their dealership," says Gustafsson. It can be depressing. Instead of aging assets, collecting dust outside, dealers will get orders faster.  This win-win is part of Volvo's growth strategy in a changing climate (literal and economic). Speaking of which …
The C40's introduction is another step in the larger Volvo corporate mission to sell only fully electric cars by 2030 and 50% as soon as 2025.
A little film that played before the presentation nostalgically looked back on the history of Volvo's marketing of safety. The story led to the logical conclusion that climate change is the ultimate safety test. Living with it and surviving means going green not solo as a company but throughout the production chain, from suppliers to dealers. They're even using block chain technology to ensure their materials are responsibly sourced.
"This change is 100% percent with our partners. They're the ones helping us with this success. We will do this together and get stronger together. That is the strategy for Volvo cars."