As gearheads move through phases of life, they generally progress through a series of stages. A love of all things automotive typically begins with a scale-sized toy or dog-eared magazine, either of which tightly clutched in a pair of grubby little hands. This is later followed by eagerly driving a well-used car that may or may not (likely the latter) be roadworthy. Sometimes life's responsibilities eventually take root, funnelling cash towards slightly more practical endeavours like a reliable vehicle or weighing the benefits of a variable rate mortgage.
The payoff, of course, is the eventual ability to spend a bit of cheddar on toys that make us grin. For some, that's a sports car with which they can break lap records at Canadian Tire Motorsport Park. For others (*raises hand*), the payoff manifests itself in the form of an off-road beast with more suspension travel than a F-150 Raptor and more turbocharged horsepower than most on-road cars.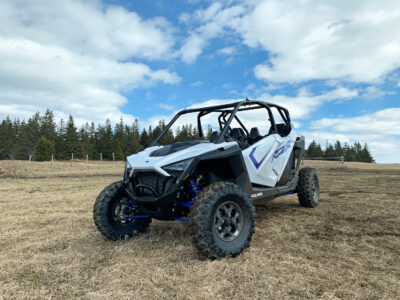 For 2020, Polaris has taken a scalpel to their lineup of side-by-side machines, adding horsepower and cranking the Fun Dial squarely past eleven. Sitting atop their food chain is the RZR PRO XP 4 Ultimate, packing 181 horsepower and weighing just a hair over 900 kg. Putting this much power in a lightweight side-by-side is akin to putting an entire ghost pepper into one's morning omelet – you're going to notice.
The turbocharger appended to this 925cc 4-stroke twin announces itself around 3000 rpm and is speaking in a frenzied roar by 4000 rpm. Compared to other turbocharged RZRs, the PRO XP is fitted with a larger turbo, creating more boost and a power band said to be focused on snappier acceleration between the all-important 30 and 80 km/h range. The get-up-and-go of this thing rivals bungee jumping off a bridge in B.C. for an adrenaline rush.
Hitting the binders hauls the speed from felonious velocities with force, bringing driver and riders up against a set of retractable Click-6 harnesses. Now we know what a lump of pasta feels like as it goes through the spaghetti maker. The rear seat riders may not be at the control but will know what's coming, thanks to stadium-style seating which provides not only a clear view of the trail ahead but also ample legroom. There are cupholders and a 12V outlet back there as well, by the way, and the whole works can flip forward to expand the cargo area.
Compared to the XP 1000, another high-horsepower card in the Polaris hand, the XP PRO has a much sleeker and more rakish appearance, with its protective roll cage and body panels better integrated into the machine's design. It's face is angry, with automotive-quality headlights bridged by an illuminated bar that looks like a rough-n-tough handlebar moustache. The shape of its tail lamps remind your author of those found on the Acura NSX supercar.
Adding to that sleek look are generous width and wheelbase measures. Spanning 64-inches in width, the chassis of the PRO XP 4 pushes those knobby 30-inch Maxxis off-road right out to the rig's corners, resulting in a 125-inch wheelbase. If that sounds like a lot, you're right; it is the longest of any RZR ever created.
Predictably, this creates a cabin that's starting to tilt toward on-road vehicle instead of off-road bezerker. Those Click-6 harnesses mentioned earlier are easily buckled and adjusted, with bright red tabs informing even the newest riders where they need to pull. Belts are retractable up front and manually loosened for rear seat riders. It's an intuitive system with zero learning curve, aided by seats that are all-day comfortable. Also on board are a yaffle of handy storage bins including one which provides an outlet to charge smartphones.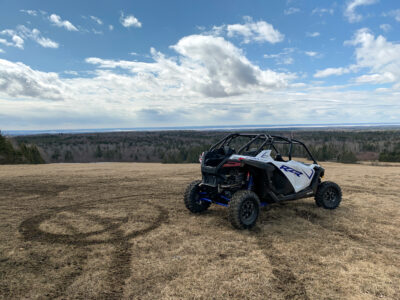 As the top-of-range model, this Ultimate trim has interior features that were the stuff of fantasies just a few short years ago. Chief amongst these is the brand's Ride Command system, a centrally mounted touchscreen that provides readouts for speed, Bluetooth music, and navigation. The latter does a great job of keeping track of your ride, permitting one to enjoy the day without worry of taking a wrong turn after the sun goes down. In a fit of real world usefulness, the displayed route permitted our troop to determine the location of some hidden local beauty spots after an hour or so of futilely traipsing through the woods like Relic from Beachcombers.
The RZR XP PRO's real party trick, however, is its Dynamix suspension system that utilizes Fox 2.5 Live Valve shocks at all four corners. Switching between three settings – comfort, sport, and firm – is easy and, in a move bringing it even closer to on-road machinery, can be done via conveniently placed steering wheel controls. An angry red Dynamix 'X' button on the wheel's right spoke sends the system to full firm while pressed, prevent bottoming out in high-speed knocks.
This is useful when cruising the Back Forty at a healthy clip with suspension in comfort mode only to suddenly happen upon a new and unexpected wash-out. Jabbing the 'X' button with a gloved thumb permitted the Fox Live Valves to soak up the crater like a California socialite soaks up attention. Nearly two feet of wheel travel and 14.5 inches of ground clearance didn't hurt, either.
Complaints are but a few. There was some trim assembly oddness in our early-build test unit, with the shifter knob flying off its perch on random occasions. The back doors are placed slightly too far forward in relation to the seat, making ingress a challenge for those of NBA stature. The kids likely won't care and if they do, a quick blast through the rev range will erase their grievances.
All this fun comes at a cost, of course. The machine you see here bears a price tag of $39,799 in Canada, making it one of the most expensive side-by-sides a person can buy from any brand. Other variants of the PRO XP 4 are less expensive but are not equipped with the rig's two main draws: those tremendous Fox Live Valve shocks and the too-cool Ride Command system. Horsepower is equal across all PRO XP models.
It's also the perfect elixir for this lifelong gearhead who's outgrown his childhood toys. Well, except for the dog-eared car magazine. I still have that one.
Links:
Polaris Canada