Indian Motorcycles Releases Defending the Crown Video Series
Say what you will about the sanity behind the King of the Baggers racing series, but hustling a race-prepped, 600-lb heavyweight complete with hardbags makes for some seriously entertaining competition.
To chronicle this year's effort, Indian Motorcycles has put together a video series dubbed Defending the Crown that highlights the efforts of riders, builders and engineers involved in making their Challenger competitive, with the hopes of securing a second crown.
The first video focuses on last year's anointed King of the Baggers, Tyler O'Hara and his effort to defend his crown, while also taking on a field of flat track racers in the supporting Hooligan series.
The second video showcases the efforts of Roland Sands Design team and how they've successfully built a repeat podium finisher. If you're a fan of custom motorcycles, the RSD name will no doubt resonate as Roland and his team have built some incredible creations over the years,
The final episode highlights the efforts of Patricia Fernandez, the only female rider competing in the series, as well as how the Saddlemen Team built her bike. Perhaps most interesting is Patricia's competitive spirit, as she lines up against her Harley riding beau while also hopping on a stock Indian FTR to do battle amongst fully prepped customs.
The entire series is entertaining, informative and plays more like an ESPN documentary than a commercial. If you're looking for some quality content to enjoy with your weekend coffee, cue up the playlist below.
Harley-Davidson Launches Let's Ride Challenge
If you're the kind of Harley owner that loves nothing more than an excuse to disappear and log as many kilometres as you can (which really describes all of us riders, right?), the Bar and Shield has just launched their Let's Ride Challenge.
"We're running the 'Let's Ride Challenge' Sweepstakes to offer a chance for riders to enter to win prizes for all the miles they are putting in this summer while enjoying their Harley-Davidson motorcycles and seeking out new adventures across the United States and Canada," said VP Marketing Theo Keetell. "The really cool thing is unlocking new prizes as milestones are achieved via the H-D.com app, while also entering individual instant win games."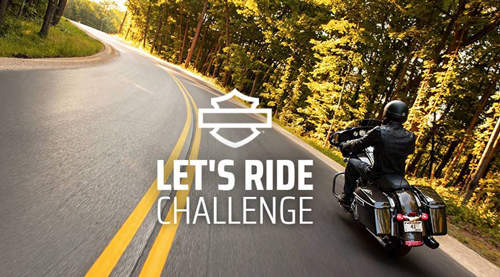 Running from right about now (the Challenge opened on July 23rd) until September 30th, the idea is to get Harley owners to download the H-D app and log all of the riding they can do in that timeframe. The more kilometres you log, the bigger the prizes that can be won and the better your odds.
The prizes range from cash and H-D gift cards to moto trips and even a brand spanking new Custom Harley-Davidson (5 million collective miles need to be achieved to unlock the bike prize)
To register, click on through here:
Experience The U.S. on a Moto Guzzi
With our border to our neighbours down south potentially, maybe, sort of, kinda ready to open I thought it might be a good idea to put this on your radar.
To further celebrate their 100th Anniversary, Moto Guzzi has launched a series of tours that will take place in various parts of the United States of America. The Mandello del Lario based brand has already been conducting tours like these across the pond (and they look pretty sweet, too) but if riding around the Ozarks, California or experiencing Big Sky Country land on your bucket list, here is your chance to cross one or more off while experiencing the quirk of Guzzi's iconic transverse V-Twin.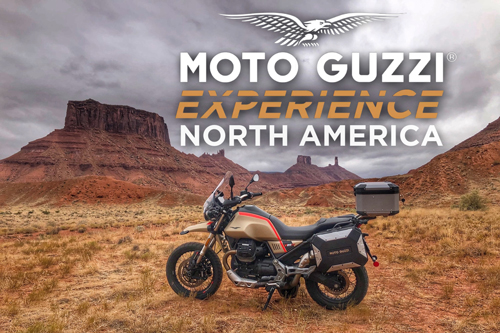 The bike being provided on these tours is the adventure ready V85 TT and, it should be noted, the tours are all-inclusive in nature. That means all of the logistics including hotels, meals and scenic routes have been taken care of. Heck, even fuel is covered, so you can just show up and enjoy the ride!
As an added bonus for this inaugural year, Moto Guzzi is also willing to throw in one of these trips for free with the purchase of your own V85 TT ($2,500 CDN will be credited against the purchase), which is a pretty sweet deal when you consider V85 TT can be had from $13,990 to $15,390.
Dates for each adventure are as follows:
Big Sky Tour | September 9 – 13, 2021
A scenic tour of some of the most iconic landscapes Montana and Wyoming have to offer. Bask in the beauty of nature as you enjoy locations such as Yellowstone National Park, Gallatin National Forest, Big Sky and more.
 Ozarks | September 23 – 27, 2021
A round trip of more than 700 miles through the Ozarks, surely a journey that will stick with you for a lifetime and make you yearn to hop back on a Guzzi to escape.
California Coastal | October 7 – 1, 2021
A unique ride through some of the most iconic locations California has to offer. Hop on and enjoy the breath-taking mountains, national forests, and beaches that make riding in California a top destination by motorcyclists around the world.
And you can register here