Our apologies for the lengthy absence of this column but as summer comes to a close, most motorcycle manufacturers tighten lips around new releases until the stench of pumpkin spice has fully permeated everything. A quick whiff right about now will tell you that the flood gates are about to open: here's what's new and exciting this week!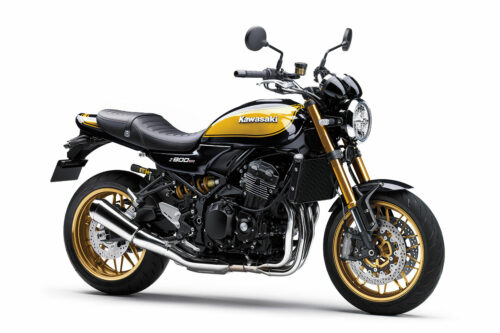 Kawasaki: When the Kawasaki Z900RS was released four years ago, it filled a void in the modern classic category with UJM (Universal Japanese Motorcycle) style and inline four-cylinder authority. For 2022, the SE model receives some impressive updates in the form of revised rear suspension, courtesy of an Öhlins S46 gas-charged shock with a horizontal back link, as well as a new set of Brembo M 4.32 Monoblock, 4 piston calipers clamping down on twin 300 mm discs. And if that wasn't enticing enough, the new "Yellow Ball" paint scheme, with matching gold wheels, on the Z900RS SE model should be, as it looks absolutely stellar. Pricing is set at $15,599.
Link: Canadian Kawasaki Motors Inc.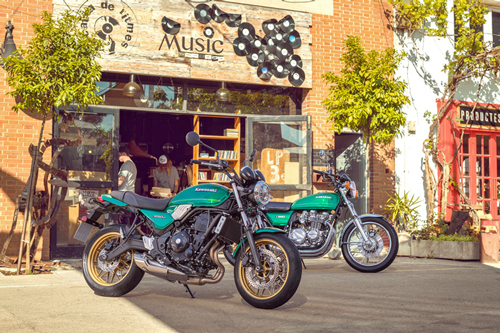 If the power of that screaming 4-banger (~111 hp) is a little more motor than you need, you can rejoice that Kawasaki has also released the all-new Z650RS — a smaller, lighter version with the same gorgeous retro styling.
Powered by Team Green's excellent 649 cc parallel twin, this entry-level bike should be perfect for urban riders looking for a stylish way to slice through traffic. The engine develops 67 horsepower and 47 foot-pounds of torque and, thanks to its upright riding position and 17-inch cast wheels, should make for a nimble and comfy mount too. As someone who has been deeply impressed with the riding characteristics of the standard Z650 but not won over by its styling, this RS version is a welcome addition to the Kawasaki lineup. The price tag is equally easy on the eyes, at $9,999.
Link: Canadian Kawasaki Motors Inc.
Ducati: Ducati has a bevy of introductions lined up for us over the coming weeks. And while we know they will culminate on December 9th with the drool-worthy Desert X (more on this and the others to follow), this first release — the Ducati Multistrada V2 — looks equally compelling for the ride and wander types out there.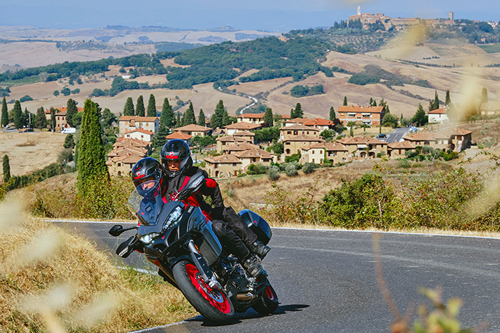 Power, if you hadn't guessed yet, will come via a V-Twin. Specifically, the 113 horsepower, 937 cc, Testastretta, 11-degree, V-Twin. And yes, you are correct that this is the same motor from last year's Multi-950, so this new V2 isn't exactly all-new, but there are some substantive changes going on. That engine is now Euro5 compliant and, thanks to new internals, weighs some 2 kg less. And the engine isn't the only thing that's gone on a diet. Ducati have shaved some 5-kilos from the total package (199 kg dry), while also improving the ergonomics via a lower, comfier seat.
There will be a standard V2 ($16,995) as well as a V2 S ($20,295) that adds some extra tech in the form of cornering lights and semi-active Skyhook suspension. Both models will feature a 6-axis IMU, so corner sensitive ABS and traction control are standard as are multiple rider modes, with adjustability.
Link: Ducati Canada
Triumph: While their Tiger 850 Sport definitely hit a sweet spot in the adventure touring market by offering a competent tourer at an impressive price point, Triumph obviously wasn't content to leave well enough alone. With their new-ish Trident serving as a foundation, the lads from Hinckley have now built an entry-level adventure sport machine, the Tiger Sport 660.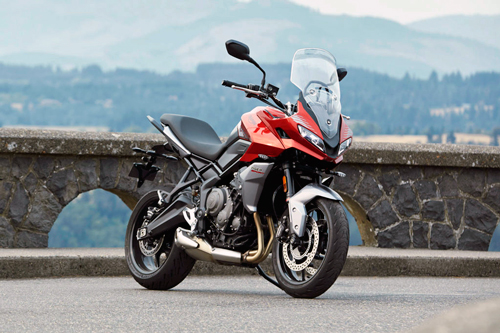 As mentioned, the Tiger Sport 660 is built upon the same chassis and engine that underpins the re-born Trident. As such there is 80 horsepower at the ready, with 47 foot-pounds of torque generated by the sonorous, 660 cc triple. The subframe has been tweaked to handle increased loading of cargo and/or passengers and the swingarm on the Sport 660 is longer as well. Other changes include a beefier, Showa suspension set-up that boasts increased clearance and travel (150 mm), to better allow for sojourns down a cottage road or two.
For long distance touring, integrated pannier mounts can be found in the rear and Triumph will be offering those as a branded option, as well as a top box. Volume of the cargo carriers is pegged at 57 l combined for the panniers and 52 l for the top box (52 l).
On the tech and convenience side, Triumph has equipped the Tiger Sport 660 with two selectable ride modes, ABS, switchable traction control and there is an optional quickshifter as well. Priced starting at $10,495, the Tiger Sport 660 looks to be a serious value competitor to the Kawasaki Versys 650 LT — a long serving favorite of commuters and tourers alike.
Link: Triumph Motorcycles