Indian Motorcycles' Newest Elite Bikes
Special, limited edition versions of fully-dressed cruiser motorcycles are de rigueur in the space, and well-heeled riders clamour for these top trim tourers. For Indian Motorcycles, that means you're buying what they dub an Elite series bike and two new Elites have just debuted. But what exactly does that mean?
"From factory-custom details to premium amenities, and advanced ride-enhancing technology, we left no stone unturned when designing our new Elite baggers," said Aaron Jax, Vice President of Indian Motorcycle. "Whether you prefer the liquid-cooled power and performance of the Indian Challenger, or the more organic growl and unmatched air-cooled power of the Chieftain, these two Elites elevate both platforms with gorgeous custom-inspired design elements straight from the factory."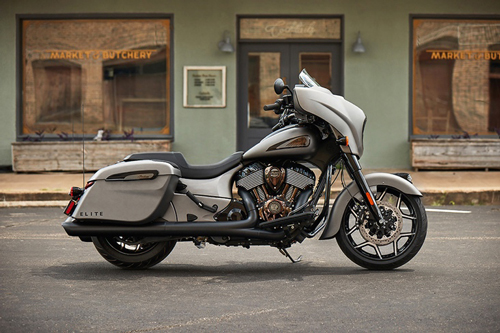 As indicated in the quote above, it is both the Challenger and Chieftain that were elevated to Elite status this time around and both bikes benefit from a smattering of Indian accessories as well as a unique coat of paint.
In the case of the Heavy Metal Smoke painted Chieftain Elite, the amenities include an Adaptive Pathfinder LED headlight, an adjustable and tinted flare windscreen, a set of floorboards, rear saddlebag LED lights, backlit switch cubes, and an integrated 400-watt PowerBand audio system.
If rolling up on a top-trim King of the Baggers bike is more your style, the Stealth Grey with Black Metallic and Indy Red accented Challenger Elite is definitely a looker. On top of the slick paintwork, you'll also snag electronically adjustable rear suspension that lets riders dial in the setup of their bike from their display to account for extra cargo or two-up riding. On the safety front, there is Smart Lean Technology integrated that enables lean-sensitive ABS and traction control. Like the Chieftain, the Challenger also gets the fancy back lit switch cubes and an adaptive LED Headlight, along with LED driving lights. An adjustable flare windscreen, select floorboards, a 400-watt sound system and heated grips round out the ride experience.
Both bikes also get the full-fat seven-inch touchscreen display powered by RIDE COMMAND with Apple CarPlay®, GPS with navigation, and RIDE COMMAND+ features, like live traffic and weather overlays, and a vehicle locator feature. Standard features include ABS, keyless ignition, tire pressure monitoring, as well as weatherproof and remote-locking saddlebags with more than 18 gallons of storage.
There are only 200 Challenger Elites being cranked out worldwide and only 150 Chieftain Elites, so if you like what you see you'll need to act fast. Pricing is $42,999 and $40,499 respectively.
Kawasaki Elektrode
Balance bikes and small e-bikes have quickly become an excellent way to get the next generation of riders interested in life on two wheels. Efforts from Indian Motorcycles, Harley-Davidson and a smattering of other manufacturers have all hit the scene and now Kawasaki is getting in on the action.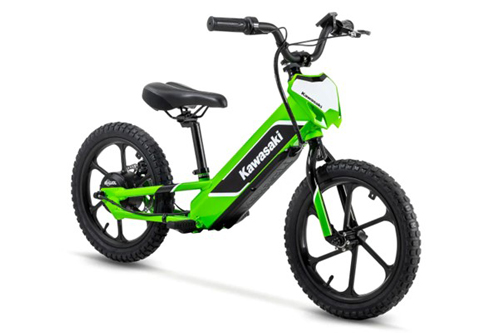 The Kawasaki Elektrode is the first all-electric effort from Team Green and its an adjustable balance bike aimed at riders between the ages of 3 and 8.
Constructed with an aluminum frame and steel front fork, the Elektrode rides on 16-inch wheels and features a 250-watt brushless motor that's built into the rear wheel. Fed by a non-removable 36-volt, 5.1 Ah lithium ion cell, it should be good for about 2.5 hours of two-wheeled fun (depending on rider size and terrain conditions, of course). There are even 3 ride modes integrated – Low, Medium, and High – which are essentially speed/power delivery levels that are password protected, so parents can control any future Jordan Szokes out there. In Low, kids can hit 17 km/h while Medium permits up to 26 km/h and full blast can let speed demons send-it up to 45 km/h
With a completely adjustable seat, brake and handlebars the fit can be tailored to growing riders and we're told that even after 500 charge cycles, the battery should still be able to recharge up to 80% without issue, so the Elektrode should last until you're ready to have the next generation move up to something a little brappier. Canadian pricing and availability hasn't been announced yet, but at $1,099 USD it may be worth a trip across the border.