Box Fresh MH900e On Bring A Trailer
If you've read our latest issue of Vicarious Magazine you may have caught my editor's letter where I lament the exorbitant costs of BaT auctions (and if you haven't, subscribe already!). Well, now I'm sitting here staring at what I (and many others) consider to be one of the most beautiful and exclusive motorcycles ever made and wondering how many pennies are hiding in my couch.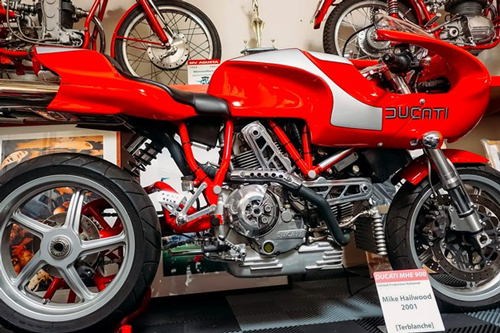 The 2002 Ducati MH900e was designed by Pierre Terblanche as a tribute to Mike "The Bike" Hailwood and his 1978 Isle of Man TT winning Ducati. While thoroughly modern (by 2022 standards), the retro half-faired look, elegant trellis frame and period correct livery makes this a genuine piece of rolling art. The MH900e was also the very first motorcycle to be sold exclusively online with buyers having to register on January 1, 2000. It sold out in 31 minutes, which is crazy considering more than a few of those orders would have been running a dial-up connection and half of the population was wearing tinfoil hats to ward off the Millennium bug.
This one currently on the block at Bring a Trailer, numbered 875 of only 2000 ever made, is not only brand new, it's still in the factory crate.
Bidding as I write this is around $35k – which would actually be a steal for this bike in this condition – so expect that number to rise. My guess is it will probably double and sadly, my couch just isn't that cavernous.
https://bringatrailer.com/listing/2002-ducati-mh900e-12/
Max Hazan's Vincent Rapide
Speaking of rolling art, fabricator extraordinaire Max Hazan recently took top honours by winning Best of Show at The Quail Motorcycle Gathering we wrote about a few weeks back.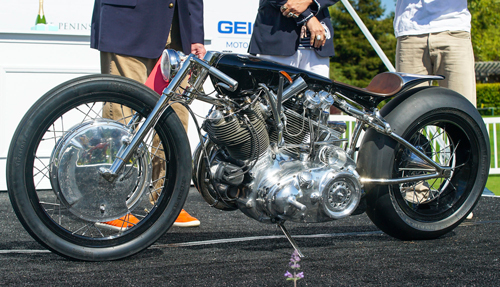 If you follow the custom motorcycle scene at all, Hazan and Hazan Motorworks will be quite familiar. If you don't, know that Mr. Hazan is arguably the most creative and most talented builder on our planet. Period. If you'd like to see why I posit this, just check out this gallery of builds.
The 1951 Vincent Rapide that you see here is essentially completely bespoke. The chassis was fabricated in his Los Angeles shop, as were the drum brakes and even the damned carburetors!!!. Yes, you read that correctly. The carbs (as well as those incredible bellmouths) were machined and fettled by Max himself.
Other unique touches (which is odd to say about a completely unique creation) include a solar panel that was integrated into the fuel cell to provide a charge to the battery powering the LED lights and that gorgeous rear suspension set-up. Pour a cup of coffee, dilate those pupils and grab a hanky to soak up the drool.
BMW M1000 RR: 50 Years of M Edition
While the infamous M has graced Bimmers (the colloquial given to four-wheeled BMWs) for 50 years, Beemers (the colloquial given to two-wheeled BMWs) have only recently been bestowed the honour (before 2020, high performance editions of Beemers had the HP designation).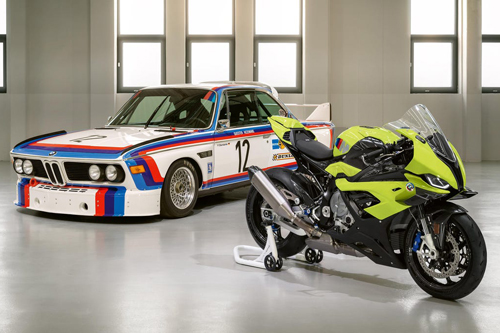 To ensure the 50-year celebration of M is shared amongst the entire portfolio, BMW Motorrad recently introduced the M1000 RR: 50 Years of M Edition.
Each bike will come slathered in a unique shade of Sao Paulo Yellow Paint and feature a bevy of performance add-ons in the form of the M-Competition package. That package includes carbon fibre galor, a lighter swingarm and an integrated GPS lap-timer among others.
If you'd like one of these special edition 212-horsepower track bandits for yourself, it will set you back around $49k (which is a substantial upcharge over the equally powerful and capable standard issue M1000 RR)