Can-Am Is Back!
Riders of a certain vintage will no-doubt remember a time when you could buy a Canadian-made, championship winning motorcycle. Can-Am bikes were competitive in the motocross and enduro categories right off the hop, scoring wins at the famed Six Days Trials and sweeping the AMA motocross podium in 1974 – and now they're coming back!
However, instead of smoky, punchy two-strokes, this time around the Can-Am bikes will be all electric.
"With the motorcycle industry shifting to electric, we saw an opportunity to reclaim our motorcycle heritage and to re-enter the market," said José Boisjoli, President and CEO of BRP. "This new product category is extremely important to us, and we are thrilled that Can-Am motorcycles are the first EV models in BRP's electric lineup to be confirmed to consumers."
Although specific details are essentially non-existent for the four bikes rendered in the teaser video, it should be said that since BRP was the company that bought up Alta Motors' intellectual property back in 2019, we're right to be excited and this certainly shouldn't be an empty promise or vapourware.
Cardo PackTalk Edge
I've long been a fan of riding with a communications headset integrated into my bucket. It means I can listen to tunes, a favourite podcast or two, answer a call in an emergency and get turn by turn directions when I need them. It takes the edge off of boring, bumper-to-bumper commutes and can make hours of slab pleasantly disappear.
Cardo is easily one of, if not the best brand out there right now. And to further bolster that position they've recently delivered a new, antennae-less, Dynamic Mesh Communications (DMC) system called the PackTalk Edge.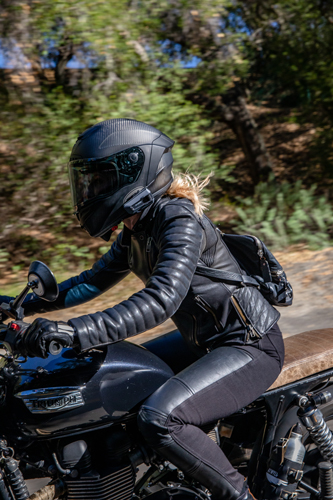 If you're unfamiliar, DMC systems work like a living, open and repairable network that is more robust and versatile than traditional Bluetooth intercom systems.
With PackTalk Edge, Cardo has boosted their system's abilities to ensure faster, easier connections can be made and they boast that up to 15 riders can be grouped with a range of up to 1.6kms.
In terms of sound, the speakers provided are by JBL and I can tell you firsthand (from my use of their older PackTalk Bold) that the quality is damned good. Toss in a better noise-cancelling mic and over-the-air updates and the PackTalk Edge should be on your list of spring riding upgrades.
Honda Celebrates the Fireblade's 30th
It may be hard to believe, but Honda's venerable supersport, the Fireblade, is celebrating its 30th this year. To celebrate, Big Red has released a special edition Honda Fireblade SP 30th Anniversary Edition.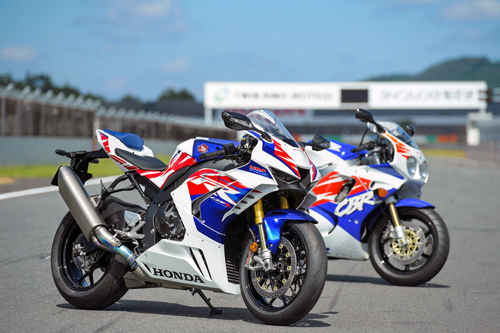 To set it apart from its showroom siblings, the Anniversary Edition will feature a tri-colour paint scheme that was designed by Mr. Hiroaki Tsukui – the very same person responsible for the original 1992 colour design. Other details include a 'Ring of Fire' screen animation that pops up when you start the bike and, of course, a unique serial number for each bike is laser-engraved on the top yoke. There are 30th Anniversary logos aplenty – on the fuel tank cover, the Smart Key fob, and laser-engraved on the included, lightweight and ferocious sounding Akrapovič muffler.
At $35,999 this isn't an inexpensive toy but know that it has every track focused bell and whistle you could want from Ohlins Smart suspension to Brembo Stylema calipers and a fully integrated suite of adjustable rider aids designed to tailor this 215 horsepower, 201kg scalpel.