Are Stand Up Snowmobiles The Next Big Thing?
A dream some twenty-four years in the making, the Widescape Stand Up Snowmobile recently made its production debut. And I've gotta say, this thing looks rad.
Styled like a functional mix between a timber-sled and an OG jet ski, the Widescape WS250 is a slimline, single-ski snowmobile that is designed to deliver an entirely new experience and enable riders to push into never-before explored areas. Measuring less than a metre in width, riders can connect snow-covered dots deep into the backcountry that could previously only be achieved via cross-country skis or snowshoes.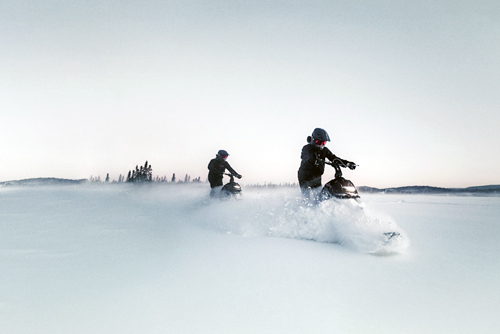 A liquid-cooled, 242cc 4-stroke engine is mated to a CVT transmission that quietly propels the 90kg sled. The aluminum frame and diminutive footprint help keep that weight nice and low, so the WS250 should float atop the powder with little to worry about. There is 100mm of travel in the suspension and the proprietary track features 38mm lugs, so you needn't worry about less-than-groomed conditions. Oh, and you don't need a big trailer to haul one either; the WS250 will fit onto a rear-mounted dirtbike rack or you can fit a pair in the bed of most pickups.
Rumours are that it takes most folks about 15 minutes to get used to the sensation before they're off to the races. As soon as we get our chance, I guarantee to report back on that (and to confirm if old dogs can indeed learn new tricks). The Widescape WS250 will start shipping in fall of '22 but you can put a deposit down now. The ask for this enticing bit of Canadian engineering is $8,149.
The Quail Returns
After a pandemic-induced, two-year hiatus The Quail Gathering will return to Carmel, California this coming May 14th, 2022.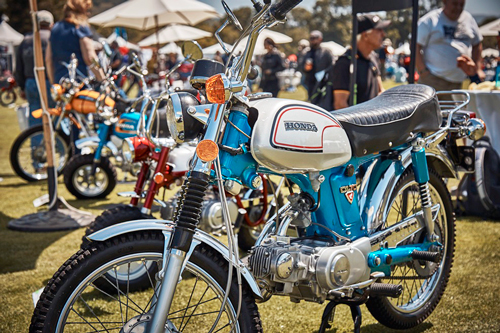 For those scratching your heads, The Quail is a concours style motorcycle show that brings together a collection of the world's finest and rarest vintage and modern motorcycles. The bikes from a number of categories are judged and winners are crowned. There are also a number of leading motorcycle manufacturers and top lifestyle, retail, and beverage companies that put together their own pop-ups along the fairways and roughs of the Quail Lodge & Golf Club. The atmosphere is best described as Pebble Beach sans any ounce of pretense, so if you wanna rock some denim and leather or mix it up with seersucker, feel free.
This year is highlighted by five featured classes – Harley-Davidson XR750, BMW /5 Series, Two-Stroke "Braaaps", mini bikes | BIG FUN and if you've got a bit of ghost-flame nostalgia haunting your dreams, there is display-only class featuring hot rods and classic cars. There will also be a Fireside Chat with custom bike builder Roland Sands.
Ducati's Ultimate Track Bike?
If you looked at the power, weight and winglets on the Ducati Panigale V4S and thought, "that's nice and all, but I want more" let me introduce you to the Ducati Panigale V4 SP2 – their Ultimate Track Bike.
What that means is that, for $45,595 you can buy a limited edition Panigale V4 that has been specifically tweaked for maximum attack at the track. The fuel tank and seat are essentially ripped right from Ducati's Superbike effort. The Öhlins Smart EC 2.0 electronic semi-active suspension has been set-up with a softer set of springs with increased travel and the tell-tale chatter from a dry clutch will echo throughout pit lane.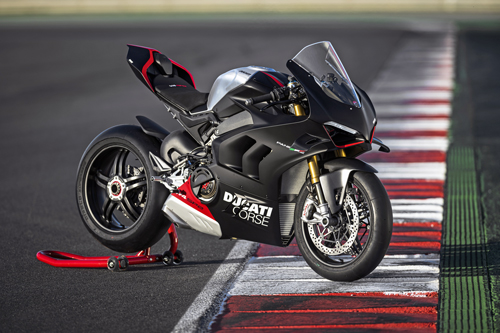 Carbon fibre has been used for the wheels to lighten unsprung weight, so an already nimble bike should pivot even quicker. And it will undoubtedly hustle in a straight line too. When paired with the titanium Akropovic exhaust the SP2 will crank out 225 horsepower and 96.6 pound-feet of torque. All in a bike that will weigh around 194kg's fully fuelled.
Decked out in Ducati's Winter Test Livery, this bike is definitely both a looker and a cooker. If it's tweaked your interest, pre-orders will start later this year with delivery just in time for Christmas.