Alpinestars Tech-Air Updates and Off-Road V2 Debuts
It's no secret that Alpinestars has been developing an off-road specific rider airbag system for years now. Pro-riders have been sampling and developing the system over the last three years at the Dakar Rally (among other events). And now, us weekend warriors can get in on that action.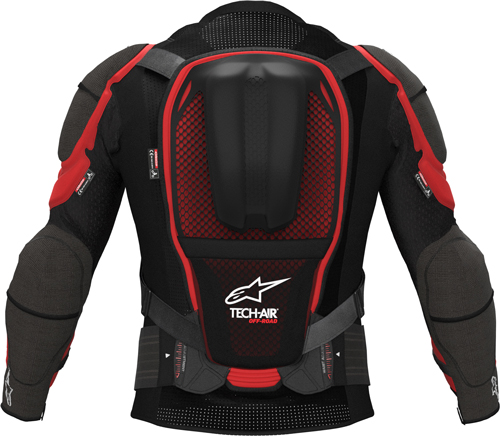 Debuting at CES (the Consumer Electronics Show), the Alpinestars Tech-Air Off-Road V2 system is an industry-first, dual deployment airbag system for off-road riders. Built around an updated version of Alpinestars' Bionic Tech armoured jacket designed for the trails – meaning the CE-level hard-armour at the shoulders, elbows, chest and back is integrated – it can be worn under a breathable jersey and the Off-Road V2 also incorporates a hydration bladder.
There are three algorithms – street, light off-road, and rally – that can be toggled via the Tech-Air application, but know that even in Rally mode the V2 is not meant for motocross riding or competition (although that model is in the works). Best of all, the V2 has been designed to allow for user servicing. That means riders can pack an extra canister or two with them to re-arm the system, should they have two deployments on any adventure. That in and of itself is some game changing evolution as previously a deployed airbag would have to be sent back to A-Stars HQ for a professional re-pack.
The Tech-Air Off-Road V2 will be available in October 2022. Watch this space for some hands-on impressions around that time as well.
If off-roading or ADV riding aren't your cuppa, know that Alpinestars has also updated their race/track suit airbag system, Tech-Air 10 and have debuted a new vest, Tech-Air 3, as well.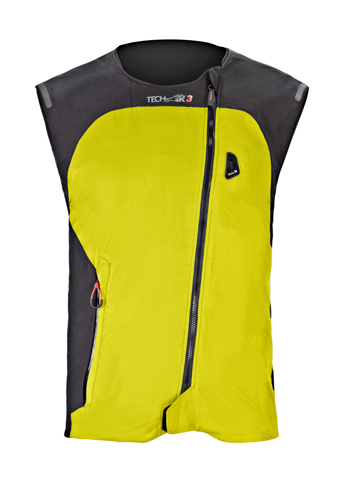 The Tech-Air 10 wears like a shorty wetsuit sliding under a Tech-Air compatible onesie, and now features airbag protection down through the hips, which is another industry first. Chances are, if you've seen a MotoGP incident (or experienced a high speed off yourself) you'll immediately appreciate this added coverage. Sadly, these suits are single deployment only and must be sent back to AStars for servicing before being used again but know that the 12 onboard sensors are smart enough not to trigger unless needed.
Tech-Air 3, on the other hand, is an airbag vest similar to the Tech-Air 5 (we reported on back in Fall 2020) except it is designed to be worn over your normal riding jacket. Like the Off-Road V2, this unit is user serviceable but only packs a single deployment. While I'm still on the fence about wearing my airbag on the outside of my most-abrasion-resistant layer, the option for others to do so will hopefully mean more riders are protected overall. The Tech-Air 3 has also been designed ergonomically in fits for both male and female riders.
Damon Motors HyperFighter Debuts
British Columbia based electric motorcycle company, Damon Motors, also stole some space from the gadgets-a-plenty showing at CES this year. The company debuted their all-new, all-electric HyperFighter motorcycle, a naked take on the previously announced HyperSport.
Built around Damon's HyperDrive modular power unit, the HyperFighter will have 200 horsepower on tap, propelling it up to 273 km/h while delivering up to 235 kms of range (although sadly not at that flat out pace). The HyperDrive itself consists of a central battery casing that cradles the motor and acts as a stressed unit monocoque, with the suspension attaching directly to it. This keeps mass low and centralized while enabling the use of a substantial 20 kWh worth of lithium-ion rechargeables.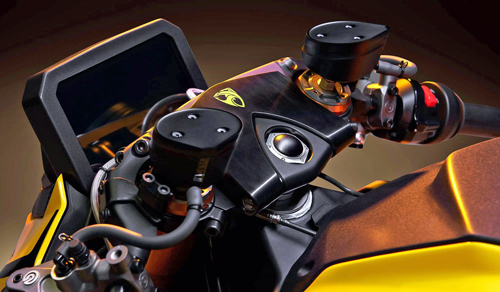 What's most interesting with the HyperFighter though, is Damon's inclusion of active ergonomics on this bike. Yes, you read that correctly, this thing doesn't just look like a Transformer, it is one.
The handlebars and footpegs are all mounted in connection to small electric motors which, Damon says, will enable riders to modify their positioning on-the-fly. So, if upright is the way you wanna ride through traffic during the commute but you'd rather get low and drag your knee in a canyon twisty later in the ride, just tap a button and the HyperFighter abides.
Damon is taking refundable deposits for the HyperFighter, available in three different trim packages, with deliveries expected in 2023