Toyota is what could be described as a pretty vanilla brand. They have the product and the reputation for reliability; they pretty much only need their cars to have two headlights and an engine, as form has often served utility more than design. Despite experimenting with a little something new on the latest generation of the Corolla, it felt like Toyota was experiencing an identity crisis more than anything.
The now deceased Scion brand served to highlight bolder designs that were sometimes a hit, sometimes a miss, but that definitely stood out. Now, one advantage of Scion having been retired, is that it leaves room for Toyota designers to draw inspiration. The new 2018 Toyota Camry unveiled in Detroit, has a little something from the late Scion tC, with angular headlights and a massive bottom grille. The slightly bulging hood line is also reminiscent of the former quirky coupe. The new-generation Camry is built on Toyota's New Global Architecture with a surprisingly lower and more aggressive stance. The back borrows from the redesigned Toyota Prius with the boomerang-shaped taillights and intricate line work. Even the height was reduced by about 25 mm, adding to the sportier silhouette.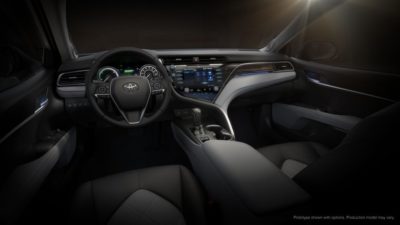 The interior is quite surprising as well. The dashboard design is organic, asymmetrical and looks like folded paper with the eight-inch touchscreen display and climate controls nestled in the crease. Toyota uses the word "cockpit" to describe the interior ensemble, a daring statement that points to the sportier front seats and lower seating position.
This sexy beast also receives three equally new powertrains, including a more spirited 2.5L, four-cylinder engine said to match the car's superior handling. A new Toyota Hybrid System teams with the 2.5L and a CVT transmission for improved fuel economy, but also throws in a Sport mode that mimics a six-speed sequential shift transmission. The third engine is a 3.5L V6 engine. Power output and ratings have not been announced as of yet for the new engines. Expect to see the 2018 Toyota Camry in the dealers towards the end of the year.