"What is it that should make SUVs more appealing to women?" my wife asks later.
Welcome to one of the first and hopefully one of the last socially distanced organized drive events. The end of the pandemic is tantalizingly in sight but the path is beset. Normally, automotive manufacturers like to treat attending members of the press to opulent driving activities in exotic locales. Most members of the press would espouse a hard-bitten impartiality but still seem happy to sop up the sushi bar.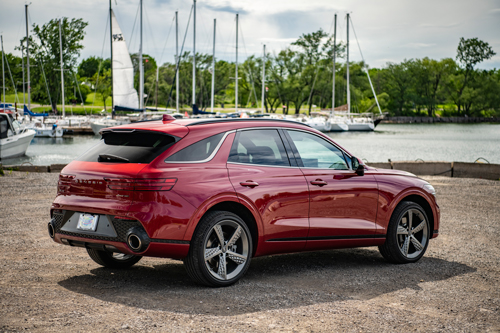 But it's hard to glad hand someone from six feet away and masked. Indeed, there's been no glad handing, sushi or face-to-face of any kind for 15 months. Today, the launch event for the 2022 Genesis GV70 mid-sized luxury SUV is a crossover, so to speak, of the online presentations that have replaced human contact during the pandemic and, finally, some good old-fashioned junketeering!
For Genesis Canada's PR department, it means days of back-to-back private presentations to writers, fronted by the company's Executive Director, Lawrence Hamilton. For writers, it entails attending the presentation, then being handed the keys for three days for. At some point during that loan period, we and a guest can attend one of several pre-paid outdoor activities Genesis has offered.
I've chosen my wife to be my plus one.
She's chosen this first day to attend our chosen outdoor activity because it's Monday and relatively easy to extend her weekend around work. The event-crossed-with-traditional-test-driving commences with this presentation at Hyundai Canada's HQ. (Hyundai is to Genesis as Toyota is to Lexus, Nissan is to Infiniti, Wings to Beatles, etc.)
Ontario entered Phase One of reopening three days ago for a weekend of sunny patio activity with our bubbles. But it's raining outside today and so my wife joins us indoors for the masked presentation. This is our first time inside with other humans since before we all used expressions like pivot, spiking numbers and Tiger King. We all stand well over 2m from each other and the PR hosts list bullet points like masked human power point presentations for about 20 minutes.
Does this half-event work? Well, it's no tour of the Nürburgring with champagne breakfasts after two nights in a hotel suite worthy of Bond villains. But it's a great leap forward from some slow-rendering Zoom call with an exhausted engineer tuning in from Seoul, after which we weren't even able to test the car being launched.
One hour after attending her first drive event presentation — now driving in the swanky comfort of the Genesis GV70 — my wife wants to know why Genesis (and all SUV manufacturers) are aiming at woman buyers. We're halfway to the Niagara region where we'll enjoy our Genesis-sponsored outdoor activity: cycling along the route invading Americans traveled in the War of 1812 (which we won!).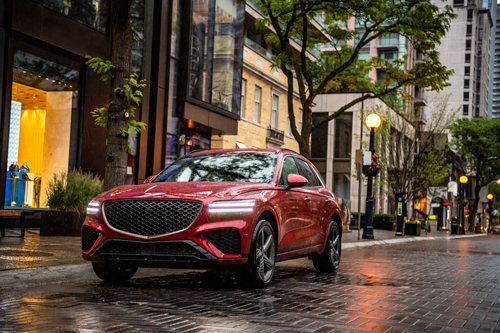 Back to women and SUVs. In short, the answer is money. According to J.D. Power, women affect well over 80% of all car-buying decisions and make up over 40% of Canadian car buyers.
And what makes an SUV more appealing to women?
Please indulge or forgive the following stereotypes. Making assumptions about your demographic and psychographic quirks is how marketing works, a fact of life in a consumer society. Here are some stereotypes, assumptions and you're welcome to reject them. Women tend to treat cars like handbags. They want vehicles to be luxurious and easily carry a lot of stuff. Men tend to treat cars like a first or second date. They want them to be dressed smartly, go fast and make friends jealous.
Over the three days that we get to test the all new GV70, Genesis's second SUV, Lawrence would like us to note "six norms" he says the company has exceeded: power, design, personalization, safety, in-vehicle experience, and the purchase/ownership experience. While several of these would intersect with others in a Venn diagram, we did get to sample most and are happy to relate some observations.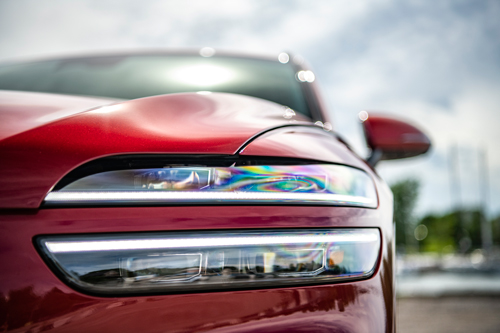 Day 1 – Safety and opulence (the in-vehicle experience)
Like its namesake, Ontario's Queen Elizabeth Way is slow, cracked and constantly crowded with idiots who won't let you through. But it's the only direct route to the Niagara peninsula. Such a boring drive is the reality of most people's motoring lives, so it's lovely to surrounded by carefully detailed luxuries.
Examples? Well, it's hard to explain the point of the available 3-dimenionsal effect you can order with the digital instrument cluster — except that it's cool. The Launch Control System basically makes drag-racing safer. It wasn't necessary or practical on Day One but, somehow, just knowing it's available adds spice to the drive.
Next? The Genesis GV70 introduces a fingerprint reader, a world-first application of this technology. It allows for exceptional customization and is probably worth the hassle of learning to program for the long-lived benefits it promises. Genesis admits that the fingerprint reader will have future applications. Perhaps, like early smart phones, few yet understand how such a bauble is bound to weave itself deeply into our daily existence.
The Radar-Based Rear Occupant Alert is another world-first in safety tech. It recognizes the heartbeat of a quiet child or pet in the backseat. In case you've forgotten them, it politely reminds you not to lock them in the car on a hot day and kill them (using different words). NB: If you choose to buy the GV70 based on this technology, talk to your partner. Maybe you're not ready to be parents.
Speaking of namesakes, the GV70's Driver Attention Warning is hyper vigilant. If your eyes wander too much from the road, it sounds a pleasant chime and displays a coffee cup graphic over the RPM dial with text that invites you to "Consider taking a break."
The moral? We've all probably become rustier over multiple lockdowns.
We arrive in Niagara and have lunch at a winery. They screw up our order but we don't mind a bit. Everyone's become rusty and this is only their third day open since March 2020. The rain we experienced back at Hyundai HQ has moved on, leaving a sultry, sticky day.
The bike rental is fun but we travel slowly. The heat is wet and uncomfortably palpable, like being hugged to long by an unwashed uncle. But the genuine views — real-life views not presented by any screen — across the Niagara River from Youngstown to Lewiston, New York shock us into a state of gratitude. Our timing's good because we drop off the bikes after two hours while the clouds are reappearing, assembling for war.
On the ride back home again on the QEW, Thor lets loose and Niagaran waves of precipitation continually smite us between sunny ten-minute breaks. The GV70 is a calm oasis, its tires gripping the road more determinedly than an angry Rottweiler on a home-invader.
Day 2 – Style (design) that makes the car guys envious
On the second of our three-day press-event-in-training, the GV70 sits on the parking pad. Within the 50m of our property, there are — no lies — six homes having significant reno work done; seven if you include our own. Just getting down the 4-house lane requires interrupting two Serbian soccer fans (the Euro Cup flags in their windows give it away) from their duties on Bobcats and asking them to move their pickups to the street till I can access. If we're just popping out to the nearby store for a minute, we're adding twenty because of these awkward drives up and down the lane.
Besides, we're only in Phase 1 of re-opening, so the only place I could've driven was a patio for a pint, but I wouldn't be able to have a drink because I'm driving. So, on Day 2, the GV70 sits fallow. That's not to say, there's nothing to report.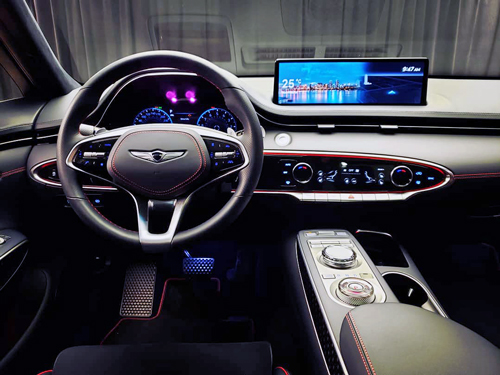 Remember above re Venn diagrams and definitions? Style is a part of design but so are engineering, the availability and implementation of active and passive safety features, and the placement of cupholders. Inwardly, as already shared during Day 1, I found GV70 to be a garden of earthly delights.
Outwardly, the GV70 is an SUV. Tint the windows and call it an aggressive crossover that drives like a sport sedan all you want, it's an SUV. To me, most of them look like Decepticons disguised as one of grandpa's oversized brogues. The others are ugly. However, if it's a more accurate endorsement, the construction guys penning me in on the parking pad love the GV70.
They smile and ask about it. This was on the day after it replaced the headline-grabbing Ford Mustang Mach-E. One of the Serbia fans wants to know the English word for its colour. It's an excellent question. Depending on the light, the colour shifts.
Did you know that one in twelve men has some level of colour blindness? I'm that one; browns, greens and purples are a problem. I venture Deep Purple as the GV70's which he thought appropriately rock n roll.
Day 3 – Performance! Welcome!
Southern Ontario's Lake Simcoe once applied for Great Lake status but was only granted Pretty Good. Keswick Ontario hugs its southernmost spike. Barely a half hour's drive north of the Hyundai/Genesis HQ and with its many slips, lakeside cottage trails and proximity to a major highway, Keswick makes a great spot to explore the different drive modes of a luxury SUV.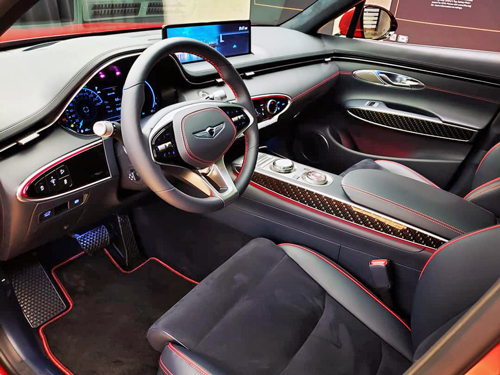 There will be two engines offered when the GV70 comes on market later this summer: a 2.5-litre inline four-cylinder turbo and a 3.5-litre V7 twin turbo. We've been driving the 3.5T trim with its easy-to-distinguish pair of circular exhaust pipes. Weighing a relatively fit 2,590kg, the AWD 3.5T achieves 375hp and 391 lb-ft of torque, slightly outputting more than the Audi SQ5, and out-torqueing the BMW X3 40i and Mercedes-Benz AMG GLC 43 — something to keep in mind when you're comparing prices.
All GV70s (and nearly all SUVs) come with all-wheel drive (AWD). In certain conditions, all the power can be sent to the GV70's rear wheels. In other conditions, the electronic limited slip differential will send all the power to one side. Let's find some.
I drive purposefully onto a swampy peninsular lot with a huge real estate sign, no doubt advertised online as beachfront. After the thunderous gales of two days ago, it's still pretty gooey going but the GV70's Mud mode. accessible through the Terrain button, converts this luxury conveyance into a tank churning through the muds of Verdun. Easy. The GV70 drives in other conditions including Sand, Snow and Rock but we don't have any of these.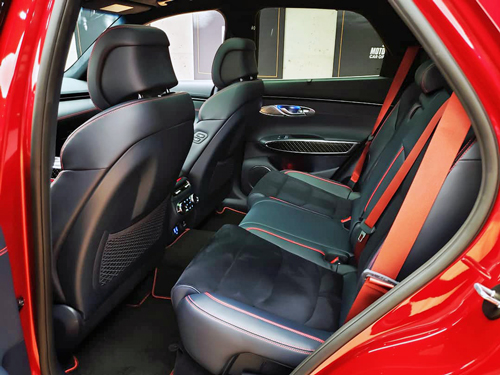 Back on the highway, a couple of other taps through other modes, ranging from Comfort to Sport Plus, deliver a different ride experience each time. In Sport, it's a different vehicle altogether: tight, tuned and testy. Despite an exceptionally long wheelbase, it feels sporty, defying its looks.
So, now you've had a soupçon of five of the six topics Genesis wants you to test and decide whether they beat their class competitors. I didn't get to experience ownership beyond these three days but am happy to report that Genesis pricing is standard.
Meaning? The purchasing process is not the confrontational mating dance/negotiation that so many buyers loathe. Till now, the entire thing was conducted online but Genesis is building ten "Retail Experience Centres" across Canada. Soon the buying can be as socially distanced or as uninterrupted by a screen as you're comfortable with and Genesis is betting you'll be knocked into a state of gratitude. Canadian pricing for the 2022 Genesis GV70 ranges from $49,000 for 2.5T Select AWD to the top-of-the-line GV70 3.5T Sport Plus AWD at $75,500.