You do have to hand it to Genesis. They have an image for their brand and they're sticking by it. People thought the grille on the redesigned G90 was too aggressive? Well, to show how they felt, Genesis went ahead and slapped a similar grille on both the G80 and upcoming GV80 SUV.
There was no way a newcomer could create a sports sedan to compete with the veterans in the biz from Germany and Japan? Well, obviously Genesis doesn't agree because they went ahead and built the G70 Sport and it's been gaining accolades the world over.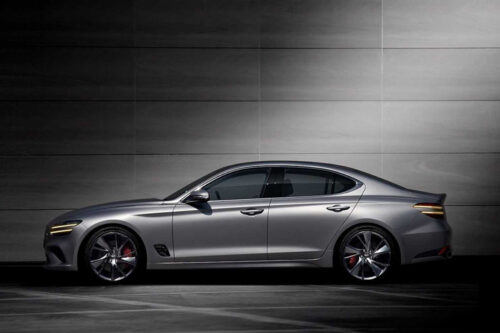 Speaking of the G70: In an effort to continue to build off that momentum, here comes the 2022 model and it is an absolute stunner in terms of styling.
Proudly sporting the  crest grille that debuted amid a fair bit of controversy on the G90, the G70 also gets the quad headlamps that made their debut on the G80 earlier this year, and they fit the more compact G70's front fascia rather well. A front fascia, meanwhile, that is said to evoke "a sprinter's pre-race posture," according to Genesis. Not sure what that means, exactly; all we know is that it looks darn good.
The quad headlights are echoed by quad taillights 'round back that are said to echo the wings on the Genesis logo. However: those aren't the most eye-catching aspects of the rear design. That honour goes to the massive dual oval tailpipes that do well to suggest at the power found within. Unfortunately, that "suggestion" is all we have to go on when it comes to the power for now, as Genesis has not revealed any specs when it comes to the 2022 G70's engine. Having said that: The G80 gets both a turbo four-cylinder and twin-turbo V6, so we wouldn't be surprised if the G70 gets a similar treatment.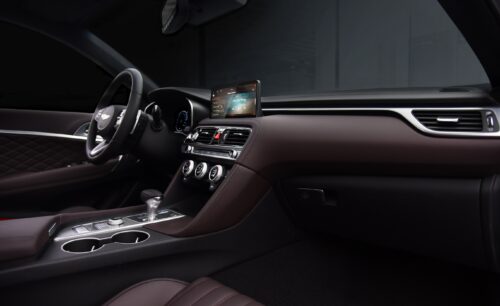 What they did say, however, is that the 2022 G70 will come with AWD as standard in Canada, which will be a boon for most, though those that prefer the "purity" of a RWD platform may be a little miffed at this decision. Of course, we Canadians love our AWD and Genesis will build what's most likely to sell. Then again; Genesis hasn't said that a RWD version wont' be available; just that AWD is standard. One can always hope…
Inside, Genesis has fit the 2022 G70 with a new 10.25" infotainment display, an updated wireless charging interface and will support over-the-air updates.
Pricing has not yet been announced; expect to see that as the 2022 G70 starts arriving in dealers late next year.