2020 Mustang Shelby GT500
…a 760 horrrrrrsepower Shel-beeeeee
Yep. You read that right: 760 hp, or the figure achieved by the folks in charge of Mad Mustangs for the 2020 Mustang Shelby GT500. Fed to the fat rear tires through a 7-speed dual-clutch auto (your only choice – according to the Shelby's engineers, that's the fastest way to go and that's all there is to it), it will get you from 0-100 km/h in about 3.5 seconds, on to a top speed of…well, they say 180 mph but that's because it's been restricted; if the last GT500 could do 200 mph with 662 hp underhood, then surely, so can this one.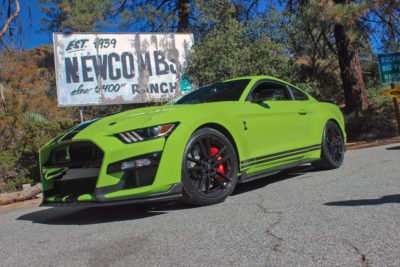 But I wasn't dispatched to the Angeles Crest Highway outside of LA to test those limits; I was there to see how the latest GT500 could perform on the tricky, off-camber and sometimes slippy curves Angeles Crest presents. Indeed, Ford wanted to make sure that the GT500 wasn't just going to be a drag-strip demon. It needed to handle because if it was going to keep up with the upcoming mid-engined Corvette, it would have to.
To help it do so, magnetic dampers are standard as are super-sticky Michelin Pilot Sport Cup 2 tires and an optional carbon fibre track package that provides super-light wheels and massive rear wing, all fashioned from everyone's favorite weave. Add the aggressive front splitter and the GT500 uses wind to its advantage to help it hunker down, clutch the surface below and keep you surging forward.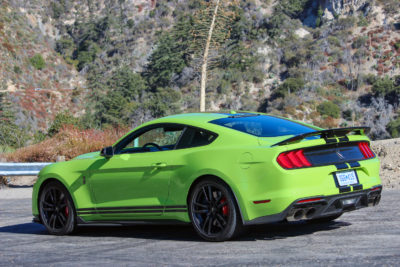 Then there's the noise. There are multiple exhaust settings but in a car like this – and with canyon walls like these – you have to select "Sport" or "Track", right? I mean, performance car, drag car, show car or whatever you want to call it, a Mustang needs to sound a certain way. With the GT500, that sound is something like a cross between a NASCAR at the low end, and Jurassic Park's T-rex at the top end. You can quiet it down, but I know I'd only be doing that in an around my neighbourhood. Anywhere else, it's loud exhaust for me.
My goodness, is it quick. Indeed, those paddles are necessary because I found myself regularly flicking one even before it seemed the last gear had engaged, so furious is the acceleration. You're pinned back in the (optional) Recaro racing see as the world around you blurs, and you do your best to keep computing all the obstacles and turns the Angeles Crest throws at you for miles and miles.
The steering wheel itself is big but wrapped in Alcantara suede so the grip is good, and the front end responds well to driver inputs. It's a much more aggressive rack than you'd think something with a big, heavy V8 up front would have, but considering the marching orders the Shelby had, the steering had to follow suit.
Even more remarkable than that are the brakes; six pistons up front and four at the rear and while a ceramic disc option is not available at this juncture, these babies bite so hard that you can see why a ceramic option is easily forgotten. Perhaps those that plan on tracking their GT500 a lot would go this way, but for most, the way these perform will be more than enough. Since the GT500 is so darn fast – and gets going so darn fast so darn quickly – having brakes like this really does provide good peace of mind.
The Shelby GT500 overall, though, provides a whole heck of a lot more than that. It provides power, panache, legend and an indisputable sense of occasion few cars today can match. In short, it provides everything any red-blooded car enthusiast could hope for.