2019 Alfa Romeo Stelvio Quadrifoglio
It was 505 horses versus three. Indeed, not a fair match up, but I wasn't about to spare the cinquecentocinque cavalli under the Alfa Romeo Stelvio Quadrifoglio's fetching Misano Blue Metallic bonnet on our journey through the Niagara wine region. Destination: Niagara Riding Stables where my wife, son and I were to clip-clop through the summer foliage on a trio of steeds.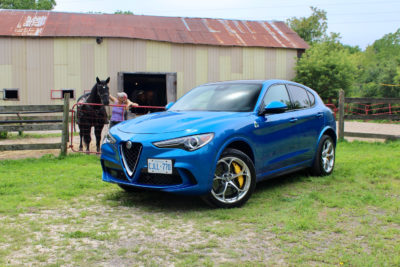 T'was a lovely experience, but with all due respect to Prince, Storm and Sophie, they weren't enough to keep my mind from wandering back to the Stelvio QF that awaited me at the barn.
I'm not generally a fan of SUVs that pretend to be sportscars, but in the case of this overachieving Alfa, it could make some sportscars seem like pretenders such is its pace, urgency, surprising handling and overall engaging nature. Not to mention this Italian's stunning countenance. It's hard to make a compact crossover look like much of anything, but Alfa has managed to give this one true sex appeal, helped in a large part here by those fabulous 20-inch wheels.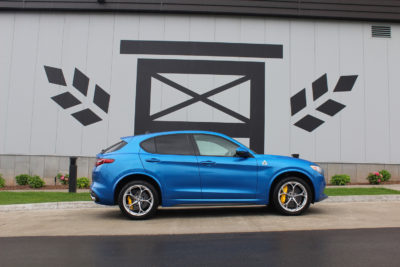 There are a few decent roads in this picturesque part of Ontario, and while I kept the felonious bursts to a minimum – in the interest of preserving my license and my marriage – just slicing down a winding road at a brisk pace in the QF proved a joyous experience. The Ferrari-derived 2.9-litre V6 works with unbridled enthusiasm, kicking out a snarling soundtrack while kicking the QF down the road with 505 horsepower and 443 lb-ft of torque. The eight-speed auto is a brainy unit, and in the Italian tradition, it can be operated by long, metal paddles that are affixed to the steering column.
Despite its road eating nature, the Alfa Romeo Stelvio Quadrifoglio makes for a pretty civilized daily driver. Yes the ride is firm, but it's refined and far from punishing. I'd probably forgo the $4100 Sparco carbon-fibre race seats (no heat) and the $8250 Brembo carbon-ceramic brakes, but that $700 Misano Blue Metallic is a must.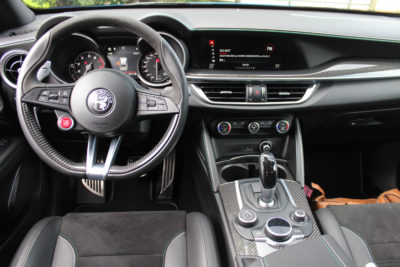 We pulled into the Bench Brewing Company in Jordan for lunch, where our $144,906 (as-tested) Italian job attracted all kinds of appreciative stares. This Alfa is a rare piece, and buying one will gives entrance to a mighty exclusive club. Buyer beware? Sure, you could go for the default Porsche Macan, but's that all stoic and predictable to the QF's stampeding passione, unknown reliability and Ferrari bloodlines.