It is that time of year when automotive journalists and publications come together to choose their "best of" picks for the previous model year. What is the best car, truck or SUV is an important question and one that organizations such as AJAC (The Automobile Journalists Association of Canada) help solve by voting on the 2019 Canadian Car of the Year and 2019 Canadian Utility Vehicle of the Year. As a consumer, it's good to know you can trust the opinions of a group of professional automotive experts as to which vehicles you may want to consider when purchasing your next vehicle.
At vicarious, we have similar experts on staff, many of whom are AJAC members, and we decided to take a different approach to sharing our opinions of 2019. It's Christmas and nothing says Happy Holidays more appropriately then sharing our opinions and passions through a song. Not an actual song, that would require singing on key, but using a song as the basis for our top picks for the year. So, without further ado, here is our list of the 12 Rides of Christmas- 2019! Fa-la-la-la-la!
2019 Lamborghini Urus
Call me a purist (or possibly a luddite) but I've always despised the term sport-utility-vehicle (SUV). I've never found anything especially sporty about any vehicle with an elevated centre of gravity and seating for five that was designed to haul anything more than ass. Yet, from the first moment I settled into the Hal Markarian-esque Lamborghini Urus, I knew it was something special. There are more powerful, quicker, opulent and more capable SUVs out there, to be sure, but none of them offer these traits in quite the same measures.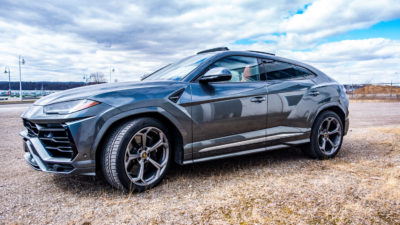 First off, the engine powering the Urus is hellacious. The 3.9L, twin-turbo, V8 burbles with just a hint of its distemper at idle — enough to let neighbouring traffic know you mean business, not enough to shatter windows. Give it a healthy stab though its full malvagità fills the air. With 641 hp and 620 lbs/ft of torque, under full throttle the Urus — a 2.2 tonne piece of machinery — skips ludicrous and goes straight to plaid. On-ramps and small towns disappear in nanoseconds. The first time you do this, your mind simply can't make sense of things. So, you do it again. And again. And again. For clarity.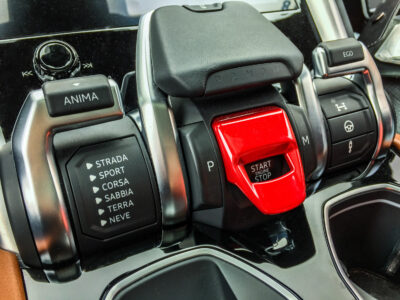 The Urus doesn't exactly obey physics when the roads begin to kink, either. Where autocrossing other quick SUV's can feel like balancing an elephant on the head of a pin, the Urus somehow… doesn't. Underpinned by the same MLB Evo chassis that Porsche, Bentley and Audi rely on, Santa Agata's boffins have sussed a way to tweak the air-ride suspension so that it clearly communicates Newtonian laws to the driver while actually breaking or ignoring them entirely. Body roll is relatively imperceptible, and you need not scrub nearly as much speed as your passengers will demand.
I found the easiest way to come to terms with the Urus' mind-boggling abilities was to meander along a cottage road, relax in the Q-Citura patterned leather seat, bathe in the sonic waves from the Bang & Olufsen and embrace the insanity. While also being massaged. Supple, supportive and seemingly sheathing the hands of a shiatsu masseuse, the helm of the Urus is a very civilized place to be. Flanked by touchscreens-a-plenty and a gear shifter/starter button that awakens your inner ten-year-old, there's just enough stealth fighter mixed-in to permeate the plenitude. The rear seats are just as nice and, when optioned, each has a detachable touchscreen within arm's reach, should traffic congestion end driving shenanigans. There's even room for Fido behind the hatch. Truly the Urus combines sport and utility like none before it.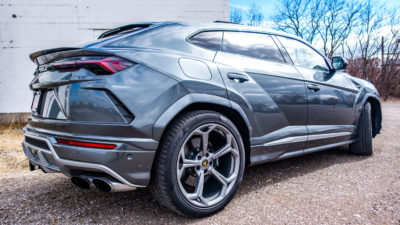 But the Lamborghini Urus is not a sport-utility-vehicle. It is an entirely different beast. A literal bull in a china shop, this twin-turbo, V8 powered disruptor is, as advertised, a Super SUV. It defies logic, physics and, in very short order, redefines perception of the vehicular world. I know it did mine.