2019 GMC Sierra AT4
By Lisa Calvi
Staring out the windshield at the heavens, I'm almost fully reclined behind the wheel of a 2019 GMC Sierra AT4 pickup truck. It appears I'm driving straight into the proverbial white light that people claim to see when experiencing near-death. Is this how I go out?
The truck and I have powered up the slick surface of a steep incline to gain enough momentum to get to the top. Getting enough traction to reach the top yet not so much that I shoot over the edge into the unknown is a delicate balance.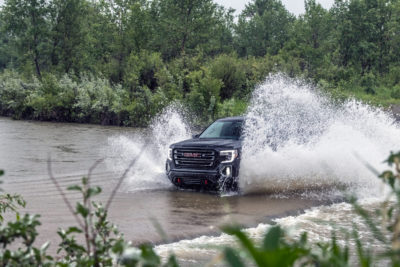 Will the Sierra AT4 and I plunge into a sludge hole the size of, well, a pickup truck? I don't have any experience off-roading but, luckily, I'm not alone out here.
My chariot, the 2019 GMC Sierra AT4, a beefed-up alternative to the high-class Denali, comes standard with a two-inch suspension lift for additional ground clearance. I also know the locking rear differential will direct power equally to both rear wheels for the greatest traction on this slippery elephant-snot-like surface that used to be solid ground.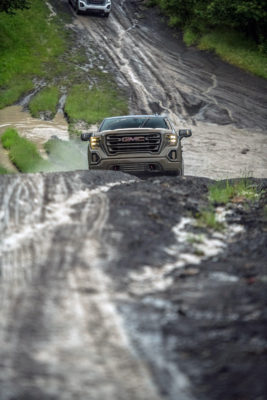 Since I can't see over the near-vertical hood or the top of the steep incline just yet, I'm making full use of the segment-first Multi-Colour Head-Up Display which includes an off-road inclinometer showing fore-and-aft tilt, front tire angle and left-and-right tilt, essentially helping me see through the hood.
I activate Hill Descent Control, a feature that allows the truck to control the descent without me touching the brake pedal.
With the Surround Vision feature, I can choose among a lineup of camera angles that project a bird's-eye view of the Sierra AT4 on the infotainment screen. Is that a large jagged boulder directly beside the tires? A steep drop-off? A small ATV?
Torrential rain had made a mucky mess of McLean Creek Off-Highway Vehicle area, southwest of Calgary, Alberta. The Public Land Use Zone is a huge tract of protected land, packed with lodgepole pines, mountains and an expansive system of trails in the heart of the Rocky Mountain Foothills. Mud pits, bulky boulders and murky crevices that look like they swallow pickup trucks for breakfast make for an off-roader's paradise.
I don't think most Sierra owners would do what I'm doing with their own truck. More likely they would be relishing the luxe leather seats in the first-class cabin. The first-ever AT4 has unique trim, dark-tinted, textured aluminum finishes on the inside, black chrome and machined aluminum wheels on the outside. The macho truck has a Darth Vader vibe but manages a tasteful balance of upscale and rugged.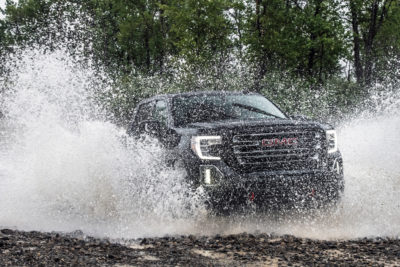 The available 6.2-litre V-8 engine, with an added 15 hp and 9 lb-ft of torque from the AT4 Off-Road Performance Package, has a pleasing grunt.
With deteriorating weather conditions, it's time to get this truck out of the muddy mayhem of McLean Creek. Triumphant and back on smooth paved roads, I'm now sold on the adrenaline-pumping appeal of off-roading – the most fun you can have at the slowest speed