2020 Hyundai Veloster N
When Santa swooped by my place this year, instead of a red sleigh, he was in one of my favourite cars to drive – an Ignite Flame red 2020 Hyundai Veloster N. This different looking sports car from Hyundai not only handles and is snappy, it doesn't break the bank to own one.
The single letter "N" designates Hyundai's high performance line up and the Veloster N is a total surprise. Using a quirky three door design with a coupe door on the driver's side and two doors on the passenger side the same as the regular Veloster, the N model is visually unique with a large mesh grille and aggressive air dam. The back end has a bold air diffuser flanked by two large exhaust tips and a two tier rear spoiler. LED lights all around set off the exterior.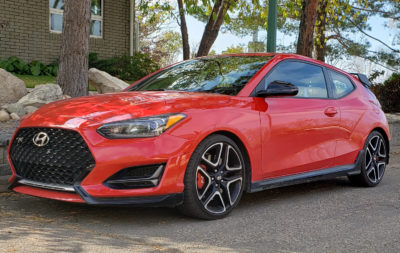 But just a sporty exterior and adaptive exhaust system where the driver can select three different exhaust sounds do not a performance car make. It's about the handling, the acceleration, the braking feel and the steering response. The Veloster N delivers these in spades.
Acceleration is provided by a 275 horsepower 2.0 litre turbocharged engine. Torque is strong right from just above idle and throttle response is instant, especially in the lower gears of the 6 speed manual gearbox. Launch control helps Santa get off those roof tops quickly.  With only the front wheels driving, there is some torque steer and wheel hop occurs if you hit a bump on hard acceleration but the crispness of the steering and the feedback of the road into the steering wheel is worth it.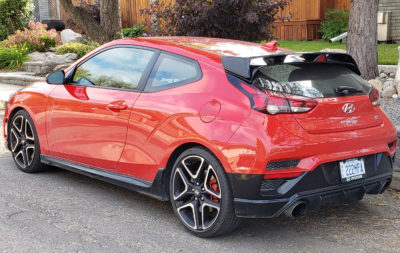 The N cluster has sequential shift lights so shifting precisely at redline is easier and the N and Mode buttons on the steering wheel selects five drive modes from Eco to Custom. Custom mode lets the driver adjust steering weight, engine response, shock damping, exhaust sound and stability control settings. Put the Veloster N into a corner and it goes around without body roll, steering corrections or very little under steer. In simple terms, the Veloster N is fun to drive in a spirited manner and it would feel equally at home on the road racetrack as on the street.
Performance is complemented with keyless entry, automatic climate control, heated seats and steering wheel, power windows and mirrors, cruise control and great smart phone connectivity to the 8 inch touch screen display. Sport bucket seats with blue stitching and performance blue seatbelts complete the sporty look.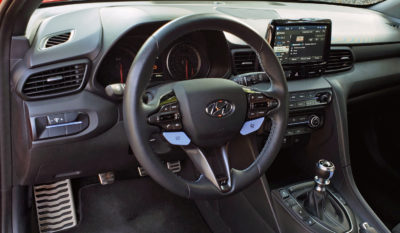 In an era of high horsepower, high performance and high cost sports vehicles, the Veloster N provides a lot of car for the dollar. With a base price of $34,999 and very few options offered, this is an affordable sports car that can bring a big smile to an enthusiast's face. After all, Santa knows what's naughty and nice and the Veloster N fits both categories.