On The Fourth Day Of Christmas!
The Mercedes-EQ – yes, no "Benz" here, as EQ is slated to be a full-line at Mercedes – EQS 580 is a remarkable car, if one that's a little fraught with some challenges. It's not exactly inexpensive, it's back seat is snugger than that of an S-Class and the styling probably isn't for everyone.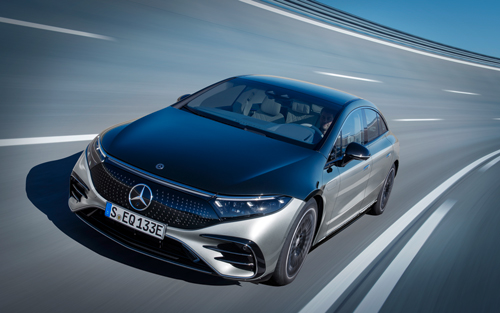 One look at the MBUX Hyperscreen, though, and all that washes away. It provides total swept area of 55-inches, it offers a number of services from being able to play your music to guide you to your destination with live street signs and navigation arrows right there in front of you – but that's not why I like it. I like it because for the first time when I sat in the EQS, I felt like I was driving the future, that Hyperscreen looking like what I'd imagine the cockpit in a sci-fi movie's ship would look like. Or something. It's just so darn cool.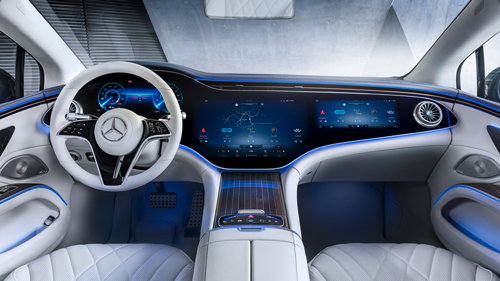 Of course, being a better-electric vehicle with about 550 km of range on a full charge, you get the feeling pretty quickly that as futuristic as that Hyperscreen looks, it's only the start – or a part – of the story. Power is rated at 516 horsepower and 630 pound-feet of torque sent to all four wheels thanks to its having a dual-motor set-up. That means one EV motor on the front axle and one on the rear and since there's no traditional transmission to speak of, power delivery is instantaneous and even though this car weighs about as much as a (smaller) adult elephant, you are flying down that road on a silent cloud of electrons all the way to the ball.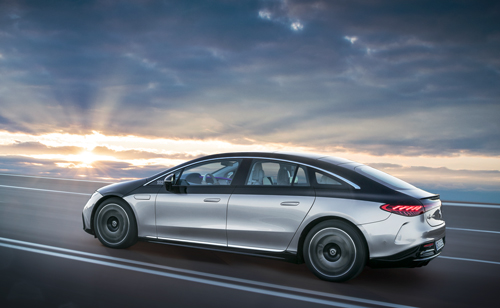 It comes as no surprise that the ride is ultra-refined, with sound deadening in all the right places for that peace-of-mind you want when driving high luxury like this, and air suspension at all four corners to keep things smooth and level, it feels like you're gliding along the tarmac below.
It's not just the ride that's improved, but the handling as well and a big part of that has to do with the standard fitment of rear wheel steering. That means the rear wheels can swivel up to ten degrees in the opposite direction of the fronts to lower the turning radius in tight spaces, or with the front wheels for added stability at speed. Feeling it work is uncanny, especially if you're sitting in the back seat, but seeing it work through the wing mirrors is another strange experience that few this side of monster truck drivers, (or those that own old Honda Preludes or GM trucks, both of whom employed rear-wheel steer at some point), have ever felt.
At the end of the day, the EQS 580 is an experience like few other vehicles out there. It is a vehicle from a legendary car manufacturer that shows they are every bit as hip to the game as newcomers like Tesla or Lucid, an evolution that is very cool to witness. And – lucky me – to drive.