On the second day of Christmas!
The Lexus LC Convertible is a standout in the world of luxurious sports cars, but in Cadmium Orange it screams look at me, I am gorgeous and yes, it's ok to stare! Technologically, it is one of the more advanced models in the Lexus line-up, but driving it feels like a throwback to days of old when long, flowing coupes with retractable rooftops carried movie stars with names like Monroe, Sinatra and Martin to hideaways on the strips of Las Vegas and Miami Beach. Elegance in automobiles has a name and it starts with the letters LC.
Don't let that outer Hollywood glitz and glam fool you into thinking this is just some boulevard cruiser that is all show and no go. Under the hoods resides a powerful 5.0L DOHC 32-valve V8 engine that delivers 471 horsepower and 398 pound-feet of torque. Matched to a 10-speed direct shift automatic transmission with paddle-shifters, it creates a sound that not only gets the attention of anyone within earshot, but it stirs the soul in a way that is truly unique within the Lexus family of fine automobiles.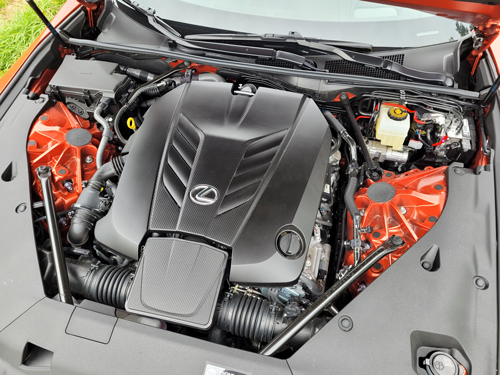 Robust not only defines the engine bay, but the outer shell of the LC Convertible as it tips the scales at a healthy 2,039.99 kg. Every gram seems to be accounted for as the adaptive variable suspension, multi-link rear performance adapters, active rear sport differential Sport+ drive mode and rear-wheel drive are just some of what keeps the LC Convertible planted to the road and light on its feet. Of course, rolling on 21" forged alloy wheels with P275/35R21 rear and P245/40R21 front tires doesn't hurt the ride quality or handling either.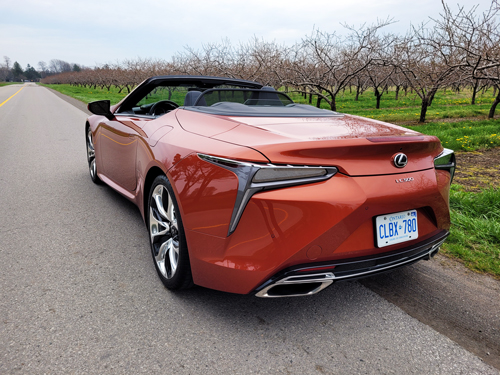 Outwardly, the LC Convertible fully embraces it's Japanese luxury roots in the same way rivals from BMW, Mercedes-Benz and Porsche incorporate their Bavarian heritage. You can't help but look at this droptop coupe and revel in the uniqueness of its stylish and curvy rear taillights, bulbous and over-the-top front grille and dynamic side profile that reveals large front and rear grilled openings for improved airflow and cooling.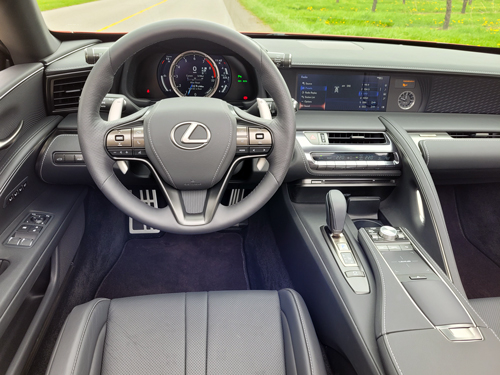 Inside, semi-aniline leather seating surfaces cover two of the most comfortable sport seats I  enjoyed in 2022. They look exceptional and function as great as you would expect. A large, leather-wrapped and perforated steering wheel houses all the functions drivers require in a vehicle costing in excess of 127,000 CDN. It is comfortable in your hand, if bordering on luxury versus sportiness, but that is part of what makes the LC Convertible so much fun.
It may not be the fastest sports car in the market, but it's faster than you might think, and really hasn't changed that much over the past four years, but it doesn't need to. This is a ride unlike any other and in that way, mimics those great Hollywood stars of old who, like the LC Convertible, can make the world stop for a moment and appreciate greatness as it passes by- in flaming Cadmium Orange, of course.