Porsche is an automobile company that will never be content to rest on its many laurels. If you know anything about the origin of how it all started, you understand that the genius mind of Dr. Ferdinand Porsche was not content to just build automobiles. Rather, he worked to achieve something truly unique and put his stamp on the industry in a similar way to other famous names in the business such as Karl Benz, Gottlieb Daimler, Henry Ford, Walter Chrysler and more. That is not to say he was seeking greatness as a goal unto itself, but rather greatness would follow if the design and execution was done to the highest standard. This is the same standard by which all Porsche vehicles are created today.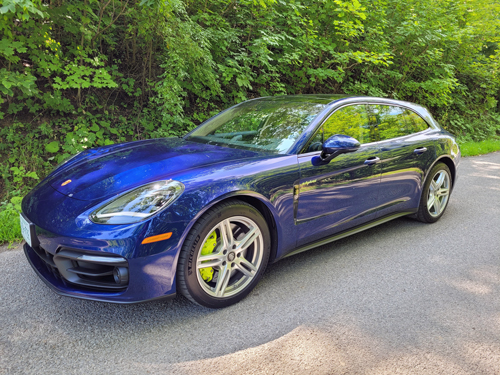 Electricity has been a founding passion at Porsche since the very beginning. The good doctor himself is credited with creating the first electric car in 1898, the Egger-Lohner C 2 Phaeton or Porsche P1 as it is typically referred to. So it should come as no surprise that sports sedans such as the 2021 Porsche Panamera 4S E-Hybrid Sport Turismo are part of a passionate line-up of electrified vehicles at the Stuttgart, Germany automaker. This is an exclusive sedan that fully embraces today's technology and direction, while building on the longstanding history of its namesake.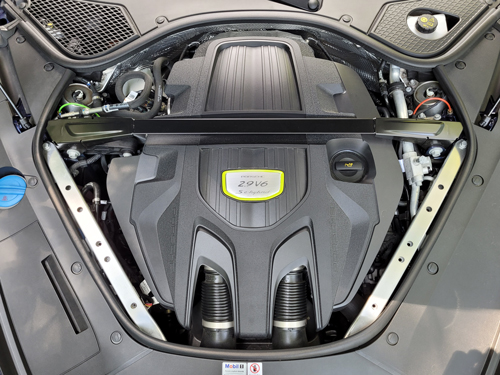 A 2.9L twin-turbocharged V6 engine works in parallel with an electric motor to deliver a uniquely Porsche high-performance driving experience. In total, this combination delivers 552 horsepower and 553 pound-feet of torque.
Matched to an 8-speed PDK transmission, the sport chrono package equipped 2021 Panamera 4S E-Hybrid Sport Turismo accelerates to 100 km/h in 3.7 seconds and reaches a maximum top speed of 293 km/h. It is also capable of achieving a max top speed of 140 km/h in electric mode only, but it won't last long as the electric juices will quickly deplete at that speed with a maximum electric-only range of approximately 30 km.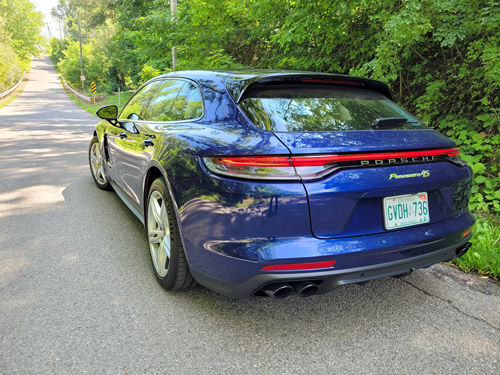 The outward appearance is reminiscent of what many in North America would refer to as a wagon or hatchback. Saying those words seems wrong, and technically it is, but there is a distinctive "wagon" side profile to the Panamera Sport Turismo and its a look that I quite like. If nothing else, it is certain to have people asking questions and making comments, mostly positive, on its profile. Bright yellow brake calipers and a glowing e-hybrid logo are two standouts that let people know this is not your typical gasoline-powered Porsche sedan.
Inside, luxury and simplistic elegance is the order of the day. There is nothing overly flashy about this interior, it has a job to do and it does it extremely well. Seating is for four + 1 and perforated leather surfaces make for a comfortable ride even in the summer heat. The typical 5 round gauges make up the driver's hub, the dash highlights brushed metal and the center console piano black accents. Our test vehicle combined a palette of black and Luxor Beige to go with the Gentian Blue metallic exterior, one of many combinations available but one that I think works particularly well on this model.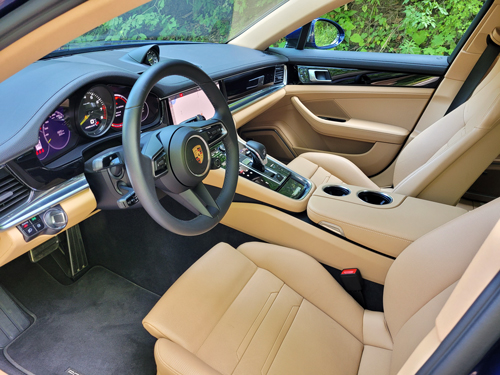 Driving the 2021 Porsche Panamera 4S E-Hybrid Sport Turismo, it delivers a sports sedan performance worthy of its heritage. It is big, but it doesn't feel overly large even in tight downtown spaces. Out on the backroads, you do sense its larger footprint when compared to a 911, but Porsche has done their homework to make you feel at ease at speed and know where the corners of the car should be pointed to take in that next turn at speed. The E-Hybrid Sport Turismo is a sedan that I am quite sure Dr. Porsche would be proud to drive.