When the days of silence finally take hold of the automobile world, and it will happen unfortunately for those of us who enjoy an audible experience to go along with the speed and handling of driving an exotic gasoline-powered sports sedan, I am surely going to miss the sound of a Maserati engine the most. There is simply no engine note as thrilling to me as the Modena-born V8 engine singing its high octane aria at full song. It's intoxicating, a truly one-of-a-kind experience.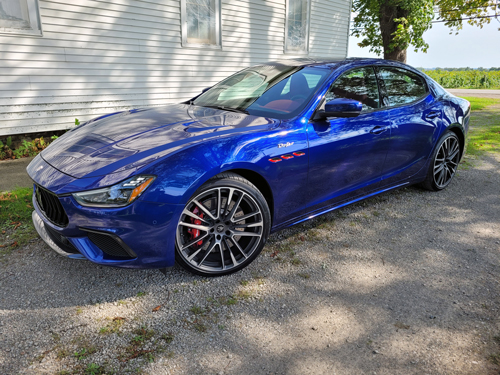 The 2021 Maserati Ghibli Trofeo is a surprise on many levels, not the least of which that it seats up to five adults in a comfortable, leather-wrapped interior worthy of its Italian heritage. Quilted stitching on the front and back seats look every bit the part, in our case it offered a gorgeous Rosso interior contrast to the Blu Emozione exterior colour palette.
Power comes on with force, but it doesn't overwhelm which in this case seems like a good thing. Driving comfort is as much a part of the Ghibli Trofeo (Italian for trophy) experience as is performance.
A robust 3.8L V8 delivers 580 horsepower and 532 pound-feet of torque to the rear wheels; this is not your typical all-wheel drive sport sedan. Rather, punch the accelerator and you may even experience a little rear wheel spin as all that power moves to the back via an 8-speed automatic transmission.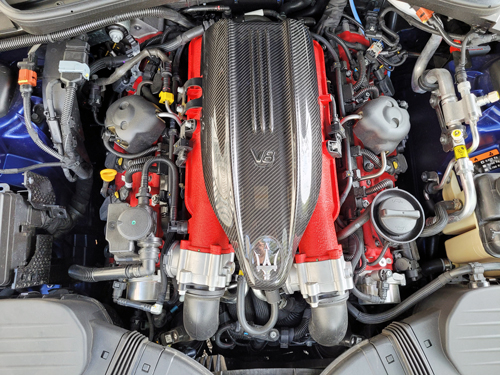 Zero to 100 km/h takes 4.3 seconds and while that may not be as quick as its fellow AMG and M competitors from Mercedes and BMW, it is quick enough that you probably won't even notice while enjoying the smell of Italian leather and the sounds of a Ferrari-developed twin-turbocharged engine.
Grab hold of the race-inspired 3-spoke leather steering wheel, with proper thumb positioning for both your left and right hands at 3 and 9 o'clock, and enjoy the drive. Maserati makes full use of the Stellantis family infotainment system and it is a welcome upgrade from previous editions of Maserati sound and HVAC systems. Of course, standard buttons also control the heating and cooling making it easy to adjust the temp and air direction.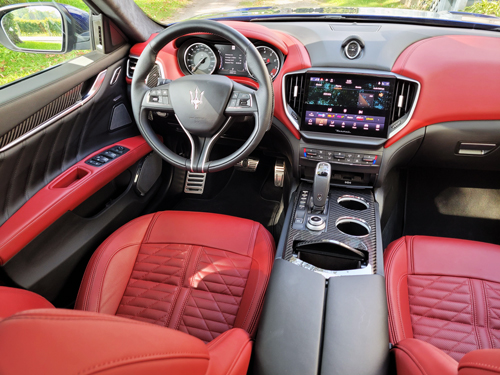 Carbon fiber accents the center console which features a Sport/Corsa button, suspension adjustment, dual cupholders and storage. Topping off the exclusive interior, the aluminum accelerator, brake and dead pedal add to the sporty look, as does the large white on black tachometer and a speedometer that tops out at 350 km/h, just in case someone is interested.
For those looking to challenge the status quo and make some noise in the exotic sports sedan market, the 2021 Maserati Ghibli Trofeo is sure to turn heads. And believe me when I say that beautiful exhaust note won't be around forever, so its now or maybe never.