My perception, and I would assume that of most people looking to purchase a luxury vehicle, is that Lexus is highly skilled when it comes to building automobiles that deliver a first-class, elegant and supremely-refined driving experience, and they would be right.
However, not as many potential buyers would say the word Lexus when discussing sports car levels of acceleration, braking and cornering. That is typically reserved for other brands, many of which hail from Germany.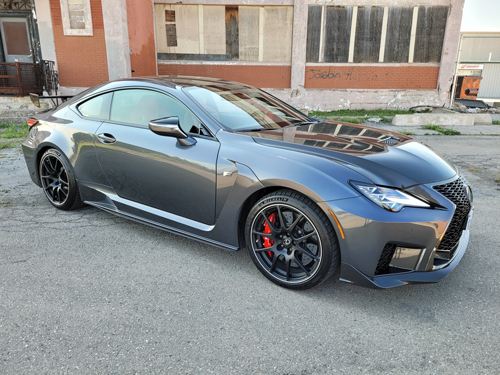 But here I was sitting inside what is arguably one of the sportiest two-door coupes I have seen in recent memory and the logo on the steering was clearly Lexus. 2021 Lexus RC F Track Edition, where have you been all my life?
With a list price exceeding $120,000 CDN, this is no ordinary RC F. This version is designed to be taken on the track or your favourite country backroad and dominate the asphalt with precision and balance unlike anything else in the Lexus fleet.
A carbon fibre roof and active rear wing are two things that immediately standout as you first approach the Track Edition. That and the special 19" polished alloy wheels, titanium mufflers, sport side skirts and lower front spoiler scream performance, while maintaining the level of sophistication and class Lexus is known for.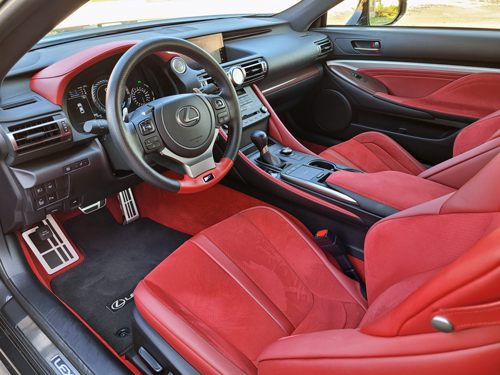 Power for the Track Edition is the same as the rest of the RC F line-up. A 5.0L V8 engine delivers 472 horsepower and 395 pound-feet of torque. If these numbers don't blow you away at first glance, that's ok, because the proof of what's written on a spec sheet is always felt underfoot while holding on to the steering wheel.
On that note, it is completely obvious how shaving 80 kg of weight by eliminating such things as heated and ventilated seats in favour of adding lightweight materials throughout improves the overall drive. Stopping is easy with Brembo carbon ceramic brakes painted a gorgeous red. They look fantastic and stop even better than they look.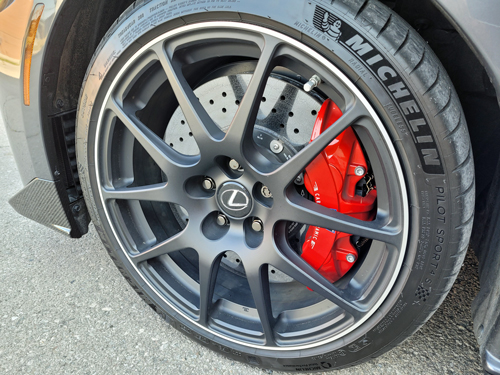 Inside, the Track Edition gets special red Alcantara seats front and back. Red and black carbon fibre accents the lower dash and armrests; it looks sporty and offers a unique take on weaving colour into the typically black look of this bonded material. There is room for two passengers in the back and while the legroom is restricted, there shouldn't be many complaints once the driving starts, but rather plenty of smiles and the words "let's do that again" repeated regularly.