I love sports cars and I really like it when they have all-wheel drive and a manual transmission. These are three of the many things that I like most about driving; speed, all-weather control and the need to focus on how I as a driver interact with the vehicle.
So, I was fully prepared to unabashedly enjoy my week long test drive with the 2019 Subaru WRX STI as it checked all of the boxes and then some. For the most part, I did, but unfortunately not all was as glorious as I had experienced in my past drives of the WRX STI. I can't say I was disappointed, but I also wasn't as thrilled as I had hoped and that is a conundrum I am still trying to sort out in my sports car loving head.
Power for the 2019 Subaru WRX STI comes in the form of a 2.5L 4-cylinder DOHC turbocharged Subaru BOXER engine. This is the stuff of legend! Matched to a 6-speed manual transmission, and the Japanese automakers exceptional Subaru symmetrical full-time All-Wheel Drive, it delivers a stellar 310 horsepower at 6,000 rpm and 290 lb-ft of torque at 4,000-5,200 rpm.
With a spec sheet like that, what's not to love?
In truth, not much really, the WRX STI is a powerful partner for tackling the backroads of Niagara where I live and it can easily handle any and all types of weather or road surfaces. But there is just something lacking in the way it communicates passion through the stick shift to the driver.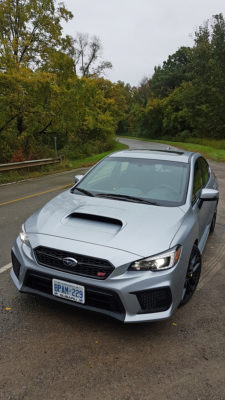 Having just driven the 2019 Mazda MX-5 RF the week prior, I found shifting gears in the WRX STI doesn't compare favourably to how easy it is to drive the former Miata. Blasphemous though it may be, if I were to own a 2019 Subaru WRX, I may choose not to get the STI as it is only available with a manual transmission. As someone firmly in the camp of "Save The Manuals!", I never thought I would say that.
With that off my chest, there is much to inspire the rally driver in all of us to enjoy the current WRX STI.
Stopping power is exceptional with Brembo high-performance brakes and cross-drilled rotors. Push hard on the brakes and feel the head rush as things come to a rapid and controlled stop each and every time.
Of course, it doesn't hurt to have the STI performance-tuned suspension and 19-inch aluminum alloy wheels with sticky rubber underfoot. And, did I mention helical-type limited slip front, Torsen limited slip rear and a multi-mode controlled center differential (DCCD) always at the ready.
Outside, the WRX STI is perfectly sized for the road. It's as if Subaru measured their favourite two-lane road from side-to-side and built this car to fit perfectly. When driving the WRX STI, you always have this second sense of knowing where the car is on the road, it just feels right.
Our test vehicle opted for no rear wing, but rather the understated rear lip spoiler, with integrated side ground effects and underbody rear diffuser. Chrome quad-tipped rear exhaust, a functional hood scoop and enough STI badges strategically placed leaving no room for anyone to guess what it is you are driving.
The interior of the 2019 WRX STI is outstanding. Recaro performance seats are near perfect, with exceptional shoulder, back hip support and enough adjustment to suit almost anyone. It would be nice to have a little more cushion length at the front of the seat to support my longer legs, but this is a minor issue.
A 3-spoke flat-bottom leather-wrapped steering wheel is perfectly sized and offers control for most of the essential features like cruise control and audio without removing your hands or taking your eyes off the road.
Large white on black round gauges are both easy to see and logical. Between the tachometer and speedometer and above the center vents is enough digital information to keep even the most ardent rally driver happy. The only thing better would be if someone sat beside you and called out telemetry information and turn-by-turn directions at speed. But then, that would get a little annoying driving to the grocery store or taking the kids to school, so this is a much better option.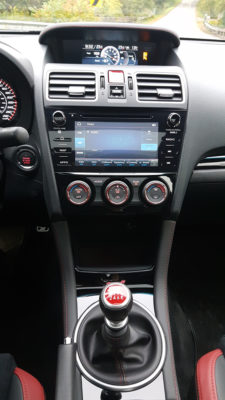 The 7-inch infotainment with Navigation system features a high-resolution touch screen display. Subaru screens in past have been challenged by direct sunlight, making it hard to see the information provided. This unit seems to be a vast improvement and it was a joy to use. Logical and well-placed round knobs control the HVAC system; thank you Subaru for making it easy to stay warm or cool depending on the season.
Rear seat room is surprisingly comfortable given the sports car abilities of the WRX STI. Deep front door pockets offer space for larger bottles, the center console highlights open storage below the HVAC controls, cupholder space and center armrest storage. Trunk space is excellent and fully carpeted for added sound deadening.
The 2019 Subaru WRX STI is an exceptional sports car hidden in the guise of an all-world 5-passenger sports sedan. With so much capability and rally DNA that begs you to tackle paved roads at speed, then peel off into the sunset on dirt roads few cars would ever dare, I am saddened the manual transmission isn't quite up to what I expect from this legendary marquee. That said, you may choose to see it differently and it is for that reason that I still firmly remain in the camp of "Save The Manuals!"
2019 Subaru WRX STI
Price as tested: $48,945.00
Freight: $1,650.00
Configuration: front-engine/symmetrical full-time All-Wheel drive
Engine/transmission: 2.5L 4-cylinder/ 6-speed manual
Power/torque: 310 hp/ 290 lb-ft
Fuel economy ratings (city/hwy): 14.3/10.7 L/100 km
Competitors: Focus RS, Honda Civic Type-R, Golf R
Related links:
Subaru Canada