This is not a Range Rover for the Royal Family; it's simply too brash for the civility of those more noble. It's even too radical for Harry now that Meghan has clipped his tomcat wings.
In fact, the Range Rover Sport SVR is incongruent with the decorum we generally associate with the storied off-road Brit. It doesn't – for example – have a smooth ride, plush leather seats, or a politeness founded upon decades of British aristocracy.
But that's not necessarily a bad thing. You see, this Rover is a raging hellion when it wants to be. Or, more accurately, when its driver wants it to be.
With 575 horsepower and 516 lb-ft of torque, the 2018 Range Rover Sport SVR is the fastest Range Rover ever, striking 100km/h in just 4.5 seconds, while likely being the loudest as well.
During acceleration and de-acceleration in Dynamic Mode, the Sport's active exhaust setup can simulate the auditory concussions and staccato strafing of a ground war in full action.
Interestingly, the vehicle can also be driven with a demure reckoning if one is gentle with the throttle while operating in either Eco or Comfort mode.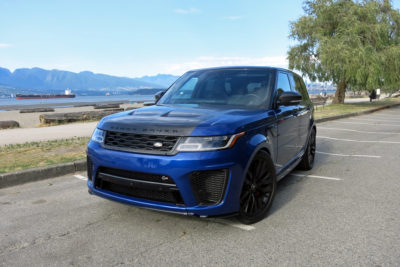 For my purposes in and around town, Eco mode proved was most appropriate. Its re-tuning of the Sport's performance dynamics relaxed the SVR's aggression, allowing the Range Rover to behave – well, like a Range Rover.
Despite its more congenial attitude in the non-Dynamic modes, the Range Rover Sport SVR subjects its occupants to a firmer ride than that of a non-SVR Range Rover Sport. The difference is not likely a deal-breaker for prospective SVR buyers, but, bear in mind that it can become fatiguing; it was certainly that way with me after only a week of seat-time.
Where there's pain, there's gain.
In this case, "gain" is in the Sport's ability to devour a twisty road in an SUV-defying manner. The handling ability of this stout Brit is, for most drivers, everything that holds Porsche's Turbo Cayenne and BMW's X5-M in such high regard.
It would take a professional driver on a race track to tease out the nuances or expose weakness in the Range Rover's tarmac tenacity. You and I on city streets are not going to come anywhere close to revealing the SVR's limitations, should they exist.
City streets also being unsuitable to declare the Sport SVR as the slowest of the noted three, despite specs that would support this conclusion – but slower to 100km/h by fractions of a second.
Is that wee differential in acceleration really a factor to consider in the purchase of a four-wheel-drive SUV, that in spite of its 22-inch wheels and performance tires, retains all the off-road cred that Land Rover is well justified in claiming?
Probably not.
The SVR badge on the tail of the Sport doesn't eliminate its acclaimed Range Rover attributes, including outstanding visibility, brawny good-looks, and a finely-crafted leather-lined cabin.
A cabin that's now replete with the latest in screen-based technology and wizardry. The 2018 Range Rover Sport is equipped with the interface screens first seen in the cutting-edge Range Rover Velar.
While I'm not a great advocate for screen-based functions, I must admit that this pair of glass-like panels have fabulous graphics and respond with amazing speed and accuracy. They are leaps-and-bounds ahead of the norm.
So, as I wrap-up this review, I glance out my den window at this week's tester and wonder: would I do it? Cash not being a hurdle, would I select the SVR version of the Range Rover Sport or not.
In short, "no."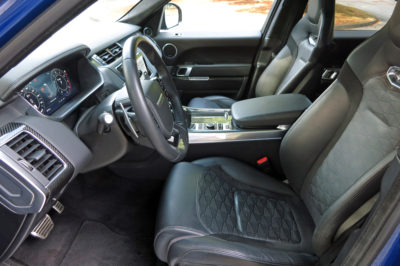 The regular Range Rover Sport with its less powerful supercharged V8 power plant would more than suffice while delivering me to destinations in greater comfort. It's a minimum of $34,000 more over the Range Rover Sport Supercharged to claim the title of SVR, and I can't justify it.
The Sport SVR starts at $132,000. My optional carbon-fibre trim added another $10,000 while the 22-inch wheels ate up another $3,600.
However, for the cash-heavy who want the ultimate-rad Rover, the Sport SVR is one tough Brit with a distinctly un-British attitude.
2018 Range Rover Sport SVR
Price as tested (before taxes and options): $132,000.00
Configuration: 4WD 5-seat SUV
Engine/transmission (as tested): 5.0L supercharged V8 / 8-speed automatic
Power: 575 horsepower / 516 lb ft torque
Fuel-economy ratings (L/100km): 16.2L city / 12.0L highway
Warranty (basic): 4 years / 80,000 km
Competitors: BMW X5 M, Jeep Grand Cherokee Trailhawk, Mercedes-Benz AMG GLE, Porsche Cayenne Turbo.
Related links:
Land Rover Canada
Motor Trend Canada