Cracking open the throttle within the confines of the 610-metre long China Bar Tunnel elicits a raucous, staccato-punctuated roar from the twin pipes of the 4.0L Bi-turbo V8 powering the big S-Class convertible; most un-S-Class like is the din, yet so deeply rewarding to those whose blood courses with octane.
There are seven tunnels along B.C.'s Fraser Canyon between the hamlets of Yale and Boston Bar. They are an engineering feat of the 1950s and 60s, which eliminated a series of perilous mountain-side curves that followed the near-vertical gorge of the mighty Fraser River.
This 40km stretch of winding two-lane highway is one of the most scenic in North America, and a stunning location to stretch the legs of a Mercedes-Benz flagship – the S 560 Cabriolet. With a power bump for 2018 to 463 horsepower and 516 lb-ft of torque, the big Benz can hit 100km/h in just 4.5 seconds, thanks in part to its 9-speed G-Tronic transmission.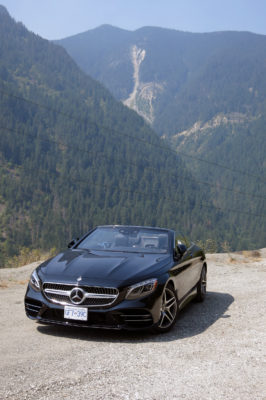 While its ability to make quick work of most any other 4-seat convertible breezing the highways is never in question, that's not the raison d'être of this luxurious beast; spoiling occupants with sublime refinement and comfort are its reason for being, and it does so remarkably well. If there's a single take-away for me, it's the unprecedented refinement of the latest open-air S-Class.
The fluidity of its powertrain is a delight that never gets stale. Each excursion in the Merc left me praising the car's extraordinary levels of operational refinement; whether accelerating, cruising, or braking, the S 560 manages its affairs with a suppleness that only the finest automobiles deliver. This includes ride quality.
The S 560 is definitely a heavy vehicle, which together with its air suspension flattens the roughest roads, never subjecting occupants to unpleasant jarring or undulations. I chose to fully exploit its absorbent underbelly by selecting the suspension's Comfort setting. Interestingly though, the additional softness didn't notably compromise the big sled's ability to grasp a line and hold it throughout high and low-speed cornering.
No, this isn't an AMG product, but that sort of aggression in the handling department would spoil the relaxed, immensely pleasing character of this car, roof up or roof down. Regardless of whether the thickly-insulated lid was overhead or not, I was continually drawn to rapture the small but potent V8 operating under-hood with the discretion of a padre during confession.
The engine would only reveal itself audibly when I chose, which frankly was often! A bit, and I mean only a bit, of throttle would produce the sweetest yet most clearly defined V8 burble to savior. Think of it as the note of a Mustang GT that's gone to an English boarding school, then on to Harvard. Refined, melodious, discreet.
A Harvard degree may also be an asset for the driver when it comes to understanding the depth of technology in the latest S-Class. While the basics are fairly intuitive, there are many layers of configurability and programming for those so inclined; that's not me.
I appreciate a car for its operational dynamics, it's ride quality, and how much I simply enjoy being behind the wheel. By those measures, the S 560 is Nirvana. One look at its multi-adjustable, heated/cooled, massaging front seats, complete with warm-air Neck-scarves, and there should be little to doubt. Mercedes-Benz seats have always impressed me, and these are the best to date.
If so much about the S 560 Cabriolet is divine, what are the misses? Well, that hit me like boulder from above as I gassed-up the thirsty beast in Merit B.C. I saw what I initially thought was an identical S 560 Cabriolet to my press car pull into the same lot.
"What a coincidence," I thought. Two S 560 Cab's, with a starting MSRP of $166,600, in the same gas station in the 'old west' town of Merit. Wait a second. That's a C-Class convertible not an S-Class, and therein lies my issue with the S-Class Cabrio. It simply looks too much like the C-Class soft-top, which costs some $100 grand less.
The "as tested" tag on my press car was $173,100. For that kind of coin, I would expect something more distinctive-looking than an optically larger version of a C-Class. Still in all, the immense enjoyment I derived from piloting the S-Class, with it's delicious V8, may just be enough for me to avert my eyes every time a C-Class Cabrio sneaks on past.
2018 Mercedes-Benz S 560 Cabriolet
Price as tested: $173,100.00
Configuration: rear-wheel drive, 2-door convertible soft-top
Engine/transmission (as tested): 4.0L bi-turbo V8 / 9-speed automatic
Power: 463 horsepower / 516 lb ft torque
Fuel-economy ratings (L/100km): 13.9L city / 9.2L highway
Warranty (basic): 4 years / 80,000 km
Competitors: Audi RS5, Bentley Continental, BMW 6-Series
Related links:
Mercedes-Benz Canada
Driving.ca